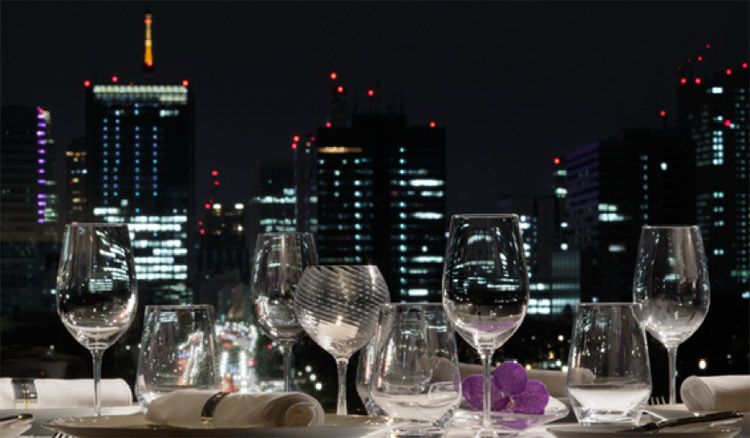 Photo Courtesy of Palace Hotel Tokyo
The much anticipated opening for the
Palace Hotel Tokyo
took place only four months ago, yet it has already become a favorite for travelers and locals alike. Since its May 2012 debut, the Palace Hotel has been focused on giving guests an authentic experience in Japanese hospitality.
Along with its rising star status in the luxury hotel world, the Palace Hotel Tokyo also prides itself on its group of restaurants and bars. They are making quite the splash in the city, with rave reviews and foodies clamoring to get a taste of the Chinese, Japanese and French cuisine.
"Most hotels endeavor to have at least one widely talked about signature restaurant," explains Executive Director & General Manager, Masaru Watanabe. "What we've established at Palace Hotel Tokyo is a constellation of restaurants, each a new beacon for diners intent on experiencing some of the most sophisticated cuisine of its class in Japan."
With a total of ten restaurants and bars to its name, the property has been very clear that they plan on attaining Michelin recognition for its culinary offerings. Collaborating with celebrated chefs, the Palace Hotel's goal is to ensure patrons leave the meal with satisfied taste buds and are presented with the highest quality dining experience.
Wadukura is the hotel's signature restaurant with a main room that overlooks the Imperial Palace moat it is named after. This multi-faceted eatery embodies the essence of traditional Japanese cuisine with menu items like shabu-shabu, sukiyaki, and kaiseki, while allowing guests to relish in its luxurious décor and fine artwork.
For some of freshest seafood sourced from the famed Tsukiji Fish Market, Tatsumi is the place to be, along their exclusive six-seat bar. GO is where guests will be seen searing premium Japanese beef on teppanyaki grills. At Sushi Kanesaka, Shinji Kanesaka is sharing his sophisticated Edo-style sushi, with dishes that equal those found at his own Michelin two-star restaurant in Ginza.
While the Palace Hotel is known for its Japanese fare, they have also worked with fine dining expert and chef of the famous La Pyramide in Vienne, France, Patrick Henrioux, to create the decadent French restaurant, Crown. This combination of cultures allows for a refreshingly unique dining experience, and a respite from the predominantly Japanese menus.
Amber Palace is lined with antique, rich wood paneling and traditional musical instruments to achieve an ambiance that brings to mind Old World China in a fine dining atmosphere. The team of Chugoku Hanten Group's experienced chefs, seasoned in Shanghianese and Cantonese cuisines, provide beautiful plates surrounded by the restaurant's deep amber color scheme.

The collection of restaurants at the Palace Hotel Tokyo allows guests from all walks of life to indulge in an array of different cultures and cuisines, from local Japanese delights to Chinese specialties, to French delicacies. The hotel also contains the first evian® SPA in Japan, 290 guest rooms and suites, and eight spacious banquet venues.
Visit
PalaceHotelTokyo.com
to see more.