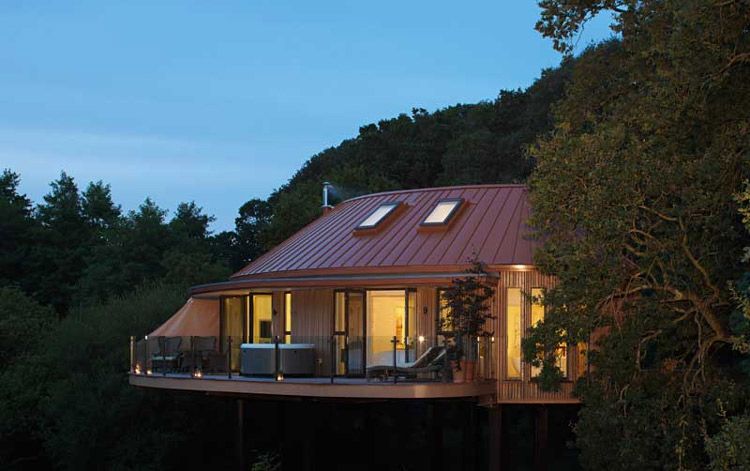 Photo Courtesy of Chewton Glen Hotel & Spa
No, this isnít another case of environmental activist Julia Butterfly making a statement by camping out in a tree; this is in fact the result of one of
Britainís top luxury hotels
, The Chewton Glen, and their new £7 million (approximately $11 million) project, The Treehouses.
While the resort may be in the clouds, this was most definitely not the case for designer Martin Hulbert, who worked with the space and came up with this innovative concept. Since its construction, travel fanatics worldwide have been clamoring to experience these five-star luxury treehouse suites. They're great for the adventurous types that want to maintain a level of upscale comfort while still experiencing all of natureís splendor.
These sky-high suites offer an unforgettable view from your own private balcony of the surrounding treescape and forested setting. Nestled in the wooded valley of Chewton Glen next to New Forest National Park, guests are able to experience the ultimate level of seclusion and escape from the chaos of everyday life.
Andrew Stembridge, managing director of Chewton Glen, explains, ďThe design and project team also worked in harmony to create these completely unique buildings which would blend into the natural habitat and create the absolute minimum footprint in every conceivable way.Ē
Each one of these 12 private lofts are delicately balanced on stilts and hidden in the Chewton Glen grounds, just a short stroll or golf cart ride from the main hotel (with an award-winning spa, hydrotherapy pools, and stocked bar so you arenít too far removed from civilization). These treehouse canopies also contain a luxurious Villeroy & Boch hot tub located on the veranda and floor-to-ceiling windows exposing panoramic views of the lush valley and beyond.

Guests can either book an individual suite or a whole private tree house at this eco-chic resort with prices ranging from ?600-1,900 (approximately $1,000-$3,000) a night.