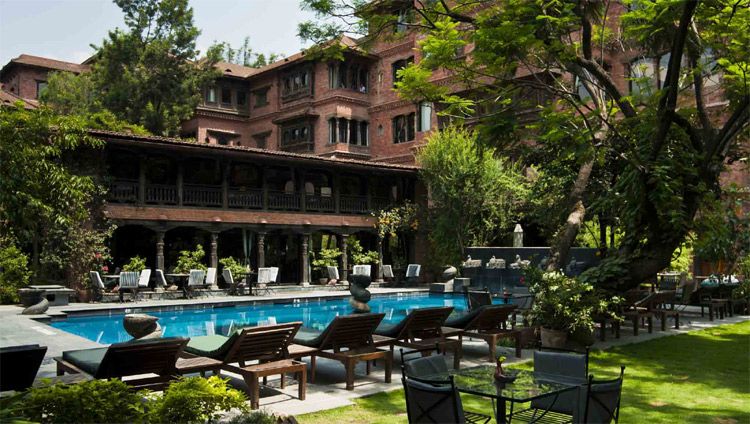 Photo Courtesy of Dwarika's Hotel
Some hotels eventually make history, but few preserve history from centuries past. Dwarika's Hotel is one such place. It's a treasure trove of Nepal's most intricate and culturally significant architecture and exists both as a mecca of heritage and as a luxurious oasis amidst Nepal's boisterous capital, Kathmandu. Here are a few of the reasons not to miss this property on any escape to Nepal:
The commitment:
The story of Dwarika immediately sets this property apart. Dwarika Das Shestha, the creator of Dwarika christened his hotel 60 years ago. One morning while jogging, Dwarika stopped in his tracks when he observed carpenters sawing off parts of intricate woodwork in order to access "good wood." The detailed carvings were to be burned. Spurred by the horror of seeing some of his country's artistic ancestry set ablaze, he bought the carved woodwork on the spot.
Dwarikas
Over the years Dwarika collected door frames, window settings, and any 13th century works he could acquire from buildings being "modernized" in Nepal's new era of democracy. The cost of preserving and acquiring his collection mounted over time, and Dwarika realized tourism could support, in part, the conservation of Nepal's "cultural ecology and aesthetic environments."
Today, the hotel holds one of the world's biggest private woodwork collections in the world and continues to fund projects that foster preservation and understanding for the people of Nepal. Dwarika's Hotel, for instance, operates a primary school in the Chitwan district for low-income students and is a pioneer of zero-waste, chemical free systems within its properties (Another Dwarika resort is found in Dhulikhel).
Perhaps more impressive than its commitment to the people of Nepal is Dwarika's enduring family ownership. Dwarika's Hotel remains the home of the founder's family who have embraced Dwarika's vision as their own. I spotted Dwarika's wife, daughter and grandson mingling with guests and helping their staff a number of times during my stay. This somehow soothed me knowing this great property had caretakers deeply engaged in keeping the hotel's mission.
Dwarikas
An impeccable oasis of hospitality:
Dwarika's Hotel has an immediate sense of home, perhaps simply because it still remains the home of Dwarika's family. Approaching Dwarika's Hotel is an intriguing, if not suspicious, experience. How could an expansive garden and architectural sanctuary exist just feet from the half-dirt, half-paved roadway that's teeming with carts, crates, motorcycles, taxis, and cows?
Just inside the dark wood doorways and terra-cotta tiles is an incredible escape. Tucked beneath the wooden window sills and baskets of cascading flora is a massive courtyard where an inviting pool, bar, and fruit tree shaded tables beckon to be enjoyed. Within the courtyard, the sounds of horns and motor exhaust are substituted for bird twitters and fountain patter. The warm and attentive staff is well versed in serving an international menagerie of guests.
The guest rooms may be their own mini-explorations of Nepali culture. Each custom room affords glimpses inside the courtyard through multiple windows, each framed with wood carvings seen similarly across Nepal's World Heritage Sites. I loved the hand-woven linens, the massive bathrooms, and the hand-carved trunks adorning the room. Surrounded by rich textures of brass, terra-cotta and slate, it was inviting to lounge in my room for hours in the morning, as I did more than once.
Dwarikas
Food the locals and stars come for:
Dining at Krishnarpan, the restaurant at Dwarika's, is a must for guests of the hotel as well as for any travelers in Kathmandu. A traditional Nepali restaurant, Krishnarpan serves six to twenty-two course meals (yes, that's twenty two) nightly in an elegantly appointed space. Seats are comfortably cushioned, and the courses, each sourced from Dwarika's own farm, are served on traditional brass and earthen ware.
Shy but proud staff members explain the rituals, spices and sides of dishes ranging from pan grilled oyster mushrooms to Nepali minced meat dumplings and rich chutney. The entire evening is a culinary journey as much as it is a cultural one. It's no wonder American celebrities such as Demi Moore, Richard Gere, and Orlando Bloom have enjoyed evenings at Krishnarpan. Some of their candid photos hang near the hostess area and provide proof of their visits.

Also not to miss is the weekly Fusion Bar's Nepali barbecue, served pool-side. The buffet of delights and delicacies of Nepali cuisine, from fried goat lungs tohatamari (rice pancakes), can be savored in candlelit courtyard.