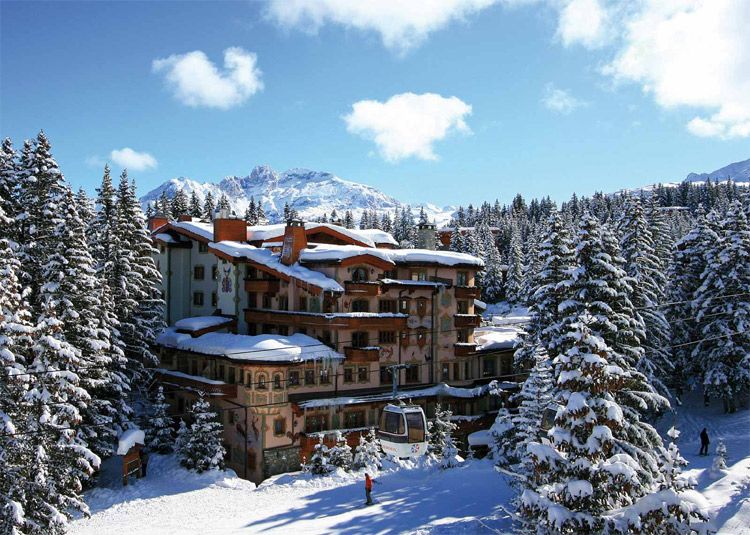 Photo Courtesy of Hôtel de Charme les Airelles
Described as an ?Alpine fairy tale come true,? the
Hôtel de Charme Les Airelles
employs a dedicated staff, whom, we are assured are concerned only with making hotel guests happy. During your stay, expect to be endlessly pampered and entertained. On major holidays the staff gets into character as the chefs and skilled decorators create memorable experiences for guests year after year.
The property is nestled in the French Alps, so that you can ski in and out at your leisure. The hotel even has its own ski shop where you can rent all of your equipment. Inside, take refuge from the cold by the crackling fireplace in the lounge area where you can sip on any of the rare spirits and liqueurs at the bar or take to the smoking room for one of Havana's finest.lltitle=Ski in Ski Out Luxury Hotel in the French Alps ###llcontent= Hotel de Charme Les Airelles is an Alpine treasure. Described as an ?Alpine fairy tale come true,? the dedicated staff ensure guests and their families are endlessly pampered and entertained throughout their stay. Indulge in a cellular rejuvenation treatment at the spa or hit the slopes while the kids play in the arcade or watch a movie in the theater.
Hôtel de Charme Les Airelles is a cozy mountain lodge with only 37 rooms, 14 suites, and one penthouse with a personal manservant included. But the limited guest list only makes it easier for the attentive staff to wait on each individual to the extent which they have become accustom. Offering exclusive access to the largest ski area in the world, Les Trois Vallées, the hotel also provides guests with a unique ambiance built around old-world service and elaborate décor. Upon return from your skiing excursion, you are warmly welcomed by the Ski Valet who will take your skis and hand you your shoes.
Maybe you crash landed off a ramp, or misjudged the distance between you and an evergreen, either way, at some point your body may need to recover from that time on the slopes, and for that there is Les Airelles Spa. It uses Cellcosmet and Cellmen treatments with products directly imported from Switzerland, where they pride themselves on being experts in cellular rejuvenation.
The treatments are adapted to an individual's age and hormonal identity to make them feel younger and balanced. The spa also utilizes natural products like purifying white clay and softening rose water. Aside from those services, the more extreme sauna and 14 degree Fahrenheit snow cave are supposed to reduce hypertension if you're brave enough to endure them.
This winter wonderland is a great place to bring children of all ages. Whether they're little snow bunnies or not, there is plenty to entertain them around the hotel including an arcade, movie theater, multiple play rooms with games and toys galore. Also on hand are the hotel's two mascots Lorele? and Jeff, who your kids may ask to be adopted by after their fun-filled fantasy vacation.
Dining at the hotel includes three options. La Table du Jardin Alpin is open for lunch and dinner, and the sunlit terrace can be reached straight from the ski slopes. The menu is inventive and sophisticated and the atmosphere is elegantly homey. Pierre Gagnair pour Les Airelles is another restaurant in the hotel, featuring the creations of the noted Chef Pierre Gagnair. Lastly, Le Coin Savoyard specializes in local cuisine, and focuses on cheese or meat cooked over an open wood fire.

It's prime location at the edge of Les Trois Vallées powdery slopes, Michelin star quality cuisine, unparalleled service, family-friendly amenities and world-class spa makes Hôtel de Charme les Airelles a great choice for your next ski vacation to the French Alps. This Alpine fairy tale come true will indeed leave you feeling like Cinderella at the end of your trip...minus the evil stepsisters.