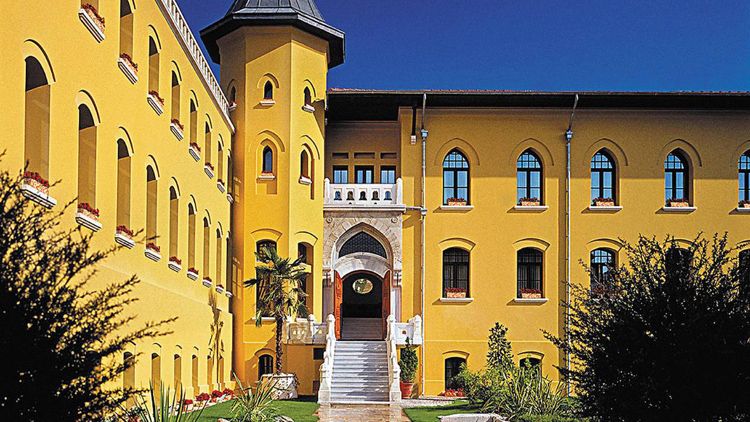 Photo Courtesy of Four Seasons
Located in Sultanahmet, The Four Seasons Istanbul was originally an Ottoman Empire prison. Used to detain political prisoners, including famous Turkish poet and communist revolutionary Nazim Hikmet, the neoclassically designed jail was converted into a
luxury hotel
in 1996.
Nestled in the heart of Istanbul?s "Old City," the building is only a stroll away from grand historical attractions like the 17th century Blue Mosque or the 6th century St. Sophia. The former penitentiary now houses 65 opulent guest rooms and suites run by over 200 dedicated multilingual staff.lltitle=Luxury Hotel in Istanbul Near Popular Attractions ### llcontent= The Four Seasons Hotel Istanbul in Sultanahmet is designed in old world Turkish style with over 200 dedicated staff, creating the illusion that you are the all powerful ruler of a long-lost empire. In reality, you are sleeping in a former political prison converted into a luxury hotel.
Each room is equipped with a private bar, plasma television, MP3 docking station, DVD and CD player, and WiFi. The Deluxe Rooms have the ability to sleep three people in comfort. The room décor is neoclassical, with original Turkish artwork adding splashes of color to the palette of soft greens and blues found throughout the space. Large, wood-framed windows bring in the light from the hotel courtyard, exterior garden, and street.
After a long soak in the deep tub, perhaps while watching an episode of Seinfeld on the bathroom LCD television, wrap yourself in the provided terrycloth bathrobe. Once you're nice and clean, and have spent a good amount of time in your Turkish-Palace-themed suite, you may feel like a Sultan, and consider acquiring yourself a harem. I advise you to have a Turkish tea party instead. It'll probably make you feel just as imperial, without the danger of offending anyone's delicate sensibilities.
Enjoy your meals at the Seasons Restaurant in the glass-enclosed courtyard or outdoor terrace. The menu consists of international and local cuisine, including a lamb shank that has been cooked for eight hours. If that's not dedication to the craft, I don't know what is. Aside from the Seasons, there is also the Lounge, which is located on the lobby level of the hotel focusing on cocktails, afternoon tea, and conversation. The Lounge pergola overlooks the hotel garden, and would be an ideal place for that tea party.

The attractions around Istanbul are endless, with a number of markets and architectural icons located within walking distance of the hotel. The Spice Market is one of the city's many charms. Rather obviously, it is a market featuring all the flavors of Turkey, in authentic whole-spice form. The Hagia Sophia is a world-famous religious symbol. Beginning as a church and later used as a mosque, it is now a museum representing the city's diverse and turbulent past. These pieces of history, along with countless others can be visited using The Four Seasons Istanbul as a home base, starting at $440 a night.