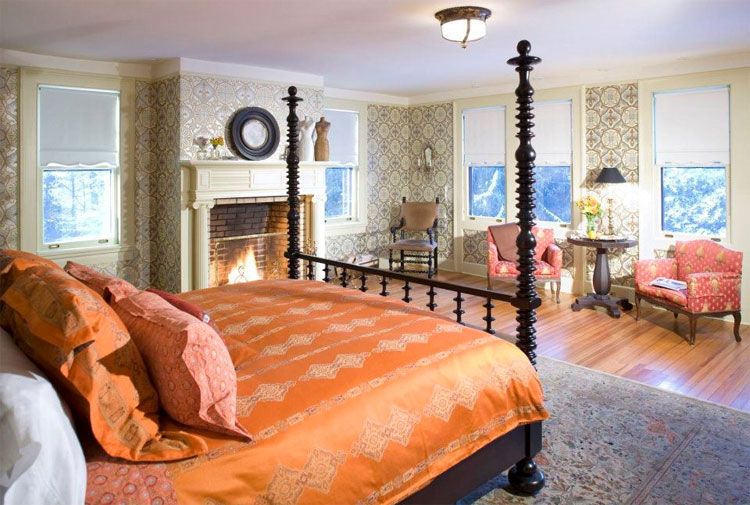 Photo Courtesy of Rock Hall Timothy Leland
A bed and breakfast is cozy, comfortable, funky, warm and inviting—but
luxurious
? If you're talking about Rock Hall bed and breakfast, yes, luxurious. Here's why:
It's a mansion, not a little house, designed by one of the most famous architects of the 20th century. Addison Mizner, designer of the grand homes of Palm Beach society, called this 1912 mansion, the only surviving Mizner residence north of the Mason-Dixon Line, Mediterranean Revival; but Alva Johnson, in her book
The Legendary Mizners,
describes all of his works as "Bastard-Spanish-Moorish-Romanesque-Gothic-Renaissance-Bull Market-Damn the-Expense" style.
Indeed, built in the Jazz Age, before there was such a thing as a United States income tax, this 10,000-square-foot structure was replete with several servants' quarters, which have been turned into a 9-seat movie theater, a fitness room, a massage room, a billiard room, and even a Scrabble room with a table set up for chess play.
Outside is 23 acres of natural beauty in Connecticut's unspoiled Litchfield Hills. Near the Connecticut Wine Road are an in-ground pool, perennial gardens, a marked hiking trail, grass tennis court, specimen trees, herb trail, wildflower meadow and apple orchard.
If you ask for a guided herbal walk, local herbalist Stacie Rydingsward will lead you to lavender, St. John's Wort ("good for depression"), nettles ("for allergy tea"), Jewel weed ("stops poison ivy itch") and more. If the weather is inclement when you're visiting, she'll take you into the ancient, but working, kitchen and mix up a salve that does about everything for your skin except kiss it.
Innkeepers Michael and Stella Somers, former fulltime New Yorkers, bought the home as a weekend getaway from Manhattan, but they had so much fun restoring it from ruin and decay that they decided to open it up and show it to the world. Stella Somers is an interior decorator whose father was a builder and who currently is founder and head designer of an Istanbul-based jewelry company.
She chose antiques and decorative objects such as 17th century sconces and Arts and Crafts wallpaper to enhance the beauty of the magnificent bones of the house. In the dining room, the wall covering is printed with a white lily design to coordinate with the thousands of lilies she had planted outside that room's windows.
Michael Somers, a retired Manhattan bond trader, makes the grand breakfasts with his own prepared gravlax, frittatas, biscotti and local breads in place of the usual muffins, alogn with fresh local fruit, and Connecticut-only dairy products.
The mansion, celebrating its 100th birthday this year, was listed on the National Register of Historic Places in 2010 and Stella Somers loves to give interested guests a thorough tour of the three-story home. Among the VIP regular guests here is the chairman of Ferrari, who comes when the annual Connecticut concours is held nearby. He probably stays in the master bedroom, an enormous and comfortable room with a claw foot bathtub and "ribcage" shower similar to one owned by the Rockefeller family. It sprays the whole body on top and at the sides, from head to toe.

Rock Hall is 45 minutes from Tanglewood Music Center and five minutes from Infinity Hall and the Yale/Norfolk Chamber Music Festival. It's an oasis for a romantic couple or a joyous house party for friends celebrating just about anything.