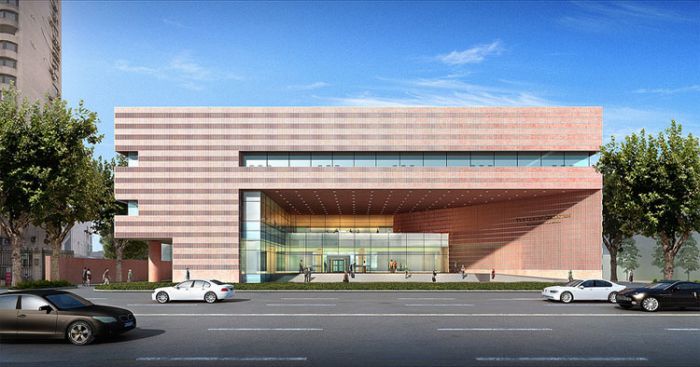 Photo Courtesy of Twelve at Hengshan
Located in the "Paris of the East," Shanghai's hottest cosmopolitan area, the Twelve at Hengshan is enveloped in cafes, boutiques, galleries, restaurants and restored art-deco buildings. The building itself was designed by Mario Botta, who is also responsible for the iconic San Francisco Museum of Modern Art, using eco-friendly materials. The architecture stands out among the historic surroundings in its contemporary design, but Botta dressed the façade in natural terracotta, which is popular along the streets of Hengshan. The 171
luxury guest rooms
encase a Chinese-style secret garden to promote Zen-like awareness of the environment.
There will be no lack of sightseeing opportunities during your stay at Twelve at Hengshan. The hotel is only three miles from the Shanghai Museum, The Jade Buddha Temple, featuring two world-renowned Jade Buddha relics, and The Shanghai Grand Theatre. It is just five miles from the Shanghai Zoo, and walking distance to Shanghai's version of the famous jazz venue in Harlem, the Cotton Club. The hotel is also only steps away from the American, Polish, and Austrian Consulates, in case you get yourself into trouble with the Shanghai authorities. In addition to being in a great location to see many cultural attractions and claim sanctuary, the Twelve is also close to Nanjing Road, which is one of the world's premier shopping destinations offering everything from designer brands, native fabrics and precious stones to local artwork and traditional Chinese medicine.
Décor around the property and in the guest rooms blends furnishings from East and West and past and present aesthetics. Nature is a recurring theme throughout the hotel, as the interior design team at Yabu Pushelberg were greatly inspired by the hotel's hidden inner garden, seen through floor-to-ceiling windows and balconies. Despite this focus on nature, the rooms still feature modern amenities like DVD players, flat screen televisions, iPod docking stations, rainforest showers, bathrobes and slippers, espresso machines, and mini bars. Services available to guests include 24-hour in-room dining, nightly turndown, dry cleaning, and valet. If you so desire, butler service and a daily newspaper can be provided.
Also available during your stay is WiFi, a shopping gallery, hair salon, heated pool, and fitness center. The hotel also features a Luxury Collection Spa which specializes in facial and body treatments utilizing natural and local ingredients. At the hands of spa experts, the goal is to rebalance and harmonize guests, physically, mentally, and spiritually. Spiritual balance is an important focus at the spa, to increase overall health and vitality well after services are complete. At Luxury Collection Spas, reiki, tai chi, yoga and meditation are the chief spiritual treatments. Guests are ushered through treatments attempting to return them to harmony, by relieving sore muscles, stiff joints or releasing stress with five stimulating and soothing treatments, including Swedish massage, shiatsu massage and reflexology. Healing cleansing properties can be discovered in the spa's saunas, steam rooms, or pool.

Dining at the Twelve includes 12 Hengshan, offering traditional Cantonese dishes for lunch and dinner; the Lobby Lounge serves a fusion between Eastern and Western cuisine all day; and Tops & Terrace, set in a French Boulangerie style location, serves menu of fusion creations as well for breakfast, lunch and dinner. Rooms range from around $288 to $992.