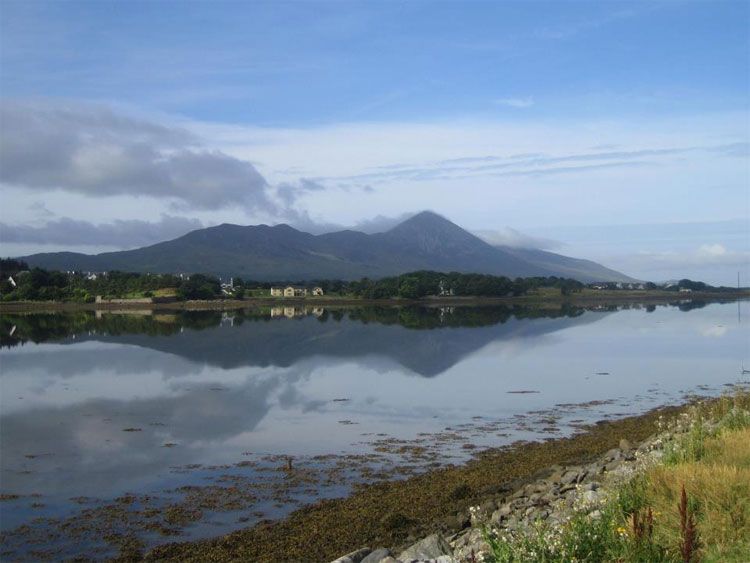 Photo Credit: Columbia Hillen/Westport Plaza Hotel
What began as a small family bed and breakfast operation in 1972 has now turned into not one, not two, but three hotels in and around the pretty coastal town of Westport in County Mayo, Ireland. All built by members of the Doran clan, the four-star, 87-room Westport Plaza is one of the three, located as it is in the downtown area of this once bustling port, now a thriving tourism center, a short 10-minute drive from the blustery Atlantic Ocean.
Access is easy, with safe, above and underground parking provided. Depending which entrance you use, revolving doors or elevator rides lead you to a broad, well-lighted lobby area featuring a long reception desk and lavish decorations. These include tiled pillars, cozy, off-green and light brown sofas with crimson lamps above, bookcases filled with row after row of Encyclopedia Britannicas, Jane Eyre, Charles Dickens and Thomas Hardy classics and 3-foot-tall wickerwork ampule-shaped flower vases.
Columbia Hillen
Blue, glass chandeliers add a touch of intrigue to the decorative artist's palette. Paintings hang from every wall, including one of Noble laureate poet, Seamus Heaney, in relaxed, contemplative repose. Another, in stark contrast, a blue-gold piece, reminded me of Gustav Klimt; 'reminded' being the operative word here. Valued in the millions, Gustav would hardly be hanging around a hotel in Westport, no matter how attractive the surroundings.
Westport Plaza Hotel guest room
Our room on the third floor was comfortable and cozy without being expansive. Windows looked down on an inner courtyard overlooking the mountains, and the bed was fitted with the softest cotton sheets I have ever slept in. A second highlight was the bathtub, which delightfully converted into a mini Jacuzzi at the push of a button. Let me tell you, we made generous use of it each evening after long walks through town and along the various picturesque piers, harbors and beaches nearby.
Breakfast is taken in the Merlot Restaurant, a Z-shaped room just off the main lobby, also used for lunches and dinners. This particular meal is buffet-style, though the staff is keen to make sure guests who wish off-the-menu items are satisfied. As such, we enjoyed aromatic kippers and poached eggs one morning. Eggs Benedict was not possible we were told, as the kitchen lacked Hollandaise sauce. We also ate dinner here on our first evening, being placed in a pleasant snug tucked away in a corner which offered semi-privacy away from other diners. Ask for it—it is well worth the feeling that comes from having an added touch of pampering placed upon one.
Served by a most helpful waitress from Pecs, Hungary—who next day brought us in some traditional Christmas sweets from her country—we indulged in a two-hour leisurely dinner, accompanied by a tasty bottle of rose wine from the Loire Valley. My starter consisted of pressed terrine of pork belly with a puree of black pudding (a delectable, Irish traditional mix of dried cow's blood and oats) and horseradish, which went extremely well with delicious multi-seed bread we were presented with.
My companion's choice was trio of salmon, smoked and home-cured with pickled red onion and lemon dressing and warm blinis. There was none left on her plate ten minutes after it was set down on the table. With damp weather lingering outside, we ignored the fish dishes and chose hearty meat ones: grilled Irish ribeye steak and roast rump of west coast lamb. The steak coming medium-well when it had been requested medium-rare illustrates an all-too common trait in Irish culinary tradition.
As a nation, generally people in Ireland like their meats well-cooked. Blood on the plate is a catastrophe (except the black pudding). Thus, when ordering rare or medium rare, added emphasis is a definite requirement. Obviously, we did not emphasize enough. The lamb, in contrast, was soft, juicy and succulent, complemented perfectly by the parsnip puree, grilled courgettes, red pepper jelly and cherry tomato. By then we were hard-pressed but we struggled on valiantly to vanquish the tantalizing desserts.
Columbia Hillen
Being a chocolate fiend (I've just finished a full block of Green & Black's organic milk chocolate with delicate flakes of Anglesey sea salt before starting to write this story), I find myself on a joyfully endless quest for the finest chocolate fondant. Thus, I plucked the Plaza version from the menu with gusto. And when it came I was not disappointed. The cover was suitably firm and the scrumptious dark liquid inside oozed out seductively. My companion chose the Grand Marnier cr?me brulee, the ultimate test in the illustrious art of French pastry-making. The Head Chef, Xavier Blondel, passed with flying colors.
Columbia Hillen
The Westport Plaza provides live music as entertainment. While there, over part of a weekend, it hosted music in two different areas of the hotel, varying between contemporary pop, country, western and traditional Irish genres. Weddings play a large part in its annual activities.

A big draw for people to the hotel and to Westport itself is the inspiring, craggy peaks of Croagh Patrick, five miles away. The ancient ridges, once a Pagan stronghold is now a Christian pilgrimage site, but is also used for 'iron-man type' feats of athletic prowess. After wiping our plates clean of the mouthwatering fondant and brulee, we needed to do either; but it was raining, so we did neither.