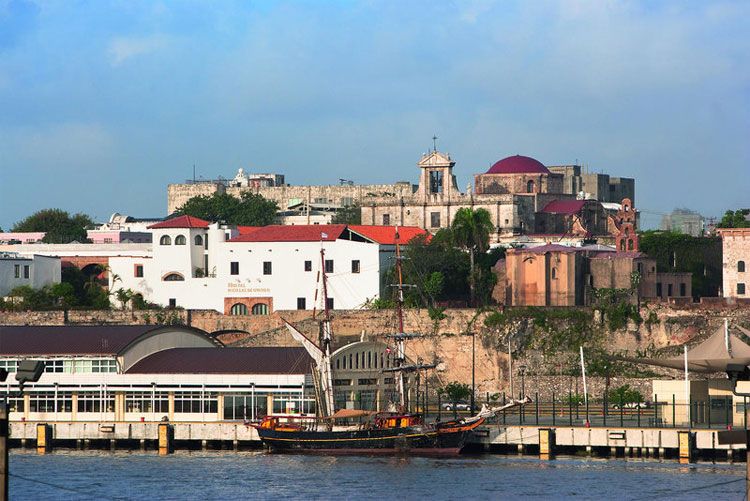 Photo Courtesy of Hostal Nicolas de Ovando
If you're seeking a sense of Old World history in the Caribbean, look no farther than
Hostal Nicolas de Ovando
, a renovated five-star Accor hotel built on the site of the home of (and thus named after) the first Spanish Governor of the Dominican Republic's capital city, Santo Domingo.
Photo Courtesy of Hostal Nicolas de Ovando
Classified as a World Heritage Site by UNESCO, it is located on Las Damas Street, which is believed to be the first paved road in the colonized Americas. The 104-room property lies in the heart of the historic downtown area dating from 1502, a two-minute walk from the former home of Christopher Columbus, who claimed the island for the Spanish empire. Architecturally, the hotel—part of the MGallery collection—presents a seamless blend of old and new, with a façade of thick sandstone, decorative lamp posts, polished steel and glass entrance doors. Inside is a chic, stylish lobby in ocher décor with the reception and concierge desks opposite each other at either end.
Photo Courtesy of Hostal Nicolas de Ovando
A short walk from there, along a corridor well-lit by hanging chandeliers, brought us into a wide, open area with a series of ornate, beguiling arches stretching above, leaving us with the distinct feeling of walking through the compact grounds of a large luxury hacienda. Here, on a large-open terrace overlooking the Ozama River as it flows into the Caribbean Sea. The land on the far bank where Santo Domingo was first founded, is a swimming pool with cushioned lounge chairs and glass tables spread around. For days after, on wonderfully warm afternoons, we would spend several hours here sunbathing and reading. A few steps away in a shady niche is the Cibao Bar serving a wide range of drinks.
Photo Courtesy of Hostal Nicolas de Ovando
Rooms are reached along a short, stone-tiled walkway that winds its way around tropical foliage. Our room, on the second floor, was cozy without being overly spacious, reflecting a cool neutral décor accented with traditional dark wood furniture and understated touches of local art. Old-style hacienda shutters and ochre tile floors show an admirable attempt at replicating historical authenticity. Our bathroom facilities were excellent, with both shower and bath options, and crisp linens across truly comfortable beds.
Photo Credit: Columbia Hillen
Guests have the option of eating inside at La Residence restaurant in a high-ceilinged ballroom rich in tones of crimson, with medieval-like chandeliers and high-backed wooden chairs, brass palm trees decorating the walls; or outside in a Spanish-style tiled patio, among lush potted palms, a decorative fountain and wicker chairs and tables. The weather being balmy, we chose the latter, but either way, the dining experience is one to remember. Breakfast is also served here.
Photo Credit: Columbia Hillen
While the menu is international, albeit strongly French influenced, I was unsure about ordering terrine of foie gras as my starter, concerned that the quality here in the Caribbean might not be high. I could not, however, avoid the temptation. I'm glad, as it proved to be smooth and flavorsome with sweet potato, fig chutney and homemade cinnamon brioche as fine accompaniment. My dinner companion chose lime-marinated scallops as a starter. The chef must have merely let the little darlings kiss the hot skillet, so keen—and ultimately successful—was it in having their natural seafood savour speak for itself; the taste enhanced by a scattering of roasted pine nuts.
Photo Courtesy of Hostal Nicolas de Ovando
My notion for French cuisine increased upon seeing duck confit and roasted breast on the menu. This turned out to be the gold medal of my Dominican Republic culinary experience. It was presented in a glass jar in which normally foie gras is kept, with tender shreds of duck and sweet potato Parmentier layered together (named after the French agronomist who in 1772 first declared in Europe that potatoes were edible). The thin slices of roasted duck breast were aligned tidily on my plate, their moistness upheld by a delicate vanilla sauce. My companion also was pleased with her selection, local gambas pan-flambéed in aged Dominican rum with an accompaniment of rice and assorted vegetables.
Photo Credit: bonchan/Shutterstock
The pi?ce de résistance of the evening, however, was surely dessert—mine being a pineapple Carpaccio with pepper and truffle oil, daring but superb, combining the sophistication of French cuisine with the simplicity of fresh local fruit. In contrast—certainly in caloric terms—was my companion's choice: a chocolate fondant with salted butter caramel sauce and a perfectly textured crust, the middle oozing forth a lava of delight.
Photo Courtesy of Hostal Nicolas de Ovando

Service at Hostal Nicolas de Ovando was warm, personal and efficient. France-born Erwan Daussy, food and beverage manager, was particularly friendly, describing the challenges of finding consistently fresh produce on the island; and a smiling Carmen Volquez, head concierge, imparting tidbits of information about the locale and on more interesting places to visit.