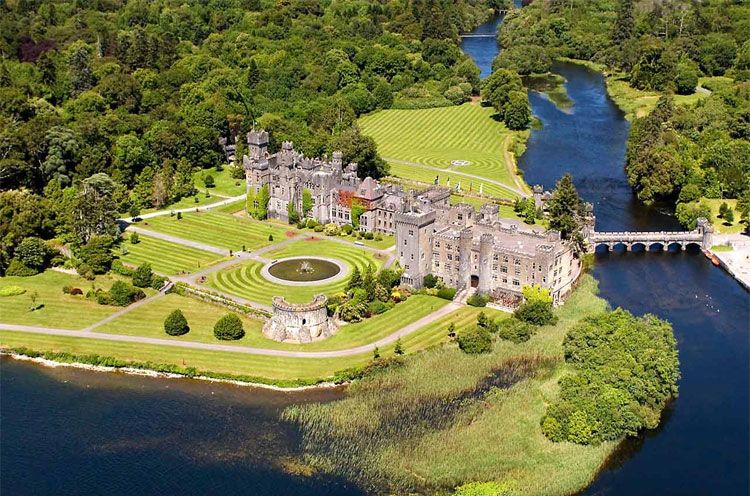 Photo Courtesy of Ashford Castle
A winding driveway through manicured lawns fronted by an imposing gatehouse with crenellated stone battlements—the first clues that something impressive lies beyond. But still, these elements ill-prepare one for the full splendor of the
Ashford Castle
, as the magnificent 13th century Irish edifice comes into view beyond the last gentle rise of land.
Photo Courtesy of Ashford Castle
Dating back to 1228 when it was the former seat of the De Burgo family, this stunning castle occupies a most coveted location on the edge of Lake Corrib in western Ireland surrounded by forest and woodlands with several islands in close proximity. Drawing nearer as one passes over a small stone bridge and under a decorative archway, it is easy to imagine bygone days when battle-weary warriors and genteel nobility passed this very same route on horseback or carriage.
Photo Credit: Columbia Hillen
It's a picture even easier to imagine as one walks up the entrance steps and comes face-to-face with two formidable, armor-clad medieval knights, visors down. Such ornamentation—life-size, standalone replicas complete with breastplates, gauntlets and helmets—dramatically sets the historical tone, as does the castle's entire interior, adorned with sumptuous medieval artifacts and furnishings.
Photo Courtesy of Ashford Castle
The castle's lobby area is a large open space, the reception desk being straight ahead. Assorted oil paintings bedeck the walls—a landscape at sunset; fishermen in a boat; a hatted man walking along a pathway, picnic basket in hand, to name but a few. A tall candleholder standing on the ground is shaped as half-man, half beast with hooves. Glass fronted shelves nearby contain finely-cut crystal glasses and miniature bronze and brass figurines of wizard-like characters and the legendary Queen Maeve of Connaught, the western Irish region in which Ashford Castle is located.
Photo Credit: Columbia Hillen
A walk through the rooms and hallways is a journey back in time, starting left of the lobby where there is an even larger area, heavily carpeted, with a high wooden ceiling and carved balconies above. To one side is an expansive drawing room with cozy sofas, an open fire, a grand piano and a small bar, adjacent to the dining room, richly decorated in tones of burgundy and cream, with immaculately white tablecloths, shining silverware and Queen Anne chairs. On the other side of the ground floor, past a table and chessboard (with information for those wishing to take lessons) and delicately crafted furniture pieces, are several other rooms—an intimate, stone and marble nook beside an open fire with padded benches and another lined with shelves resplendent with Imari porcelain plates.
Photo Courtesy of Ashford Castle
Beyond, a high-ceilinged, well-lighted room with several full-length casement windows grants wonderful views outside. It is here in what's known as 'the Connaught Room' that the ancient met the modern in the guise of hotel guest Ann Woods, seated beside the centuries-old fireplace, iPad in hand, watching the Wimbledon men's tennis final between Roger Federer and Andy Murray. She and her husband, Tom, had been to Ashford Castle 45 years before and were making a return sentimental visit. "It's as elegant and intriguing as it ever was," she declared.
Photo Credit: Columbia Hillen
A short staircase nearby, candelabra either side, decorated with framed equestrian themed photographs entices one to explore further. Halfway up, a bronze statue of a helmeted hunter, sword and crossbow in hand, stands on a small table. Further on is a 'memorabilia wall' with photographs of past celebrity visitors from the worlds of politics and entertainment including former U.S. President Ronald Reagan, actress Maureen O'Hara, star of the hit movie
The Quiet Man
filmed nearby; John Wayne, her suitor in the movie; and a young Brad Pitt. A gift store lies just off the staircase.
Photo Credit: Columbia Hillen
Our accommodation spread across two levels with a sitting room up a short winding staircase complete with a television, sofa, armchair, glass-topped coffee table, and open fireplace; the bedroom, with pastel-colored wallpaper and a leaf motif, is decorated with framed prints of various flowers, further enhancing the nature theme. Hanging chandeliers and wall lamps completed the classic look and three large windows provided ample light with generous views out over the lake and grounds.
Photo Courtesy of Ashford Castle
The castle's cuisine artisans tickled our interest immediately with delectable homemade cookies and chocolate truffles left bedside as welcome gifts. It being late, we waited until breakfast the next day to taste their culinary skills. What we found delighted us; gourmet offerings that included goat cheese and baked mushroom; poached eggs with sweet pepper relish; scrambled eggs scented with preserved truffles and McGeough's air-dried beef with fresh rocket leaves.
Photo Courtesy of Ashford Castle
Suitably seduced, we found ourselves back that very evening in the same room, this time for a four-course dinner in a relaxing candlelit atmosphere. The soft tinkling of piano music drifted towards us, an open fire before us and ornate overhanging chandeliers adding an air of opulence. The menu was mouth-watering, accompanied by a bottle of Chateau Musar 2004 Lebanese red. My starter, roast French quail served with whiskey, Tonka bean and apricot stuffing, and a toffee dressing was memorable. The stuffing, akin to aromatic bread pudding, blended wonderfully with the bird, all bursting with walnut and toffee flavors.
Photo Courtesy of Ashford Castle
My wife, Columbia, chose Carpaccio of local tuna with pan-fried tiger prawns. The thin slices of fish were flavored with a light spread of fresh horseradish and refreshing dribbles of lemon and olive oil marinade. The prawns, cooked in breadcrumbs, had been crisply fried, just right. While conversing with Martin, who after forty years at Ashford is a walking encyclopedia of information about the castle and its environs, we were presented with a bowl of cream of sunchoke, baked crabmeat and toasted almond soup, an earthy, nutty interlude between courses.
Photo Courtesy of Ashford Castle
Martin's stories of friendly ghosts accompanied our main dishes of roast loin of Irish venison with peppercorns, blackberry jus, cheddar potatoes and filet of turbot with smoked oysters, wild mushrooms and chardonnay cream. All superb. Whilst replenished, we simply could not forgo dessert—warm, soft chocolate and chestnut triangles surrounded by golden cubes of pear compote and lemon jus.
Photo Credit: Columbia Hillen
Such feasts demand some form of activity and Ashford offers several alternatives. Visiting the School of Falconry in the castle grounds, we learned about the history and temperament of these beautiful raptors while embarking on a 'Hawk Walk' with instructor Aurelie O'Sullivan. In the woodlands we enjoyed the experience of wearing leather wrist bands and seeing the bird fly to us to eat morsels of food from our hands.
Photo Courtesy of Ashford Castle

A boat ride, courtesy of guide David Luskin and the boat's captain Patrick Luskin of Corrib Cruises, not only allowed us to enjoy the ancient waterway, but also see some of the sacred islands such as Inchagoill and monastic sites, as well as learn more about the local area. For something more lighthearted, a visit to the museum dedicated to the movie
The Quiet Man
in the nearby town of Cong is very worthwhile. Established by local man, former bread van driver Gerry Collins, at the urging of his daughter, Lisa, the cottage museum and gift store provides insights into the making of the hit Hollywood movie about life in rural Ireland, including amusing re-enactments of several scenes, complete with period costumes.