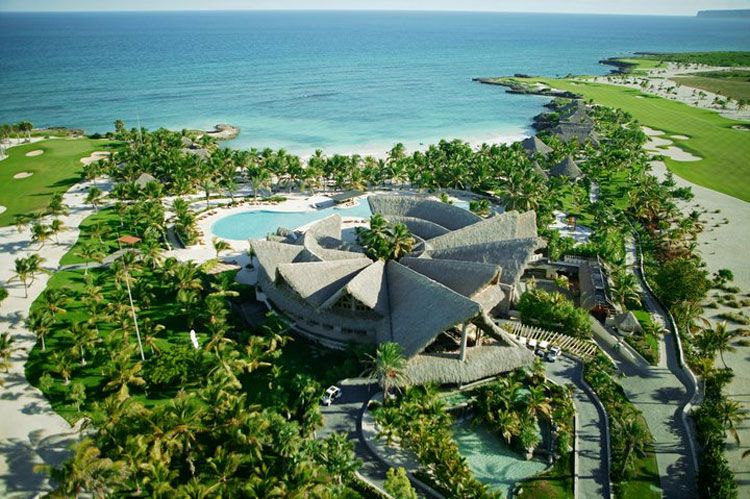 Photo Courtesy of Eden Roc at Cap Cana
Multi-colored villas boasting large verandas with dipping pools; wicker chairs and soft lounge seating; lush vegetation and melliferous flowers; palm tree branches bowing elegantly over a small lagoon—this is the essence of
Eden Roc at Cap Cana
, a tranquil retreat on the far east coast of the Dominican Republic. Not just catering to individuals and families seeking a self-contained holiday, Eden Roc also boasts meeting and event space, suitable for destination weddings or corporate functions.
Photo Credit: Columbia Hillen
Seated a few steps outside the sliding doors of my bedroom, piña colada and book in hand, blue sky and sunshine above, nothing seemed more relaxing. And that's exactly what this property by Solaya Hotels & Resorts is all about. Tucked away off Interstate 3 on a sprawling acreage site an hour's drive from Santo Domingo airport, this property promises undisturbed recreation—not that there's nothing to do but lounge on one's veranda amidst verdant greenery enjoying succulent cocktails and reading fiction.
Photo Courtesy of Eden Roc at Cap Cana
Eden Roc features Punta Espada, an 18-hole Jack Nicklaus signature course; the full-service Solaya Spa featuring open-air, water-side treatments; Caletón Beach Club with swimming pools and beach bar; and Koko Kids Club resembling a massive tree house, with diverse activities including video games, a story-telling area and a mini-spa where girls can have manicures, pedicures and hair styling.
Photo Courtesy of Eden Roc at Cap Cana
The resort complex comprises 34 freestanding rental and owned villas. It is so large that every guest has their own electric cart to drive, with charging outlets outside every villa and at various other places. Opened in late 2012, Milan-based designer Marina Nova, in collaboration with Dominican architects Franc Ortega and Andreina Rodriquez, have accomplished their task well: fashioning a luxury getaway that feels more like a tranquil village than a traditional resort. They've nicely blended European influence, aka 1960s French and Italian Rivieras, with the spirit of the Caribbean as reflected in gaily-painted villas—cerise, golden yellow, azure plum and lime green—all contributing to one's overall sense of well-being.
Photo Courtesy of Eden Roc at Cap Cana
Our villa was within easy walking distance of the hotel's main lobby area and the Mediterraneo restaurant, which hosts breakfast, lunch and dinner. The villa provided ample space, divided into a large combined living room/bedroom. The adjoining bathroom is accessed through full-size, mirrored doors with double wash-hand basins opposite each other, a Jacuzzi, shower and an ample 'walk-in' clothes storage area. An alternate outside shower permitted us the pleasure of that refreshing option, surrounded by privacy walls.
Photo Credit: Columbia Hillen
In the main room, a folding door cabinet contained various sets of glasses for drinks, a circular table provided workspace, and a coffee table stood beside a cozy white couch in front of a flatscreen TV. The overall color scheme—soothing cream and eggshell—is light and airy, a feeling enhanced by the high, V-shaped painted ceiling, white walls and coral stone mosaic floor. Each villa is equipped with Bose audio systems and iPads with innovative apps to control lighting, sound, air conditioning and even the mini-bar. iPads also allow guests to interact with front desk staff.
Photo Courtesy of Eden Roc at Cap Cana
In terms of food and drinks, Eden Roc offers six options: the elegant Mediterraneo, which melds French and Italian cuisine and overlooks the lagoon; the more intimate Gastronomico, seating only 20 guests; La Palapa at the Caletón Beach Club, featuring seafood and other dishes; the Blue Lagoon Bar & Restaurant, presenting light fare and deli favorites; La Cava, providing a cellar-like ambiance, with a charming domed brick roof; and Riva Bar, inspired by the Riva Aquarama pleasure boat that was the symbol of glamor in 1960s Monte Carlo.
Photo Courtesy of Eden Roc at Cap Cana
But let's start with breakfast. Fresh passion fruit juice, cava wine, homemade butter and marmalade, a large array of cheeses, hams, fruits and pastries as well as local wildflower honeycomb from the La Altagracia region welcomed us every morning on the terrace at Mediterraneo (you can also choose to eat inside). Such delectable morning offerings were just a prelude to what Chef Mauro Gianinazzi and Pastry Chef Gwendal Comellec created for us for dinner one evening.
Photo Courtesy of Eden Roc at Cap Cana
We opted for the tasting menu, even though the á la carte menu offers include some tantalizing items such as baby octopus salad with saffron leeks and watermelon-mint sorbet; Maltagliati (irregular-shaped) pasta with sautéed langoustine and morel mushrooms in lobster bisque; and red snapper fillet with Israeli couscous and raw tomatoes ceviche. The tasting menu is usually served in La Cava, but we chose to stay on the terrace where we could be serenaded by both the cicadas and the excellent piano-playing of the friendly Pablo Moya in the nearby Riva Bar.
Photo Courtesy of Eden Roc at Cap Cana
Paired with a selection of wines from Italy, Chile and Spain, the five-course tasting menu was a culinary display of art—Angus fillet burger with quail eggs and black truffle; ravioli of cheese, sundried tomatoes and botargo (cured fish roe) with calamari; a cappuccino of white tomato and fish consommé; tuna served medium raw with avocado, gizzards (small, crisp pieces, rich with flavor) and pine nuts; lamb ribs accompanied by humus and lime, with red pepper coulis.
Photo Credit: Columbia Hillen
A green tea sorbet provided a suitable intermission, allowing the cascade of flavors to sift through one's palate. When it came to desert, French Chef Gwendal is not shy about his talent, impressing us with a cream of wasabi, apple and cinnamon compote and a vanilla and honey biscuit served with a pineapple parfait. His rose macaroon with vanilla supreme and fresh strawberries are better than any at Laduree's.
Photo Courtesy of Eden Roc at Cap Cana

After dinner, we removed ourselves to the Riva Aquarama where, enlivened by the potency of the cocktails, we embarked upon a spontaneous duet with Pablo of that lilting early 20th century Irish ballad, 'Danny Boy.'
A lovely way to end a lovely evening.