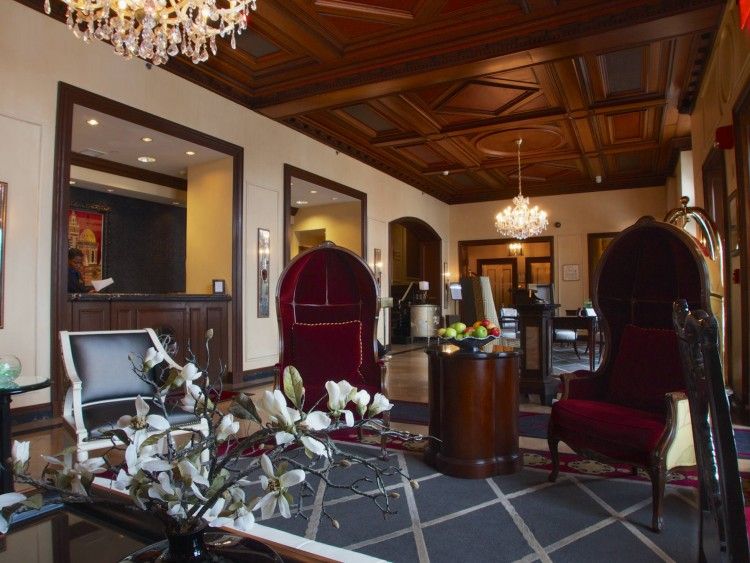 Photo Credit: Columbia Hillen
One of the highlights of any visit to Kansas City, Missouri is a leisurely stroll through the delightful area of fashionable restaurants, stores and ornate fountains known as the Spanish Plaza. The stucco architecture of its buildings are modeled after those in Seville, with whom it has a long-established sister city relationship. Located directly in front of the plaza is
The Raphael Hotel
, which has been voted as one of the 2013
Travel + Leisure
500 World's Best Hotels.
Photo Courtesy of The Raphael Hotel
The hotel's classic, chocolate-brick façade and charming old-world lobby mixed with its overall comfort and efficient service make this hotel a standout among Kansas City hotels. The arched glass doorways and decorative white lights outside the main entrance are impressive. Also of interest is the delicately carved alabaster statue of a young boy gazing forlornly at the thorn stuck in his foot. The statue is a larger version of the original figure which sits in the Uffizi Gallery in Florence. Having sat there on a grassy patch scattered with flowerbeds for many years, he's become the hotel's unofficial guardian.
Photo Courtesy of The Raphael Hotel
Upon arrival, we were warmly greeted outside the hotel's driveway by a uniformed doorman taking care of our car while another welcomed us inside, offering aromatic coffee accompanied by delicious, homemade cookies.
Originally opened in 1928 as the Villa Serena Apartments, this Italian Renaissance Revival-style building was transformed into The Raphael Hotel in 1975, following a renovation that preserved many of its historic features. The property is listed on the National Register of Historic Places and is part of the
Marriott Autograph Collection
of independent hotels.
Photo Credit: Columbia Hillen
The lobby area is expansive, stretching past several sets of large windows, soft sofas and chairs and offers clear views of Brush Creek and parts of the plaza. Overhead is an impressively carved, varnished wood ceiling with glittering chandelier. Shapely, high-backed chairs, some with a chic zebra design, others plush red (the kind you might see in a royal medieval court) stand just inside the front door.
Photo Credit: Columbia Hillen
With elevators at either end, arriving at rooms is easy and convenient; our suite was on the sixth floor. A towel creatively shaped into a white rabbit complete with adorable eyes, perched on the sofa, made for a pleasant and amusing welcome. The suite provided a most attractive vantage point from where we enjoyed wonderful views. We looked out onto a statue of Winston Churchill, his wife, and Clementine seated together on a small stone bridge over Brush Creek.
The statue commemorates the former British Prime Minister's famous Sinews of Peace speech at Westminster College in the nearby town of Fulton in 1946 during which he referred to Europe's Iron Curtain. Beyond the bridge is the Spanish Plaza (or Country Club Plaza) built in 1922 and reputed to be the nation's first suburban shopping mall.
Photo Credit: Columbia Hillen
Our room's décor was elegant without being overly fussy with beige wallpaper, a brown sofa, two brown armchairs and glass-topped coffee table. A large dining table with eight chairs stood near the far wall. Heavy, lime-green drapes and several framed paintings of flowers completed the overall décor. Our bedroom provided ample space with a dressing table, television and large closet. The bathroom washbasin, on a black marble base, stood on one side of the same room while the shower and toilet facilities remained separate.
Photo Credit: Columbia Hillen
The Raphael's restaurant occupies an intimate space a few steps below the lobby level and is cheekily named Chaz on the plaza. The interior design of polished granite and natural walnut finishes is enhanced by bold splashes of crimson on chairs, lamps and panels. An original floor-to-ceiling mural incorporating a photographic montage of plaza landmarks decorates one wall. We entertained guests there one evening and enjoyed live entertainment that included jazz, blues and contemporary music.

Known for its dinner menu items of lamb and aged prime beef, Chaz also hosts breakfast. Innovative options include Lobster Benedict with an assortment of fried green tomato, poached lobster, local hackleback sturgeon caviar and Bernaise sauce. Likewise, more traditional fare is provided including omelets, waffles, pancakes, oatmeal, fruits, yogurt and granola. On a wintry morning, such as one we experienced, room service was a satisfying option.
Photo Courtesy of The Raphael Hotel
For workouts, a small gym with jogging and step-up machines as well as freestyle and equipment-linked weights is conveniently located in the basement. The Raphael also hosts small business and social functions. Its stately Blue Beacon Boardroom features an executive conference table that seats 12 and the Plaza View Meeting Room accommodates up to 36 for classroom-style events. It can also arrange for social events, up to 40 for a banquet or 49 for a cocktail party.
Photo Courtesy of The Raphael Hotel
As mentioned, location is a key advantage of The Raphael, and not just for the plaza area. The hotel lies within a 15-minute drive of the downtown convention and arts district, the Sprint Center, the Power & Light Entertainment District and the stunning new Kauffman Center for the Performing Arts. Nearby popular city attractions include The National World War I Museum, Nelson-Atkins Museum of Art (pictured), 18th & Vine Historic Jazz District, Negro Leagues Baseball Museum, Kansas City Zoo, Kansas Speedway, and Arrowhead football stadiums. With so many local attractions and luxury accommodations in a historic building, The Raphael Hotel is a unique treat for any traveler.