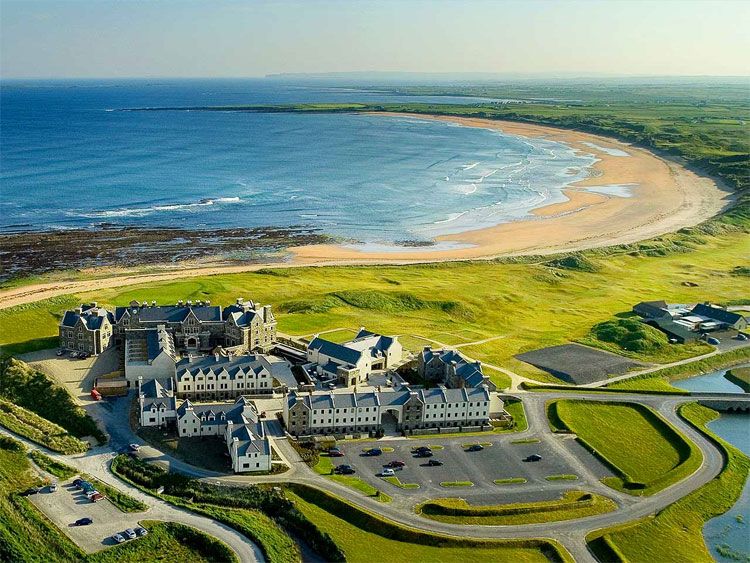 Photo Courtesy of The Lodge at Doonbeg
Nicknamed 'The Shire' (as in The Hobbit) or Hogwarts, Trump International Golf Links & Hotel Ireland is a quaint, village-like property of well-designed buildings on a vast undulating stretch of open land straddling the coast of Clare in western Ireland.
Photo Credit: Columbia Hillen

Located between the sleepy towns of Doonbeg and Quilty, the five-star property is primarily a golf resort but also attracts tourists keen to explore the local area including the cliffs and lighthouse at Loop Head Peninsula, the sea-gouged Bridges of Ross and the beach and headland at Spanish Point. Weddings are also becoming popular and a special marquee is set up on the grounds for such occasions.
Photo Credit: Columbia Hillen

At the end of a winding road, one drives under a sturdy stone arch akin to the gatehouse of a castle (without the drawbridge) and into a short cobblestone street of terrace and semi-terraced grey-granite and white pebble-dashed cottages with small gardens in front boasting multicolored flowers. A wooden cart painted pink and filled with lumps of turf stands outside the property's main building housing the reception area under an impressive tower clock.
Photo Credit: Columbia Hillen

Keith Flynn, a friendly Scotsman from Edinburgh who has lived in the area for the last few years, greeted us warmly and took us to our accommodation, a corner two-floor, four-bedroom courtyard house beside the arch. This is one of several accommodation options at the resort, the others being Links Cottages, a series of larger villas gathered in a cluster outside the walls of the village, and Garden Suites situated in the main clock tower building itself.
Photo Credit: Columbia Hillen

With exposed wooden beams, flagstone, slate floors and a hemp carpet, our cottage emanated comfortable rusticity. Old framed sketches and paintings adorned the walls, ranging from an aerial view of Dublin in 1846 to 18th century countryside scenes and plants. Sofas and armchairs in a tartan design and an open gas fireplace welcomed us. It also had a fully-equipped kitchen. All accommodations contain self-catering facilities, except the garden suites.
Photo Courtesy of The Lodge at Doonbeg

To emphasize golfing activities, several sketches depicted scenic views from various holes on the Greg Norman designed course. Opened in 2002, the par-72 layout features a single loop of nine holes out and nine back, playing 6,885 yards from the back tees. Fourteen of Doonbeg's greens and 12 of its fairways required no changes but a simple mowing of grass. The fairways and greens consist of native grasses, including fine fescues, bentgrass, and ryegrass.
Photo Courtesy of The Lodge at Doonbeg

Several dining options are offered. We tried Darby's, located above the golf shop and private members' facilities, on our first evening and found it to be lively and informal. A wide range of dishes served on plain wooden tables, with generous views over the golf course and out to sea. The fare is traditional pub grub, with seafood chowder, chicken wings, crab claws and Caesar salad as varied starters. Generous helpings of home-baked soda bread and pan brioche served with butter and tomato-herb tapenade accompany meals. A particular highlight was our shank of West Clare lamb, which, seasoned with fennel and rosemary, slid gently off the bone.
Photo Courtesy of The Lodge at Doonbeg

On our second evening, we tried The Long Room on the ground floor, named after one of the former Charleston-based owners. Consisting of two connecting rooms with high ceilings and a wooden bar area between, it has large bay windows overlooking the golf course and coast. Designed in tones of dark olive green and mustard, with large mirrors, oak-framed doors, golf clubs on the walls, the rooms reminded us of classic, turn-of-the-century sitting rooms. The menu is an expression of pure simplicity; the Atlantic scallops, for example, are pan-seared, accompanied by a citrus confit and green apple.
Photo Courtesy of The Lodge at Doonbeg

There is also an abundance of locally sourced items including dry aged beef and free-range pork from nearby Kilrush and fresh cod and monkfish from Doonbeg and Carrigaholt. The evening's special was halibut, served on a bed of seaweed and spinach, accompanied by sorrel tapenade, new potatoes, cauliflower and kohlrabi puree. With a mild taste and firm flesh, the pan-fried halibut was a treat, especially with flavor from the seaweed adding extra zest. A comprehensive room service menu is available as well for those preferring a quiet evening back in their rooms. Another option is to order the raw ingredients to cook your own barbeque, or to picnic at a place of your choice.
Photo Courtesy of The Lodge at Doonbeg

Following a walk on the 2-mile beach adjacent to the property, we slipped into narrow, bathtub-style Jacuzzis and enjoyed sauna and steam rooms in separate men's and women's areas in the spa (they offer various treatments too).
Photo Credit: Columbia Hillen

Before leaving, Keith brought us to an old Irish cottage outside on the grounds, which is used as an entertainment center for 'seanachai' (storytelling) and traditional music evenings. A simple floor of local stone slabs, basic chairs and a big open fireplace created a perfect rustic setting. We could almost imagine the wind howling around the walls as Irish ghost stories were being told inside.
Called the Lodge at Doonbeg at the time of writing, this hotel was purchased by The Trump Organization and is now named Trump International Golf Links & Hotel Ireland. This article has been updated to reflect the change to the name and website.