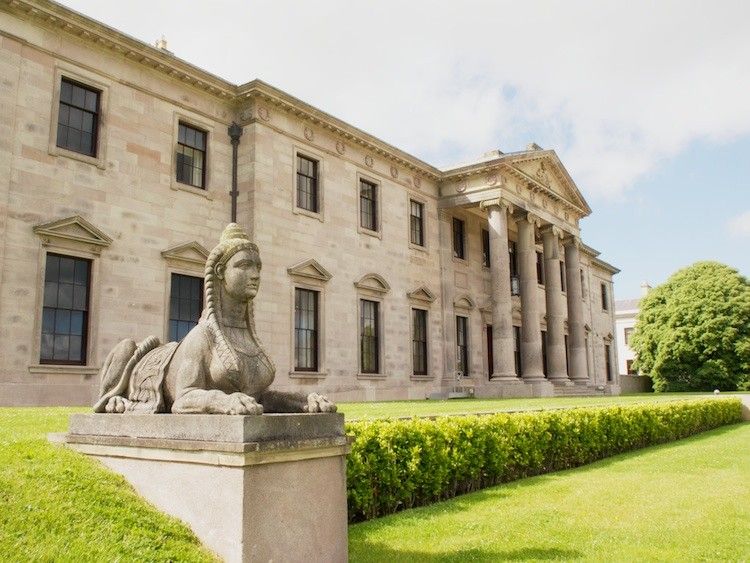 Photo Credit: Columbia Hillen
Ballyfin
mansion in County Laois central Ireland, is a step back in time to the early 1800's when English Lords ruled over vast stretches of local countryside and built impressive homes to reflect their power and wealth. A ten-minute drive around Ballyfin's stonewall border indicates the sheer size of the property (around 640 acres). In 2001, Chicago businessman Fred Krehbiel purchased the run down mansion for a reputed $10 million dollars and invested much more (an estimated $40 million) to rehabilitate it.
Photo Credit: Columbia Hillen
The result? An estate of splendor. Inside is a profusion of stunning decoration. In an extended hallway, we walked through an Ionic portico over an imported mosaic tiled floor, reputedly thousands of years old. Overhead was a coffered ceiling and well-proportioned antlers of a wild elk above. Near the front desk stood two headless mannequins dressed colorfully in medieval butler's costumes as well Chippendale mirrors dating from the 1700s.
Photo Courtesy of Ballyfin
On our way to our accommodations, we were greeted by a cantilever staircase made of sandstone complete with brass balusters and a mahogany rail. Our first floor Westmeath Room was situated next to a standing medieval suit of armor. Passed the thick-carpeted corridor, we were surprised to see a Faberge egg-shaped bed with a gilded headboard and twisted silver satin sheets on each corner.
Photo Courtesy of Ballyfin
Above the open fireplace hung a large oil portrait of a rather prim-looking Countess of Westmeath. The room's furnishings consisted of: twin plaster urns on wall shelves, an antique clock, a glass-fronted wardrobe, a writing desk, and chaise-longue. Sandy-colored wallpaper displayed an ostrich feather leitmotif while the bathroom boasted a large enamel tub.
Photo Credit: Columbia Hillen
Throughout the property, a number of rooms furnish the large estate. The saloon reflects ornate plasterwork scagliola columns made of marble chips and gypsum. The room also includes an inlaid floor pairing together mahogany, maple and oak. Lit by a stained glass skylight above, three wildflowers depict the emblem of the mansion's original owners, the Coote family.

Beyond the saloon, the rotunda room features an ornate double-dome which opens to a spacious, well-furnished library containing over 5,000 books. The Gold Drawing Room is decorated with intricate Rococo plasterwork panels and gilded mirrors. At one end of the estate, through the library is a large conservatory where lunch is served. A stay at Ballyfin includes all meals, afternoon tea and pre-dinner reception drinks. The menu changes daily and is based on the seasons and fresh produce grown on the property.
Photo Credit: Columbia Hillen
Breakfast is á la carte with healthier options like fruits and cereal or the more traditional, decadent full Irish breakfast served with bacon, sausages, black and white pudding, eggs and tomatoes. The Ballyfin 'butty' consists of dry cured pork belly, fried egg, soda bread and hen or duck eggs. For lunch, the giant glass-paneled sunroom beside the library makes for a lovely setting. The varied selection includes salads, quiche and soups along with cold cuts, farmhouse cheeses and hamburgers.
Photo Courtesy of Ballyfin
Dinner is a three-course event which starts off with an amuse-bouche of warm Parmesan cheese bonbons with melon and prosciutto on skewers and pre-dinner drinks. A second amuse-bouche was served, this time foie gras cr?me br?lée with a crisp of lemon. We tried the slow-cooked egg starter which came poached with an intense flavor and served with garden red beetroot and herb yogurt. Clare Island Salmon and Thornhill Farm Duck were our two main course choices. We chose the latter, a magret with crisp skin, a soft and tender middle and served with a small sausage of confit.
Photo Courtesy of Ballyfin
We decided to forgo the succulent desserts — garden rhubarb with raspberry compote, After Eight ice cream, Ballyfin garden strawberries with lemon mousse and strawberry sorbet — and opted for the selection of farmhouse cheeses. The head waiter explained they were Ardrahan, Durrus, Milleens from Cork, Kearney Blue from Down and Cashel Blue from Tipperary.
Photo Credit: Columbia Hillen
After such feasts, guests can enjoy a leisurely walk along gravel pathways to a 130-foot stone tower with views towards the Slieve Bloom Mountains. Other activities include falconry, fishing, cycling, and trapshooting. Period costumes from the Chicago Lyric Opera Company are available for those who fancy dressing up for dinner. Guests also have use of an indoor swimming pool and spa treatment rooms. Ballyfin offers romance mixed with historical treasures and surrounded by miles of natural beauty, it is a gem in the Irish countryside.