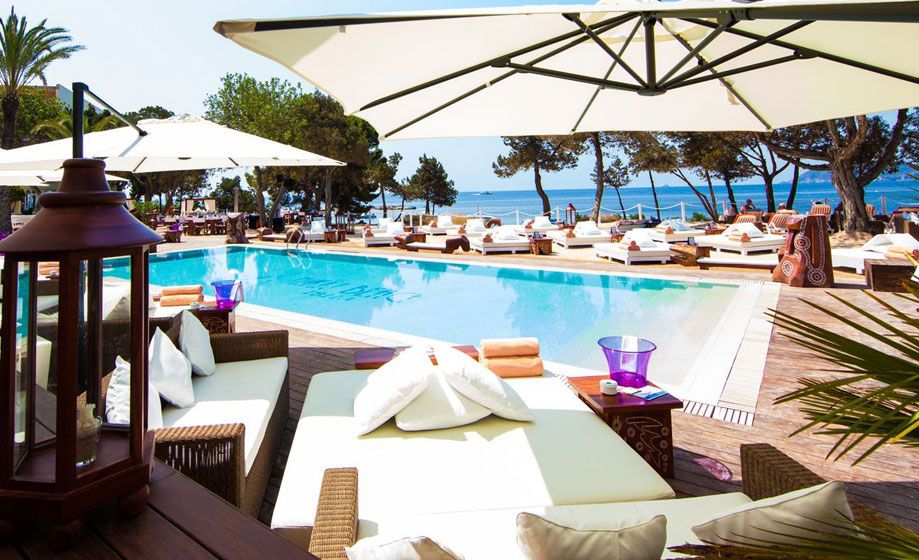 Photos Courtesy of Aguas de Ibiza Lifestyle & Spa
The five-star Aguas de Ibiza Lifestyle & Spa is a concept property. Light, water, and textures guide its design and features which all come together under an eco-friendly approach. The resort was constructed by local architect Juan de los Rios to integrate its surroundings into the building. Working with suppliers aligned with an earth-friendly philosophy, the hotel was built with a smart balance between stylishly-chic and respectably-eco-conscious.
Along with its sustainable blueprint, its 112 suites have all been designed on the principles of Feng Shui, ensuring guests feel both energized and relaxed by their environment. If you're unfamiliar with the philosophy, the concept believes that when architectural elements and furnishings are aligned in specific ways, there is a balance of harmony in the room, allowing for an improved physical and mental state of mind.
Sitting high above beds, the symbol of a conch sits on the ceiling of each room, which is believed to eliminate bad energy. Of the choice accommodations, the Corner Suite has 700 square feet of space with 180 degrees of unobstructed views provided by floor-to-ceiling windows. Decorated in sandy neutrals and turquoise accents, the seaside suites create a calming atmosphere inspired by the Mediterranean Sea.
The room comes with a king- or two queen-sized beds, a living room, private terrace, and bathrooms with separate shower and bathtub. (Tip: Request one of the terraces with an outdoor tub on it). Bang & Olufsen TV monitors and programmable mood lighting are just part of the state-of-the-art features and technology available in each guestroom.
But the hotel is more than just philosophies and best eco-practices, their spa boasts over 16,146 square feet of space and not only features traditional therapies, but also a wide range of wellness options such as a Turkish Bath, Hammam, Ice Fountain, a Feng Shui Pool, and solarium. While you're getting pampered, be sure to try one of their alkalising juice detox cleanses so you can leave feeling healthier than when you went in.
Aguas as has four different dining venues, which includes Vi Cool by the two-Michelin star Chef Sergi Arola. Vi Cool is his most informal restaurant and recently opened this month on the hotel's rooftop terrace. Serving tapas and fresh fare, his menu fuses traditional recipes with modern twists.
The hotel also has a fitness center, three outdoor swimming pools and different terraces for sunbathing. When not enjoying a dip in the pools, guests take a short stroll through the surrounding neighborhoods to visit beach cafés or the promenade in central Santa Eulalia where more restaurants, pubs and shops are just a ten-minute walk away.
Further adding to its cool factor, the hotel was also nominated as a UNESCO World Heritage site for its ground-breaking biodiversity. So it's not just another swanky property, it's also a notable player in the eco-luxury hotelier community. Rooms at Aguas de Ibiza Lifestyle & Spa begin at around € 333 (USD $453) a night.