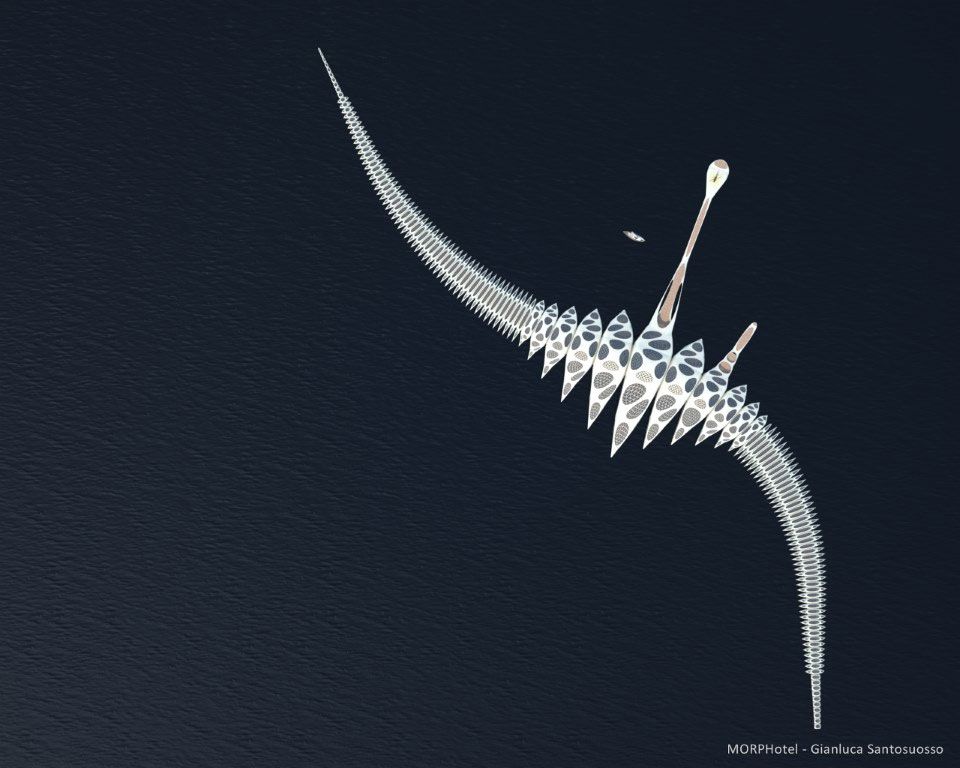 Photos Credit: MORPHotel/Gianluca Santosuosso
From up above, MORPHotel kind of looks a little a creepy reptile resting on the ocean. In actuality, it is a futuristic floating hotel that functions as a luxury property and cruise ship in one. The brainchild of Gianluca Santosuosso, the "floatel" was conceived as a way to offer guests an ever-changing destination that slowly moves with the ocean's currents.
Conceived with a linear, spinal structure about a half mile in length, the structure would be made up of individual capsules that together form the restaurants, guestrooms and amenities of the property. Along with a garden and indoor swimming pool, the hotel will also boast a helipad so that guests can reach the property no matter where it is located in the moment.
"I believe the idea of the journey itself, without a precise destination, is a dream shared among most people," Santosuosso told The Daily Mail. "This is the reason why this project, the idea behind it, raised the interest of many people, especially in the hospitality industry."
The hotel, however, would not just be about looking good, it would also function as a self-sustaining vessel by harvesting rainwater and incorporating integrated solar panels. It would also house its own vegetable garden and can change its shape based on the weather's conditions. When the property reaches a port, a barycentric dock will attach to the city's harbor so that guests can easily explore each destination.
MORPHotel definitely peaks our interest, but there are so many questions that we'd still need answered prior to boarding. Will it travel on a set course? Meaning, if we book our room five months in advance will we know which airport to fly into? How will it handle extreme weather conditions? Lastly, will there be more amenities than just a pool to pass the time in between ports? If not, there better be plenty of alcohol readily available.