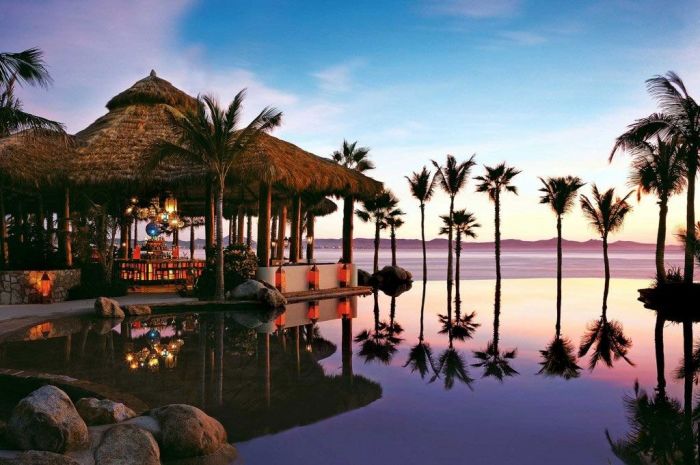 Photo Credit: One&Only Palmilla
Upon entering your suite at One&Only Palmilla in Cabo San Lucas, Mexico, your dedicated butler will immediately offer you tequila while he gets you get situated in the room. That's because all 174 rooms and suites come with a bottle of aged reposado as a welcome amenity. The tequila has been aged for 12 months in white oak barrels and sits neatly next to little wells of sea salt and freshly-cut limes. It's a simple but memorable gesture, and one that eloquently speaks to the objective of the property to weave an authentic sense of place throughout your stay by engaging all the senses.
Photo Credit: Katie Chang
After Hurricane Odile nearly leveled the property in September of 2014, Chicago-based design firm Anderson Miller led the rebuild efforts during the extensive renovation. The newly restored property reopened almost a year ago in April 2015. To pay homage to its surroundings and legacy, Miller sourced pieces and elements that would conjure up visually-gripping and indigenous aesthetics of the western Mexican coast.
Photo Credit: One&Only Palmilla
Large, colorful and original works of art by local artists are prominently displayed throughout the accommodations and public spaces. The boldly-patterned decorative rugs come from Tejidos Hermes, a local company, and every bathroom tile was painstakingly hand-painted. Even the bathroom amenities speak to Palmilla's natural environment, with their signature Blue Agave scent, a soft blend of citrus and florals that also gently permeates your room and the entire property.
Photo Credit: One&Only Palmilla
But it is One&Only Palmilla's exceptionally-strong culinary and beverage offerings that put the property in a class of its own. Legendary chef Jean-Georges Vongerichten is behind Seared, a sparkling steakhouse that not only turns out serious chops (like Wagyu A5 and Kobe-certified beef), but also pristine Pacific seafood like local spiny lobsters and red snapper. At Suviche, Chef Yoshiaki Akaike encourages Japanese and Mexican cuisine to co-mingle, with contemporary spins on sushi and ceviche. Award-winning Chef Larbi Dahrouch specializes in sublime Mexican cuisine at Aqua, a breezy, open-air restaurant overlooking the Sea of Cortez. While the menu changes with the seasons, it's the simple local pleasures of hand-made tortillas, guacamole and ceviche prepared tableside that are most memorable.
Photo Credit: One&Only Palmilla
This past January, One&Only Resorts announced their partnership with Diageo Reserve World Class, the biggest bartender competition in the world. Six bartenders were selected at the finals in Cape Town, South Africa, last year, and invited to different One&Only properties all over the world to create a signature cocktail with a spirit from Diageo's Reserve portfolio (like Tanqueray No. TEN gin, and Johnnie Walker Blue label) that reflects each property's unique personality and location.
Photo Credit: Katie Chang
On March 10 at a lively reception at the Agua Bar, last year's Diageo Reserve World Class winner, Japan's Michito Kaneko, unveiled his bespoke creation for the resort called Gold Sand. A shaken mix of Don Julio 1942, chamomile syrup, lime juice, homemade vanilla soda, and a spritz of real sea water, it looked deceptively light. But the flavors were hauntingly deep and layered. Above all, it left a lasting impression long after the drink was finished, serving as an elegant reminder of what makes One&Only Palmilla so extraordinary to begin with: truly original, thoughtful, and memorable offerings.