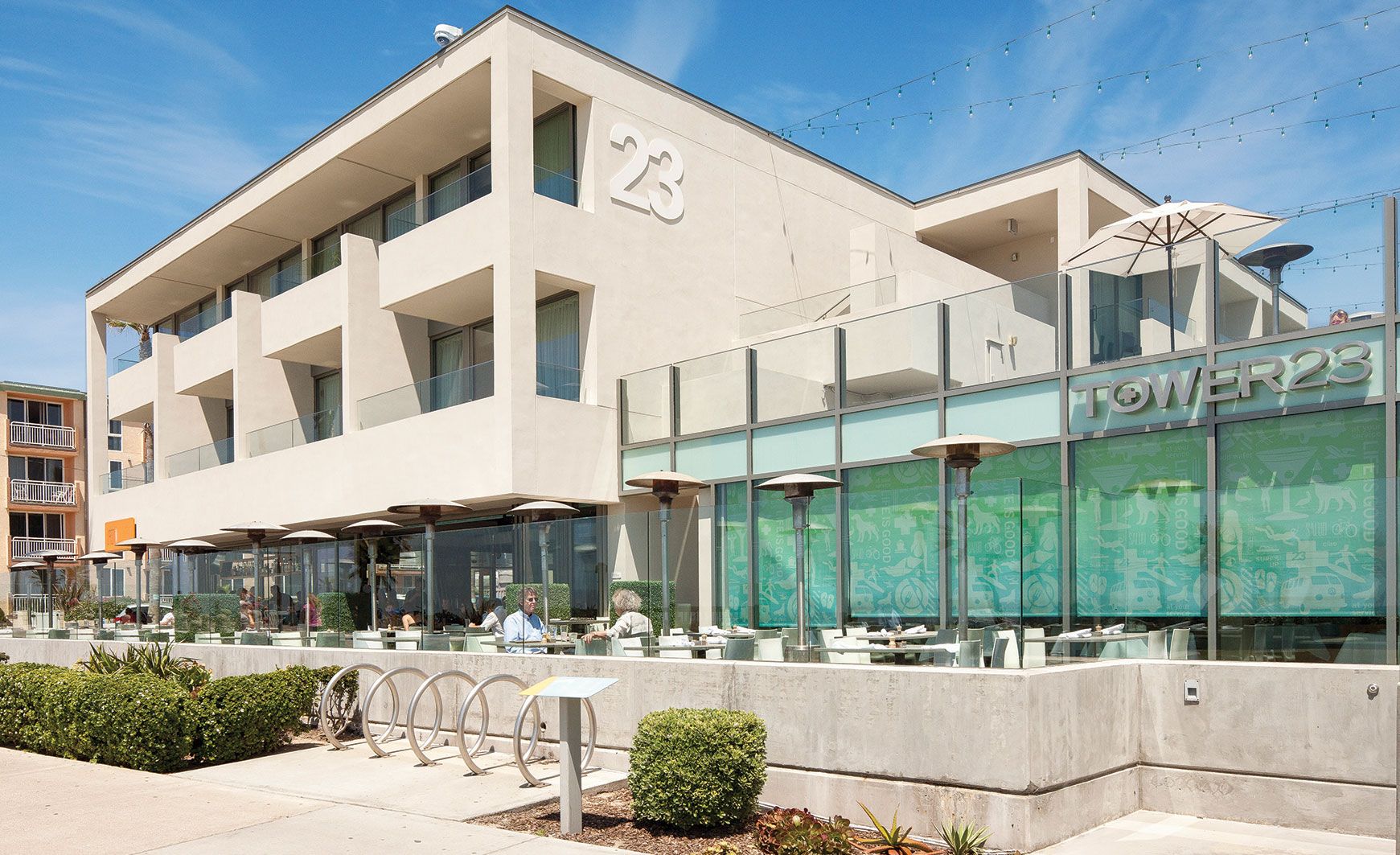 Photos Credit: Tower23
As a Travel Editor, I'm often asked about which hotels around the world are the best to visit, and this is especially true when travelers head to San Diego (where I currently reside). Having lived at the beach for the past six years, my initial response is somewhere that views out onto the Pacific. The problem is, when it comes to luxury beachside properties, there are only six that offer oceanfront locations (versus bayfront). If you want close to downtown and just steps from the beach that number gets even smaller.
While the Hotel del Coronado is one of the most famous properties in San Diego, for something a little more trendy and modern, Tower23 is easily one of SD's best beachfront hotels. Located right on the boardwalk in Pacific Beach, this boutique hotel is also within a 15-minute drive to most attractions, such as the San Diego Zoo, SeaWorld, the Gaslamp Quarter, downtown and La Jolla.
Following the check-in process, guests are treated to a rum punch delivered to their rooms as they settle in. There are six room types, with two suite options, and all rooms have a partial or full ocean views and balconies. However, because of how the building was designed, you can also easily see into your neighbor's guestroom from said patio (a tidbit to keep in mind, should you be in the mood for an afternoon delight privacy). Inside the Sanctuary Suite, the second largest room choice, the studio layout features a sitting area with a sleeper sofa, work desk, dresser, personalized mini-bar and a king-sized bed.
The suite's best amenity is its chromatherapy floating whirlpool Jacuzzi tub that sits within the open floorplan bathroom and separate from the rain shower. The tub is filled up from above, creating the illusion of water falling from the sky. Guests can utilize its digital features to turn on jets, add bubbles or enhance the water with colorful lighting. For a little more privacy, you can pull the wall-to-wall curtain closed to section off the bathroom from the main room. It all makes for a romantic and sexy setting. Should you wish to get a massage before your soak, it can easily be arranged for an in-room session. The hotel's professional therapists offer treatments such as facials, massages, body therapies, yoga and fitness services.
Tower23 sits in the middle of what is considered a college town, however, its guests are anything but juvenile. The area's young, affluent professionals regularly gather at its indoor/outdoor JRDN Lounge + Raw Bar for craft cocktails and small bites. The lounge is often buzzing with guests and is a great place for mingling or watching one of San Diego's famous sunsets. Upstairs, the Tower Deck is a quieter retreat for guests only. Scattered around the area is sofa seating, umbrellas, string lights and a fire pit where travelers can enjoy a drink or food away from the crowds. The only thing missing is an upstairs bar and/or cocktail servers; you still have to go downstairs to grab your beverage. Tower23 doesn't offer a pool, but there's not much of a need when the beach is only steps away.
At JRDN, the hotel's main restaurant, chef DJ Tangalin has created a menu that is stocked with fresh, seasonal fare for breakfast, lunch and dinner. Its evening menu features a plentiful array of seafood such as raw platters, oysters and ceviche as well as beef options and chef's latest creations. As a testament to Chef Tangalin's fare, during our last visit, we spent three hours soaking up every last bite of our meal (without ever noticing the time).
Guests also have access to complimentary beach cruisers which can be used to ride along the boardwalk, another favorite pastime of locals. If you're looking to get an up-close-and-personal look at San Diegans' laid-back lifestyle, this hotel is a great way to do so, without forfeiting the perks of a luxury getaway.