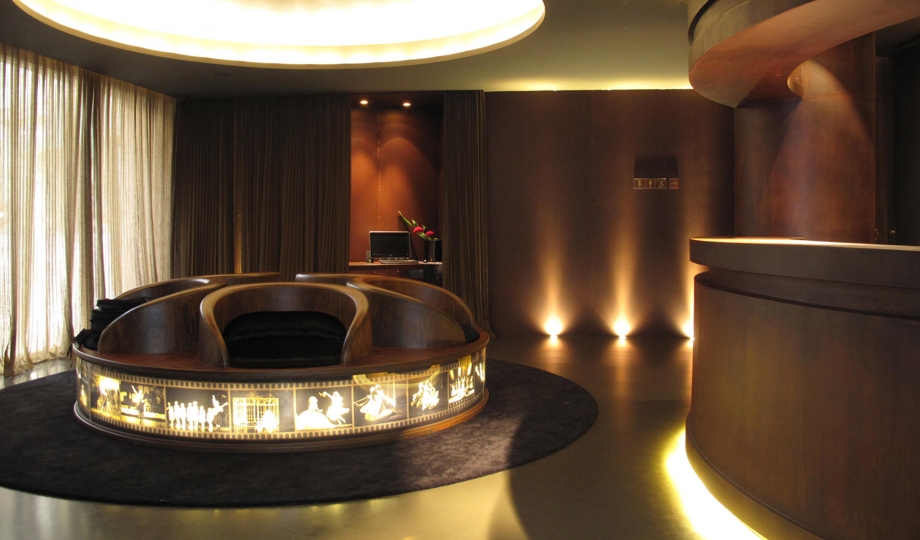 Photo Credit: Hotel Teatro
Walking through the heavy, copper-colored doors of Hotel Teatro is like walking into a world of artistic fantasy, away from the hubbub of nearby Porto's main train station in the city's historical center.
And well it should be, as the 74-room, six-storey property is designed to imitate its long-ago predecessor, the Theater Baquet, which stood on the same location and was burned to the ground more than a century ago.
Everywhere you look, the design and furnishings are delightful signs and symbols of the stage, beginning with the reception desk, which is shaped like a box office and where guests receive a ticket to access their rooms. Even the seats facing it are curved, film-roll style, complete with screen images.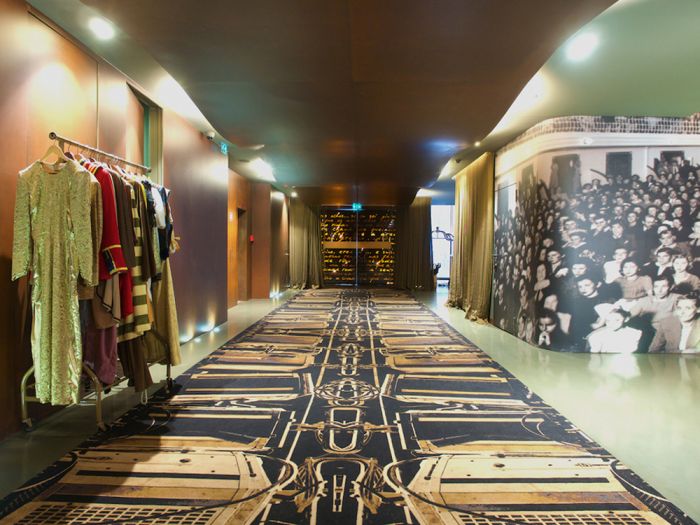 Photo Credit: Columbia Hillen
Opened seven years ago, the Teatro Hotel underwent a radical two-year renovation with the interior being the work of Madeira-born designer, Nini Andrade Silva. In an effort to re-create its past glory as a popular entertainment center, colorful costumes hang in the foyer, with others behind glass. Alongside them stand spotlights while the bar area features ceiling stage lights and heavy ropes like those that lower and raise theatrical sets. Even the name of the bar is 'Plateia' which means 'audience' in Portuguese, while the restaurant beside it is called 'Palco,' meaning 'stage' with one entire wall adorned with an old black and white photograph featuring the enthralled faces of an audience enjoying a show. The hotel's entrance doors are dramatically artistic, with the words of native, romantic poet Almeida Garrett emblazoned on them in gold lettering, while the bar and restaurant bills are graciously presented inside a book of his collected poems.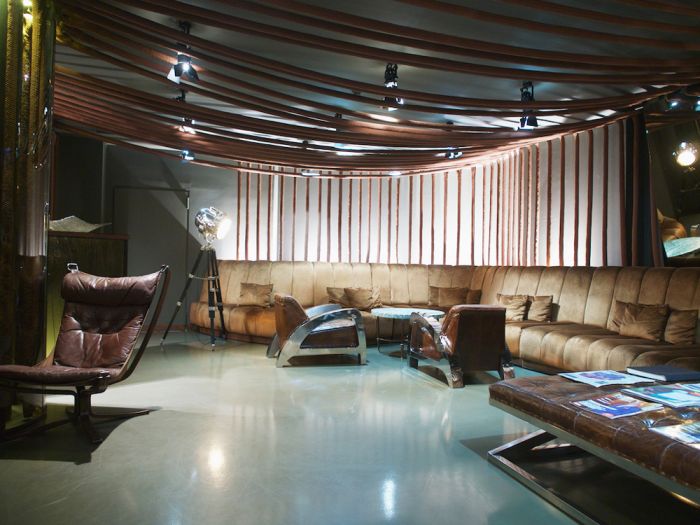 Photo Credit: Columbia Hillen
Extending the stage theme further, some bedrooms are termed 'Gallery,' 'Audience' and 'Tribune' and that all-important aspect of the stage—curtains—are everywhere, even lining the corridors as you walk to your room. At any moment one half expects actors and actresses to step out boldly in front and dramatically recite their lines in an exclusive performance.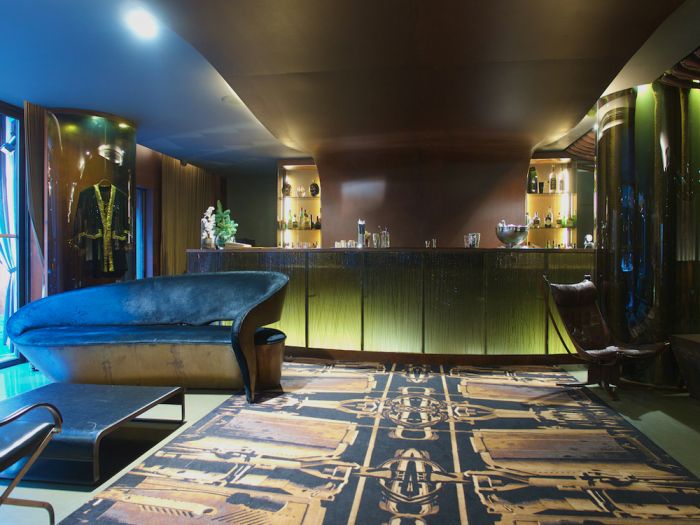 Photo Credit: Columbia Hillen
The first Portuguese member of Design Hotels, Hotel Teatro was a pioneer of hospitality in Porto, being one of the first luxury hotels to open. The opening reflected a resurgence in the city's fortunes and lead to it becoming a popular tourist destination. After the Theater Baquet was destroyed by fire, the building served as offices and then as a bank before the hotel came to fruition.
Photo Credit: Hotel Teatro
Our room, 114, occupied an interior location that overlooked the glass-roof of the restaurant-cum-breakfast room. Distressed wood and metal furnishings included delicate brass bedside reading lamps, a full-length wall mirror as a bed backdrop; a gleaming brass sink compliments a terrific step-in shower.
For guest convenience, the hotel has a 15-car garage and also offers in-room spa service, as well as a gym on the top floor.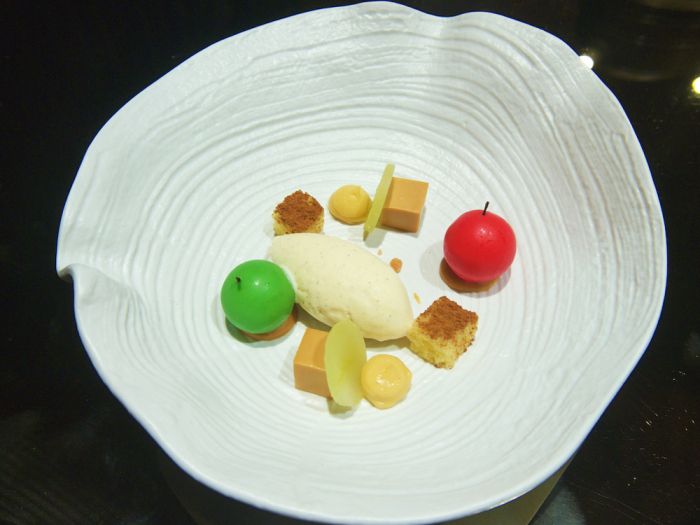 Photo Credit: Columbia Hillen
Food at the Teatro Hotel, under the guidance of executive chef, Arnaldo Azevedo is of a high quality. Dishes range from starters such as cured salmon with creamy cucumber and Osetra caviar and mackerel with tomato and a combination of 'Alheira' (bread and garlic sausage) with Serra cheese (Portuguese cheese from Serra da Estrela) to octopus carpaccio with pesto sauce, loin steak or duck breast with beetroot, carrot and spices.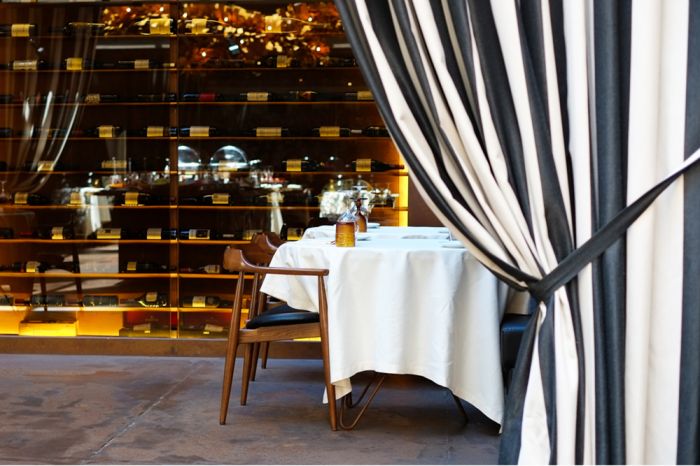 Photo Credit: Hotel Teatro
Within a minute's walk of the sloping boulevard, Avenida dos Aliados, the main heart-string of Porto, a stay at Hotel Teatro means easy access to the Town Hall, a palatial, marble and granite building with a 70-meter tall bell tower, and the Praça da Liberdade, a square adorned with a statue of King Pedro IV on a horse. In front of the Town Hall is a modernist statue of the poet whose writing adorns the hotel's front door—Almeida Garrett. Known for its ornate tile panels depicting key Portuguese events, Sao Bento station is also nearby, making transport to and from the hotel convenient.
For a historical as well as an artistic experience in a location within simple walking distance of Porto's cultural and shopping highlights, Hotel Teatro makes for a memorable stay.