Shangri-La Hotel Paris
The Shangri-La Hotel, Paris is one of the City of Lights' most enchanting places to stay, a blend of rich history, beautiful design and innovative cuisine that is utterly unlike anything else in the famed French capital. Originally built in 1896 as the home of Prince Roland Bonaparte, the fashionable explorer, botanist and geographer who was grand-nephew to the Emperor of France, it is truly a palace and was painstakingly restored at a cost of many millions of dollars. In its new incarnation, with all of the elaborate marble columns paneling, molding and other architectural detail restored to more than its former glory and enhanced by an artful interior design scheme, it now features 101 rooms and suites, two Michelin-starred restaurants, and a jewel box of a bar.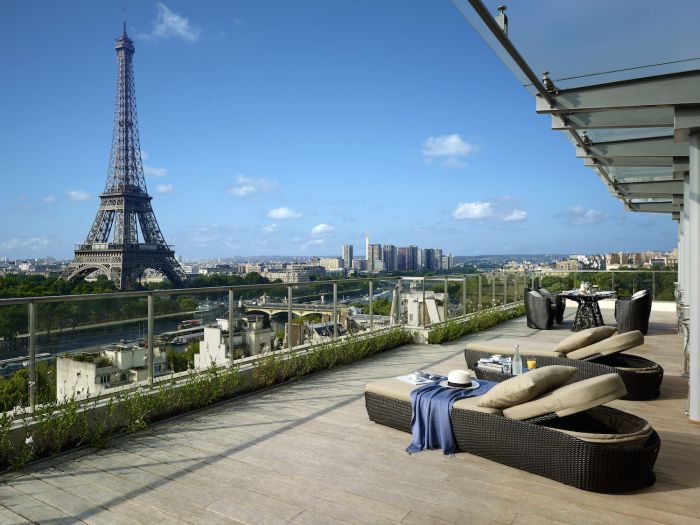 Shangri-La Hotel Paris
It is also uniquely infused with the Asian art of hospitality thanks to its Hong Kong based owner, Shangri-La Hotels and Resorts, one of the world's most renowned luxury hotel companies. Situated in the 16th arrondissement very close to the Eiffel Tower, the hotel is swathed in natural light and 40 percent of the rooms and 60 percent of the suites feature a direct view of the Tower and the river Seine. While all are extremely attractive top billing goes to the 2,420-sq.-ft. La Suite Shangri-La, one of the world's most luxurious hotel suites with a 1,076-sq.-ft. terrace offering a panoramic view over the city. The palace-turned-hotel's façade is inspired by the Louis XIV style and it is hard not to feel like royalty as a guest treated to the truly impeccable amenities and service.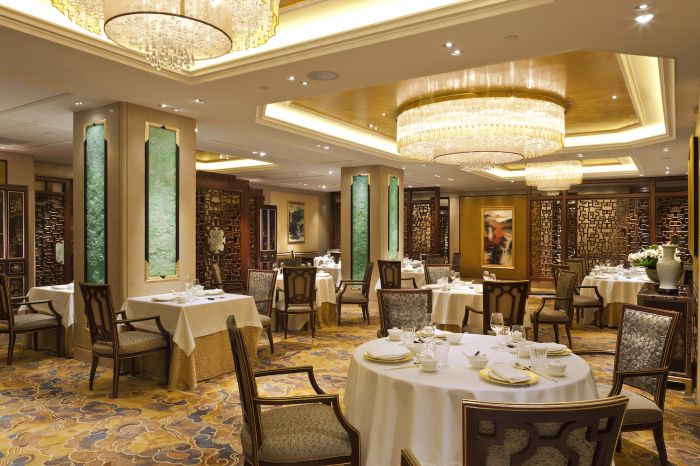 Shangri-La Hotel Paris
In addition to its rooms and suites, the Shangri-La Paris is known for the exquisite Shang Palace, the only Michelin-starred Chinese restaurant in France. Under the supervision of Executive Chef Christophe Moret and Executive Chinese Chef Samuel Lee, masters in the arts of wok, barbecue, chopping and Dim Sum deliver a truly incredible dining experience. Inspired by Southeast China's culinary traditions, with an elevated level of elegance supplied by its surroundings, Shang Palace's standout dish is roasted whole Peking Duck served in sequences: as sliced crispy duck skin with scallion pancakes, wok-fried minced duck breast wrapped with lettuce, and duck soup with tofu, mushrooms and Chinese cabbage. Live lobster which can be presented sautéed, braised, wok-fried, or steamed is another specialty, while perfect French wines can be paired with each course.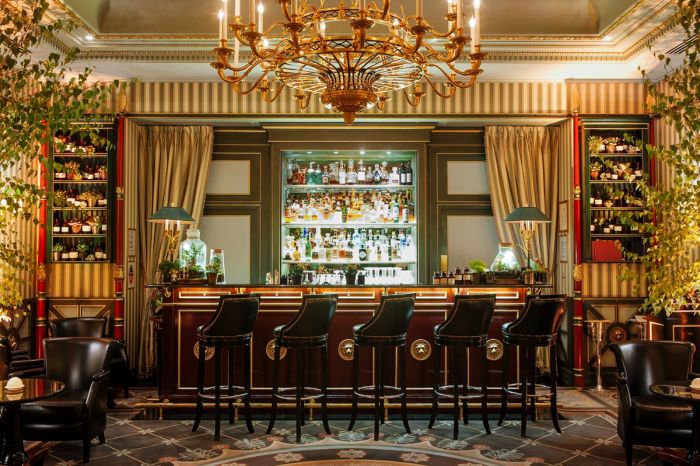 Shangri-La Hotel Paris
Off of the hotel's lobby, you will also find the Le Bar Botaniste, one of Paris' most precious boîtes featuring a new menu created by Head Barman Clement Emery with 20 unique cocktails exploring a world of textures and flavors. Emery drew inspiration from the seasons and world travel craft the amazing menu which was nine months in the making. Exotic ingredients include Malabar white pepper, Aomori black garlic, Sicilian sumac, Kentucky tobacco, curry plant, pistachio sap and sweet clover. For this haven of avant-garde mixology the menu has been designed in the form of a travel journal. The signature cocktail Nektar is presented in a glass- and tin-sculpted bee and combined elements of pollen, mead, propolis and beeswax. Another favorite is the Zarparan, a complex Negroni made with gin, Escubac botanical liqueur, saffron, green cardamom and Kummel liqueur, embellished with an ice cube inlaid with the letter "B".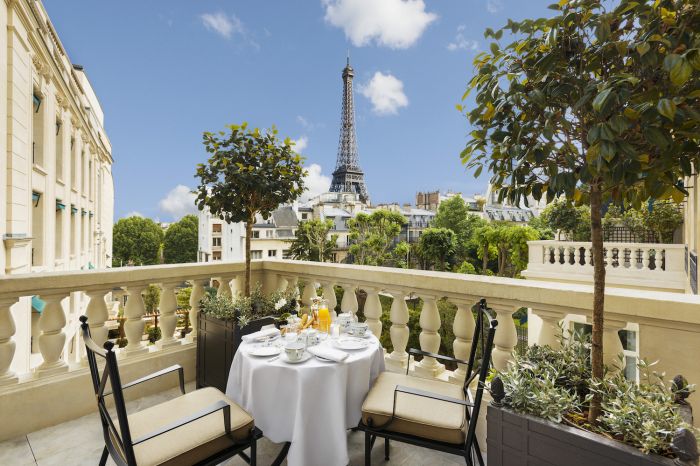 Shangri-La Hotel Paris
Not content to rest on its (imperial) laurels, the Shangri-La Paris is always innovating, and its latest feature is a collaboration with the famed French champagne house Krug. The "Le Bar à ciel ouvert by Krug" is located in one of the hotel's most beautiful rooms with a picturesque terrace offering breathtaking Eiffel Tower views, and is designed to emulate a beachfront getaway. The terrace bar highlights iconic Krug Champagne from the Krug Grande Cuvee vineyard, paired with delicious appetizers created especially by Chef Moret. Of course the hotel is also home to an indoor pool, spa and health club should you happen to feel like working off any of this fine food and drink – though one hardly comes to Paris in order to exercise.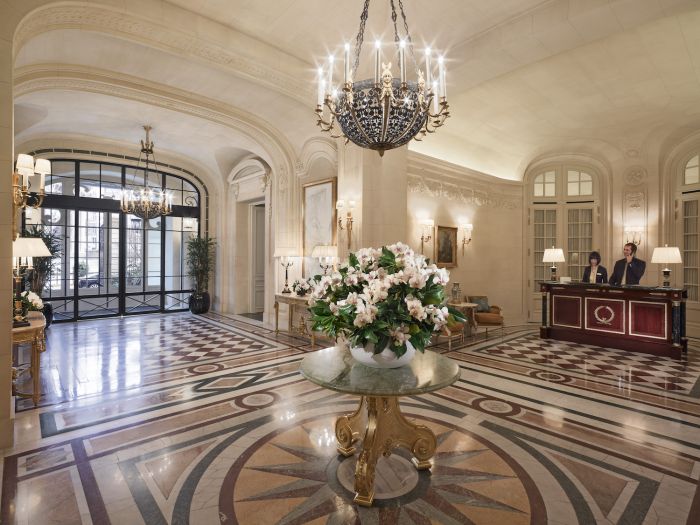 Shangri-La Hotel Paris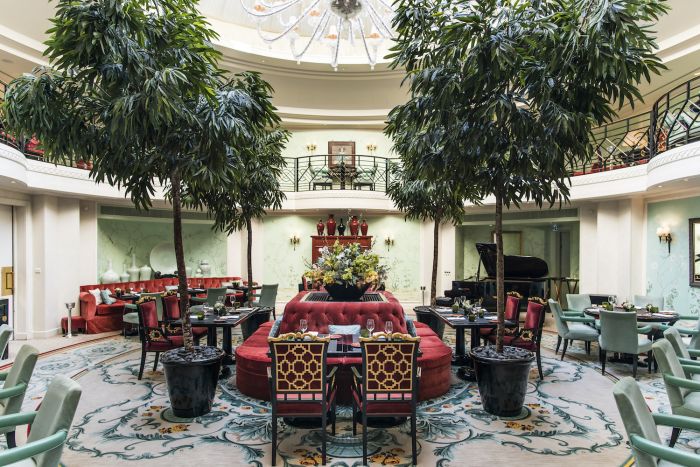 Shangri-La Hotel Paris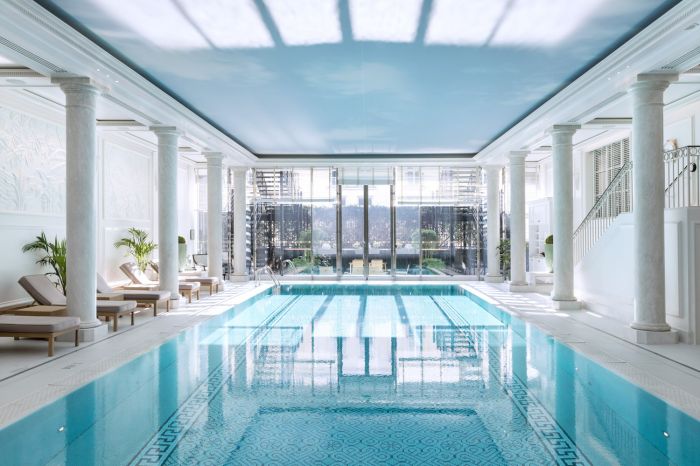 Shangri-La Hotel Paris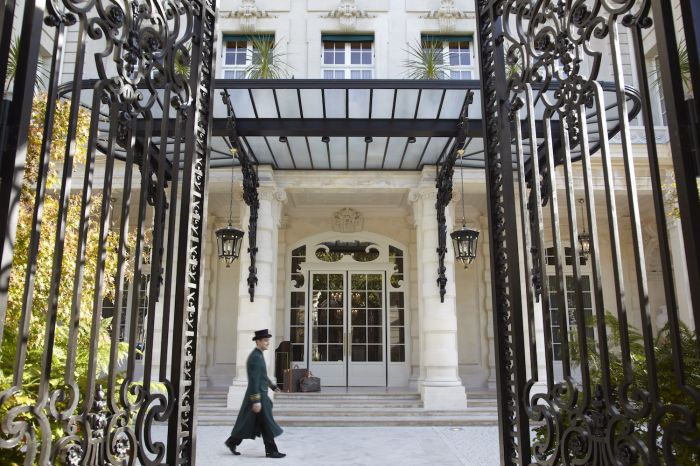 Shangri-La Hotel Paris