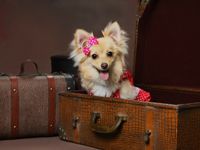 Pet-friendly luxury hotels:
Pampered dogs are happily howling and barking with delight as their owners seem to always be in search of new ways to bring joy and added luxury to their beloved pawed princes and princesses. If there is one industry that is relatively unscathed in these economic times, it is the luxury pet industry. When it comes to adding upgrades to their pet's lifestyle, such as custom bedding, boarding at deluxe doggie inns with amenity packages, gourmet foods, and so much more -- from clothing to doggie bowls to collars to leashes, and so on, it appears that the sky really is the limit. Cats are happy, too. However, they aren't as expressive as the dogs are about it.
The American Pet Products Association estimates that Americans will spend more than $45 billion on their beloved pets in 2009. This is an increase of more than 5.1 percent over 2008, and nearly a doubling of spending over a 10-year period. According to the Travel Industry Association of America, there are 62 million dog owners in the U.S., and 29 million of them travel with their pet. It is a significant demographic worth fetching that has influenced the travel and hospitality industry to adopt pet-friendly policies.
Book a Stay at a Westin >>
Savvy hotel chains in tune to that traveler's wants and needs are reaching out to pet owners who, apparently, love their animals like children. Westin Hotels & Resorts did a little research on dog owners and then proceeded to make two of its luxury properties in Northern California -- the Monache Resort, in Mammoth Lakes, and the Verasa, in Napa, the most dog-friendly luxury properties on the planet.
"Mammoth Lakes is the perfect vacation spot for dogs and The Westin Monache is committed to helping create that perfect k-9 experience by providing not only a heavenly dog bed but a welcoming array of dog friendly amenities," said Rebecca Broz, director of sales and marketing at the Monache Resort, in describing the all-out "gone to the dogs" efforts.
Westin gleaned from its research that owners of dogs prefer hotels that cater to dogs. According to the company's study that involved 400 dog owners, 304 owners indicated that they would be more loyal to a hotel chain that accepted dogs, even if they weren't traveling with their pet. With upwards of 62 million travelers potentially having strong interest in pet-friendly hotels, it may prompt other hotels to welcome this traveler too.
Book a Stay at a Westin >>
Dogs (with owners) checking in at either Westin resort receive food and water bowls as well as temporary identification tags containing hotel-contact information. The guestrooms at both locations offer dogs designer beds with luxury bedding that includes over-sized pillows. The stylish dog beds fit the decorum perfectly, matching the design of the human-size beds precisely. Additionally, the resorts present guests with dogs travel tips prepared by the American Society for the Prevention of Cruelty to Animals.
"It's a convenience to be able to travel with your pets. And Westin knows first hand how to spoil man's best friend," said Dan Bock, director of sales and marketing at Westin Verasa. "From the heavenly dog bed to the bag of treats at check-in, your dog can experience luxury in Napa just like our two-legged guests."
Keep in mind that a stay at the Westin Verasa, Napa, is not just a trip for the dogs to enjoy. However, the proximity of the Alston Dog Park is a site that is likely to prompt some additional tail waggling. For the humans onboard, the resort is located next to the Oxbow Public Market and is only two blocks from scenic and historically rich downtown Napa. Many of the tours and sights offered throughout the Wine Country are easily accessible from the Verasa.
The Westin Monache Resort, Mamouth, is a property both dogs and their owners will find to their liking as well. There are hundreds of miles of trails, alpine lakes and phenomenally scenic vistas spread out over the majestic Sierra Mountains.
While many hotel chains do allow animals in their lodgings, weight and size restrictions are imposed. All dogs are welcomed at the Westin's Monache and Verasa locations. For more information, visit Westin.com.
For
JustLuxe
James Rothaar