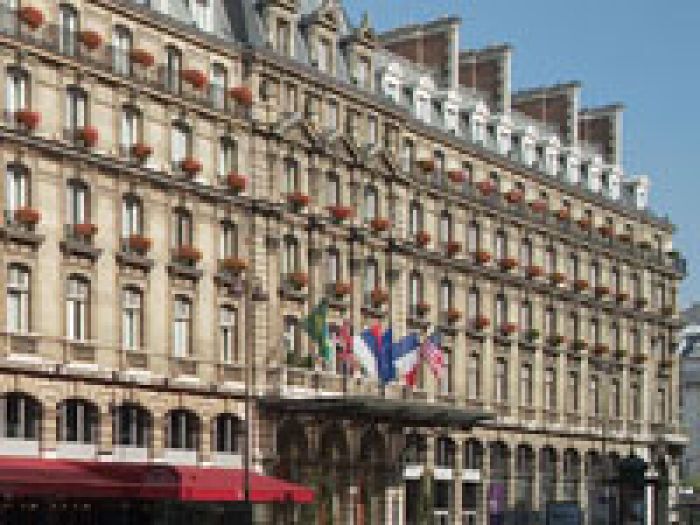 Luxury Hotels:
The Hotel Concorde Saint Lazare is located in an elite section of Paris and offers a luxurious ambiance as well as premium service to all of its guests. As a leader in luxury, the Hotel Concorde Saint Lazare offers concierge service to help and advise you as well as a business center to make all of your work-related needs run as smoothly as possible.
Located in the heart of the '3 Parises'- the business district, the cultural quarter, and the famous shopping areas of the Boulevard Haussmann, the Hotel Concorde Saint Lazare offers the best of Paris to its guests. As a landmark of cultural and artistic significance, the hotel boasts 266 tastefully furnished guestrooms in close proximity to some of Paris' most famous attractions, including the Louvre Museum, Montmartre, and the Place Vendome.
Book Your Stay >>
In 1989, the main foyer of the hotel was lovingly restored in keeping with its classification as a historical monument. The monumental hall, the entryway for guests, offers jewel-encrusted columns of pink granite, while the Lobby is opulently decorated in the Baroque tradition with mirrors, bronze and crystal chandeliers, and marble pillars. The Lobby is also adorned with paintings and sculptures specially commissioned from artist Charles Joseph Lameire, with furnishings by work of the famous designer Hierro.
Guests can relax in The Golden Black Bar, an exotically styled oasis serving up an international assortment of cocktails. Dine at The Terminus Café, a well-known Paris restaurant, which is casual during the day and more elegant by night, and offers an exceptional menu for guests and Parisians alike.
Book Your Stay >>
The elegantly decorated rooms by designer Sybille de Margerie offer guests a quiet and restful oasis in the City of Lights. Junior Suites as well as the very special George Washington Suite offer extra space and luxury. In the celebrated style of the Eiffel Tower era, the Hotel Concorde Saint Lazare offers both style and service.
For
JustLuxe
Carly Zinderman
Hotel Concorde Saint Lazare
Hotel Concorde Saint Lazare
Hotel Concorde Saint Lazare
Hotel Concorde Saint Lazare
Hotel Concorde Saint Lazare
Hotel Concorde Saint Lazare
Hotel Concorde Saint Lazare