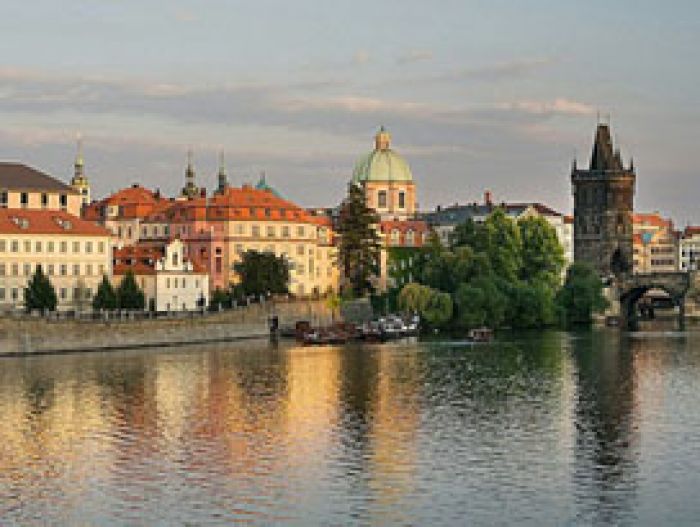 Hotel Review:
Four Seasons Hotel Prague is an exclusive and relatively small hotel located on the banks of the beautiful Vltava River.
True to the Four Seasons name, the
Hotel Prague
fits the luxurious profile the brand has built for itself. This highly historical area of the Czech Republic is highlighted in the decoration and design of all the rooms in the hotel; no two rooms are exactly the same.
With only 161 rooms, you aren't staying in a hotel over populated by tourists, but in an exclusive environment frequented by travel enthusiasts looking for a unique look at this spectacular city.
This hotel is a five-minute walk from the 600-year-old historical Charles Bridge and many of the rooms feature views of the Prague Castle, the largest ancient castle in the world. Only a 20-minute walk from the front door of the hotel, you can visit the hotel and the St. Vitus Cathedral, part of the castle, which took 600 years to build and has seen the coronation of more than 30 Bohemian monarchs. Crown jewels of the Bohemian kings and relics of St. Wenceslas, the 10th century Duke of Bohemia, are on display. Some of the most magnificent and historical sites in Prague are within walking distance of your hotel.
Individually designed and decorated, the rooms and suites are each set apart from each other. With unique architecture, the rooms are given a variety of layouts even when in the same category. The marble bathrooms tempt you with a deep soaking tub and separate glass showers. And for the tech-junkie in all of us, all the rooms provide wired or wireless high-speed Internet access.

The suites feature beautiful views from both bedrooms and living rooms of the stunning attractions of Prague through floor-to-ceiling windows. Ideal for entertaining, the larger suites also include large dining areas and guest powder rooms off the living room.

If you're enjoying the lavish accommodations of your room too much to leave, the Four Seasons Hotel Prague has prepared for that by offering you the massage treatment of your choice in the privacy of your suite.




Recipient of the only Michelin star in the Czech Republic and in all of Central and Eastern Europe, Allegro Restaurant awaits to seat you on the outdoor terrace or in the exclusive atmosphere of the indoor seating area that seats only 70 people. Chef Andrea Accordi creates dishes reflecting the flavors of Italy, Mediterranean and classic Continental cuisine as well as Bohemian specialties. Allegro has been named the best restaurant in the Czech Republic three years in a row by offering simple yet refined cuisine you won't be able to find anywhere else in the region.

A stay that will truly leave you refreshed and newly instilled with the historical sense of the area, the Four Seasons Hotel Prague offers you the sights and sounds of the Czech Republic all from the luxurious comforts of your lavish suite. This summer, take a vacation different from those you've taken in the past and visit this scenic, exciting destination.

For JustLuxe Kate Prihoda