With winter right around the corner, why would you want to head out East? Imagine curling up under a pile of goose down blankets in a big canopy bed in front of a roaring fire, while watching the snow gently fall outside your window. Imagine waking up in a cozy bed and breakfast in a quaint New England town to the smell of a homemade hearty breakfast and freshly brewed coffee.
We have put together a list of some of the East Coast's most romantic winter getaways. So get out your cashmere sweaters and flannel pajamas and start planning your vacation.
Woolverton Inn, Stockton, NJ
Enter the tranquil world of Woolverton Inn, A Bucks County Bed & Breakfast Inn located in Stockton, New Jersey near New Hope, Pennsylvania and Lambertville, New Jersey. The Woolverton Inn is a country estate Bed & Breakfast inn offering privacy and luxury, nestled on 10 park-like acres surrounded by 300 acres of preserved farmland and forest. Perched high above the scenic Delaware River, the Woolverton Inn provides a romantic and comfortable base from which to explore the countless fine restaurants, shops within minutes of the Inn. An elegant stone manor with romantic cottages, offering lavish amenities in a secluded country setting, the Woolverton Inn made our list for a perfect spot to enjoy winter scenery in an intimate setting. Reservations: 888-264-6648.
Eastman Inn, North Conway, NH:
This Georgian Colonial offers Southern hospitality with a New England flair, along with antique soaking tubs and modern whirlpools, fireplaces, and private balconies. Nestled among the white mountains of New Hampshire, the Eastman Inn was built in 1777 and has operated as an Inn since the early 1900s. The breakfast at the Eastman Inn is not traditional country inn fare but a gastronomic adventure with a menu that changes daily. If you want to venture outside the romantic Inn, there are many activities waiting for you. Along with numerous mountain activities, there is year-round tax-free shopping at over 100 name-brand outlets and specialty stores; downhill and cross country skiing, snowshoeing, snow tubing, indoor and outdoor ice skating as well as horse-drawn sleigh rides in winter. Reservations: 800-626-5855
Jackson House, Railroad, PA:
Enjoy the charm of an 1859 Pennsylvania Bed & Breakfast, located in the quaint small town of Railroad, Pennsylvania only 3 miles from the Maryland state line. The only Pennsylvania Bed & Breakfast that is right on the Heritage Rail Trail, Jackson House features original restored woods floors, stone walls, and 24" window sills. During the early 1900's the Jackson House B & B was known as one of the finest hotels along Northern Central Railroad. The steam heat and hot and cold running water were rare luxuries that most establishments could not afford during that time. The stone cistern that stored the Hotels water supply still remains intact today. The Jackson House is listed in the National Historic Register. Reservations: 877-782-4672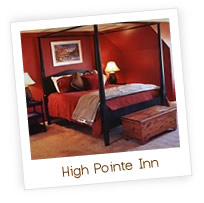 High Pointe Inn, West Barnstable, MA:
Overlooking the dunes of Sandy Neck Beach and Cape Cod Bay in the distance, the High Pointe Inn offers three spacious suites, charming New England hospitality in the heart of old Cape Cod. Located in historic West Barnstable, Massachusetts, this adorable B & B is just over an hour's drive from Boston or Providence, and convenient to the ferries for Martha's Vineyard or Nantucket. This is the perfect spot to take a whale-watching cruise or dine by candlelight. However you choose to spend your days, your nights will be spent in comfort. Spacious suites offer ocean views and easy access to Sandy Neck Beach. Supreme hospitality and tempting breakfasts keep guests coming back. Reservations: 888-362-4441