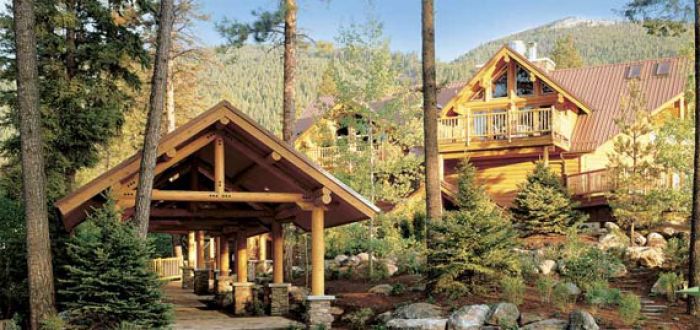 Hotel Review: The first thing that strikes us when we deplane at Boseman 'international' airport in Montana is that it this really is different. From the moment we step out of the plane we smell the pine. Drive four hours west, along snaking riviera and through the pine covered mountains, and into the Bitterroot Valley where the microclimate keeps the temperature a little cooler in summer and a little warmer in winter.
We came to Triple Creek, an all inclusive dude ranch, mainly out of curiosity to see what all the fuss was about. Travel and Leisure has been calling this the number one hotel in the USA for the last couple of years, besting luminaries like the Four Seasons, New York and the Peninsula, Los Angeles.
Guests stay in one of a handful of log cabins spread out across the property. Surrounded by more pine, you can slip into the hot tub and feel like you are the only people there. Meals can be delivered to your room, but the heart of Triple Creek is really the small dining room. On our first night, we jumped into our golf cart and zipped down to the main lodge where an exquisite four course meal awaits.

All very pleasant. The cabins are nice enough -- but nearly any Four Seasons is better. Meals are wonderful, but again, what you would expect at any five-star hotel? The setting is beautiful, but by no means the most spectacular. Very nice, but it was not until we spent our first full day that we experienced the magic.
As we scramble into the lodge on a brisk morning greeted by strong coffee and a hearty breakfast, the activities coordinator swoops in. Apparently we have an itinerary. We ride in the morning, return for a light lunch, and take a short hike around Como Lake, returning in time for our evening dinner reservation.

I can't remember the last time I spent any entire day outside. By the end of day, the activity, the fresh air, and the slight chill spurred our appetites. Dinner that was exquisite the night before becomes a religious experience tonight. Fresh local trout, in a simple presentation with some produce from Triple Creek's sister ranch a few miles away. Service is a mixture of European elegance and Montana hospitality. Wine flows, the day's aches ease, we sleep deeply.

It is easy to settle into a rhythm at Triple Creek with the meals as the heart beat. Every day we go out hiking, riding, fishing, or just daydreaming in the woods. And at night we follow the fireflies back to the lodge for another meal. Service is thoughtful and glues it all together. As we head out for a hike, a backpack provisioned with snacks, drinks, and even sunscreen appear. Do we need hiking sticks? We forget that there is an outside world and that it is not always this way. A week disappears, although we will always remember it.

Want to forgo the scenic 4-hour drive? To more conveniently access Triple Creek Ranch, guests may fly into Missoula Airport, just an hour and a half from the property.

By Lyndsey Biddle
JustLuxe Contributor
BriefCasesDirect.com