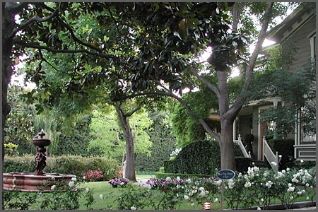 Luxury Travel:
Charm and luxury are difficult elements for a property to achieve jointly. So often a mega resort never feels cozy while a bed and breakfast inn snubs on fancy frills. Imagine my delight at discovering the utterly magical
Simpson House Inn
in Santa Barbara, the only AAA five diamond bed and breakfast in North America, and for good reason.
Perfectly maintained upon one acre of lush gardens, the Simpson House Inn sits quietly along a residential road of Santa Barbara, just a few blocks from the restaurant and shopping district on State Street. Fountains and swings shrouded by rose bushes sprinkle the grounds, surrounding newly built cottages and the main house with its 15 guest rooms. Built in 1874, the Simpson house has been honored with a Structure of Merit Award, as well as Landmark status by the Landmarks Commission for its impeccable Victorian architecture. It's truly one life size dollhouse.





Inside, guests stroll in and out of the main rooms, chat around the buffet table (filled with scrumptious offerings constantly) or read in front of the fireplace in winged back leather chairs. I loved our little one bedroom cottage, perfectly arranged with comfy sofas, a real fireplace, a white porcelain bathtub and a breakfast nook. As if we weren't feeling plushy enough, the staff insured we enjoyed every offering, even preparing a breakfast the night for our early departure.

BOTTOMLINE: The perfect balance between chic and charm is met best by the Simpson House Inn, the most stylish little bed and breakfast in the country.

Learn more:www.simpsonhouseinn.com
See All Luxury Hotels in California