Hotel Review:
US Grant San Diego Celebrates
100 Years of Excellence

While San Diego is known for offering a wide array of luxury hotels, there is none quite as opulent as the US Grant. As 2010 marks the hotel's 100th anniversary, it seemed only fitting that we pay a visit to the US Grant to see firsthand what all the hype is about.
After pulling into the valet and stepping onto the hand-loomed silk carpets in the beautifully-appointed lobby, it was immediately apparent that I was in for a treat. With expansive lounge areas, impressive artwork, a grand piano, and luminous chandeliers hanging overhead, the Grand Lobby is fit for a king. In fact, the US Grant was originally built in honor of its namesake, Ulysses Grant, after the former president's son had a vision to build a hotel of regal proportions in memory of his late father.
During our visit, we had the privilege of staying in one of the hotel's Grand Deluxe Suites. Located on the 11th floor, our suite featured a pillow-top Luxury Collection bed, framed by a Yves Clement drip-painting headboard, a 32-inch plasma TV, and a fully-stocked mini-fridge and snack bar. My favorite part of the suite, by far, was the oversized, stone bathroom, which was outfitted with dual sinks, several lighting options, and an oversized whirlpool tub equipped with more jets than one could count. The bathroom also featured Gilchirst & Soames bath amenities, as well as the most luxuriously plush robe I have ever slipped into.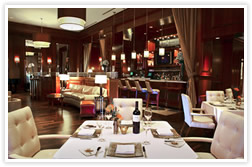 While we would have been perfectly content hiding out in our suite all night, we decided to venture out and enjoy a meal at the award-winning Grant Grill. Located in the hotel lobby, the Grant Grill has been serving the San Diego area since 1951. As we walked into the wood-paneled restaurant, we immediately noticed a crowd of patrons mingling at the bar, sipping specialty cocktails, and dancing to the live music. One thing that really struck me as unique – and refreshing – was the fact that the US Grant was in no way overly pretentious. From the hostess to the wait staff, every employee at the hotel is trained to recognize the needs of its discerning guests. Whether it be a guest looking for a traditional refined ambiance, or perhaps those looking to enjoy a more modern elegance, the service and personal attention at the US Grant are beyond compare.
After making our way through the lively bar crowd, we settled into a corner banquette and immediately sank into the supple white leather. After our server answered our many questions, I decided to go with the Omaha Natural Angus Tenderloin served with asparagus spears and crisp walnuts, while my guest opted for the herb-crusted salmon with horseradish mashed potatoes. Before our entrees arrived, we snacked on the warm fociatta bread, and enjoyed a goat cheese-stuffed fried squash blossom starter with heirloom tomatoes and gazpacho, fresh farmer's market greens, as well as a delectable tuna amuse bouclé.
As a devote steak lover, I can't begin to express how much I enjoyed my perfectly cooked piece of prime beef. My guest equally enjoyed his herb-crusted salmon, and although at first hesitant about his horseradish potatoes, was pleasantly surprised by the distinct flavor. The Grant Grill also features a seasonal tasting menu, with each course perfectly paired with a wine from the restaurant's extensive wine list. Whether it's breakfast, brunch, lunch or dinner, with Executive Chef, Mark Kropczynski, and Chef de Cuisine, Chris Kurth, in the kitchen, you can expect nothing but the best.

When dining at the Grant Grill, be sure to pay special attention to the restaurant's historically relevant décor. The walls of the restaurant are adorned with framed newspaper clippings and photos, which have been donated over the years, as well as framed brass plaques, honoring the restaurant's most exclusive diners.
In addition to the exquisite dining, the US Grant also offers a wide array of amenities, including a state-of-the-art business center, a fully-equipped fitness facility, a fine art gallery, a luxurious spa, and more than 33,000-square feet of meeting and event space.
With first-class amenities, a prime downtown location, and several notable awards and accolades to its name, the US Grant definitely lives up to its reputation as being one of San Diego's most premiere hotels.