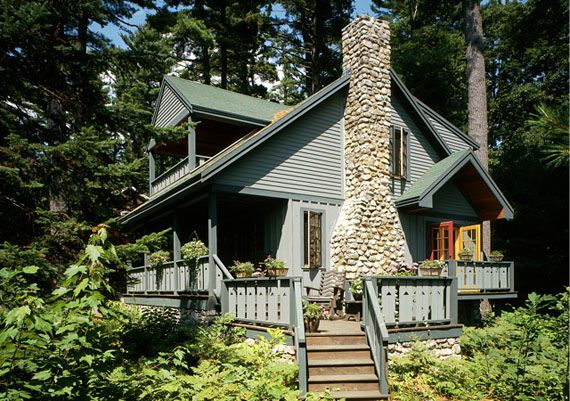 Luxury Hotels:
Imagine a place with air as clean as pure oxygen situated in the middle of the
Maine
woods where the only sound you will hear is the wind whistling through the tall pines. That's exactly what you will find at Migis Lodge located in South Casco, Maine on the beautiful shores of Sebago Lake. There is so much to do here that you may never want to leave.
Located just 45-minutes from Portland, Migis has been around since 1916 but not many people want word to get out how truly special this place is. Migis sits on 125 wooded acres with trails and there are 35 private luxury cottages available as well as six deluxe rooms at the Lodge. We stayed at the beautiful Daybreak cottage, a one-bedroom fully equipped unit complete with Fieldstone fireplaced living room and luxurious bathroom with soaking tub and separate shower stall. From our view on the deck, we could see through the trees to Sandy Beach and Sebago Lake. We even saw a seaplane pick up guests at the main dock for a scenic ride around the lake.
Activities here vary by the day and include everything from a lake cruise to bingo. Do everything or nothing at all — that's the biggest decision you will have to make here. The all-inclusive rates cover everything including shuffleboard, tennis courts, an open-air fitness center, pool table and entertainment room at the Boulders cabin, canoes, daysailers, sunfish, kayaks, and pedal boats. Motorized boats are available for rent at an extra charge and there is great fishing in the lake here.

If you are looking for something more low key, relax in one of the many chaise lounges set up throughout the property and simply enjoy the beautiful view. Each chair is set up with a beach towel so you have everything you need. Migis designed the property with families in mind (although we didn?t realize so many kids were staying here until dinnertime because the property is so nicely spread out) — there are two playgrounds, a recreation room, and even a supervised summertime children's activity program for children five and over. Activities include games, crafts, sports, picnics, swimming and treasure hunts.

All of your meals are also included at Migis and most are served in the Main Lodge but on Sunday, guests can head over to the Point for a breakfast cookout by the lake. Don't miss the lunch barbecue which is also served lakeside. On Wednesdays, they will also transport everyone from the Main Dock to Migis Island for a fun Island Cookout. We enjoyed the memorable New England style lobster bake (complete with lobster, steamers, corn on the cob and even hamburgers and hot dogs) on Friday night, which was served up by the lake. The buffet on Saturday nights shouldn't be missed — it's one of their best events and is quite a display of food, including shrimp cocktail, littlenecks, salads, and even more lobster. (The formal dinners held in the main dining room require men to wear jackets).

The rate for a stay in Daybreak is $360 per person per day during the summertime, which includes all meals, activities and facilities except the use of boats with motors. For more privacy, consider the Lake House, a five-bedroom 1920s lakeside cottage with private beach and 150 feet of lakeside terrace available from $2,560 to $3,010 per night for up to 10 people. Migis is open from June to October each year. For more information, visit www.migis.com or call (207) 655-4524.