By Carly Zinderman May. 3rd, 2011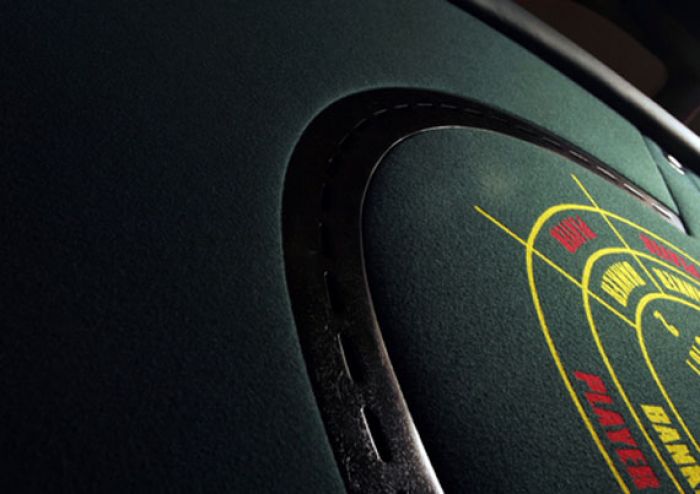 Introducing The Baccarat Salon at the
Wynn Las Vegas
, a curtained-off palace of gaming with poolside views, high-limit tables and all the
high rollers
you can shake a stick at.
The Wynn opened as one of Vegas' most luxurious casino resorts and is constantly adding new entertainment to keep up its high living reputation. The new Wynn Baccarat Salon even has baccarat lovers impressed. The elite game can now be played in one of the most decked out salons on the strip, far out doing many of the other casino's high stakes salons and giving serious players a serious place to indulge.
The Baccarat Salon at the Wynn Las Vegas certainly doesn't disappoint. It is even more elegantly appointed than the rest of the casino, with brand new floor-to-ceiling curtains and gray mohair-tiled walls all accented with more than a touch of gold and shimmering crystal chandeliers. If all that isn't luxurious enough, there is even a private marble hallway that allows Tower Suites' guests to sneak in and out away from the public eye. If you get tired of your table, you can head
to a private table in an even quieter area of the salon that offers views of the stunning pool.
Some critics find the new luxury baccarat salon too similar to the
Encore
casino's décor, but the magnificence of the details show how outlandish a high-end gaming salon can really be.
Carly Zinderman
Carly Zinderman is a Senior Staff Writer for JustLuxe, based just outside of Los Angeles, CA. Since graduating from Occidental College with a degree in English and Comparative Literary Studies, she has written on a variety of topics for books, magazines and online publications, but loves fashion and style best. In her spare time, when she?s not writing, Carly enjoys watching old movies, reading an...(Read More)