By Merilee Kern Jul. 1st, 2011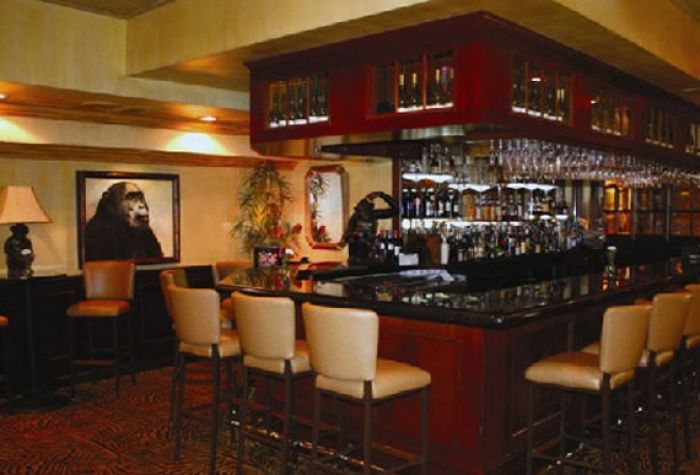 Photo Courtesy of Piero's
If you're looking to immerse yourself in one-of-a-kind Las Vegas lore, Piero's Italian Cuisine is an itinerary imperative. This revered
Vegas restaurant
is a bona fide landmark just off the infamous strip, exuding its 30-year history as an old school Rat Pack hangout.
Back in the day, in addition to serving guests spectacular Italian cuisine, Piero's served as a meeting place for the mob, casino executives and colorful locals. Still moving and shaking as a dining hot spot rivaling the best the strip has to offer, Piero's still offers the perfect atmosphere for closing deals - both business and pleasure. It's also ideal locale for celebrity watching - all while enjoying killer signature dishes.



For over three decades Piero's has collected numerous awards for their incredible food and five-star service. Honors include Zagat, Jerry Lewis Five Star Award, Five Star Diamond Award, American Express Platinum Fine Dining Award and the Distinguished Restaurants of North America award. As a Zagat Award Winner, Piero's has been named as the "Best Italian Restaurant in Las Vegas" for the past 10 years and voted "America's Top Restaurants" several times during the same period. It has also been the American Academy of Hospitality Science Five-Star Diamond Award for 11 consecutive years. Having dined at Piero's, I can assure you these accolades are well earned.

Piero's has fully 345 seats in six separate dining rooms plus a "Monkey Bar" area that features live music on Friday and Saturday nights. The dining room ambiance is reminiscent of a supper club with high-backed booths and chairs, providing a relaxed setting and somewhat mysterious vibe that emanates from the photos of Sammy, Dean, Frank and a few famous mobsters that grace the walls.



There is a casual and intimate feel to the restaurant's main room highlighted by lithographs and original oil paintings flanked by fresh floral displays. When making your reservation, try to snag the booth where Sharon Stone and Robert DeNiro wined and dined when they filmed some famous scenes from the movie, Casino.

Not just adding to, but embodying, the titillating ambiance at Piero's is its owner, Fred Glusman, who can be seen meeting and greeting tables and keeping the staff well on their toes. If you're lucky and if, and only if, he's so inclined, Fred might join you at your table and enrich your experience with first-hand accounts of the Rat Pack and other tales of Vegas past. I had the pleasure of dining in Fred's company and it was the best and most unique dinner conversation I've had in my lifetime.



It's under Fred's watch that his decades-long wine director, Pat Rost, maintains a wine list that features fully 1,900 wines and boasts a collection of over 10,000 bottles. Enjoy an incredible vino or a cocktail from its full bar before or after your meal. Often with an ambiguous, never-set closing time, this is a place to hang out, get comfortable, and savor the scene.

When hunger strikes, Italian cuisine aficionados can take heart. Piero's menu features over 40 selections prepared by Executive Chef Gilbert Fetaz. Hot and cold appetizers abound to start, including copious fresh antipasti, pasta, vegetarian and seafood starters. My party thoroughly enjoyed the Agnolotti Freschi Alla Crema - homemade country-style fresh pasta stuffed with spinach and served with a velvety cream sauce. Truly decadent.

We also enjoyed the Calamaretti Fritti crispy fried calamari served with house-made marinara; and the insanely fresh Insalata Caprese, with Roma tomato, fresh buffalo mozzarella, basil, pine nuts and a balsamic vinaigrette.



Entrée highlights at Piero's include the Osso Buco; Scaloppine Milanese; and Linguine All'Aragosta - all staples on the menu throughout the restaurant's 30 years of service. I myself ordered the Osso Buco, served with linguini. Stewed for hours with the bone intact, the veal is tender, rich and flavorful. A tiny marrow fork is offered to get to that bit of goodness.

While by this point I KNOW you will have indulged, be sure to leave room for dessert. There are decadent dessert creations as well as homemade spumone and sorbet. We savored the New York cheesecake in a raspberry sauce, which was utter perfection. While you're at it, do also try a Cappuccino All Amore, which is Piero's concoction of espresso and assorted liqueurs blended and topped with whipped cream.

When my incredible dinner was done, it became quite clear why celebrities, national sports figures and legends of music, patronize Piero's. Here, the sense of days-gone-by still fills the imagination, while stellar Italian fare feeds your heart and soul. Learn more online at PierosCuisine.com.





Some or all of the accommodations(s), experience(s), item(s) and/or service(s) detailed above were provided at no cost to accommodate this review, but all opinions expressed are entirely those of Merilee Kern and have not been influenced in any way.
Merilee Kern
Branding, consumer product trends, leisure and lifestyle expert Merilee A. Kern is a good life connoisseur who keeps her finger on the pulse of the marketplace in search of new and innovative must-haves and exemplary experiences at all price points, from the affordable to the extreme. The best of the best across all product, service and travel categories–as well as noteworthy marketplace change ...(Read More)