By Karin Leperi Aug. 23rd, 2011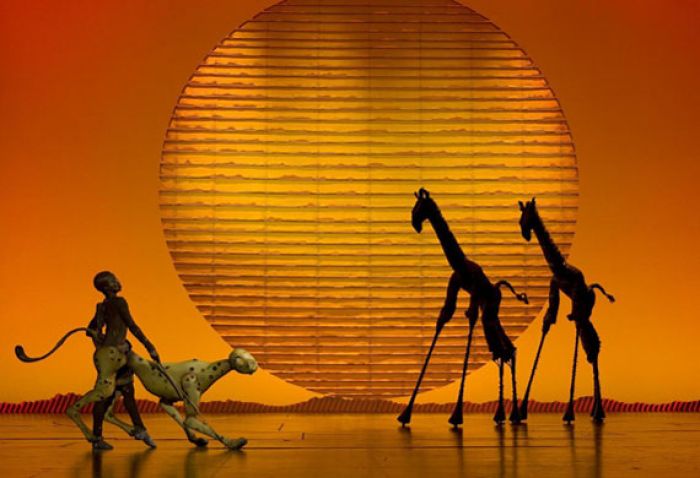 Photo Courtesy of Mandalay Bay Lion King
Las Vegas has a lot in common with New York City – as it too is a city that never sleeps. And at night, and sometimes the afternoon, is when "sin" city rolls out some of the best theatrical
entertainment geared toward families
– go figure. (That means you don't have to worry about nudity or vulgarity).
You are sure to score a win for all age ranges with a family booking for Le Rêve at the Wynn, KÀ at MGM Grand, or The Lion King at Mandalay Bay. Even if you go solo, like I did, it still is entertainment at its best. Just make sure you book tickets well in advance of your travel date, as these shows are hot and empty seats are few.

Le Rêve

Take lots of water with colorful lighting: combine it with synchronized swimmers, ballroom dancers and some of the best acrobatic performances ever, and then place set it in a dream. The result is Le Rêve – French for "the dream."

From the moment you enter the 1,608 seat theater in-the-round, it's obvious this show will amaze and dazzle if for no other reason but the massive pool at the center of the stage. (Remember, this is theater in-the-round so every seat is a great seat)

The Franco Dragone creation centers on a sleeping woman's interpretation of dreamland. Through a celebration of aerial acrobatics, aquatic choreography, and high-tech special effects that produce rain, snow and then fire, the show will immerse your senses even as it imparts a message of hope and renewal. Le Rêve gets my vote for most creative and dreamy show – a surreal peek into a colored and choreographed dreamland of sea and sky.

Wynn Theater Le Reve
3131 Las Vegas Blvd. S. #33
Las Vegas, NV 89109


KÀ by Cirque du Soleil

Defined by martial arts in gravity-defying settings, this is an epic tale of love and war done in a way that Cirque du Soleil does best. Through aerial acrobatics, puppets, pyrotechnics, moving stage platforms, and exotic costumes, the audience is transported through storms, blizzards, jungles, and battle scenes to experience elements of the mythic hero's journey and the battle between good and evil.

A pair of royal twins, a brother and sister, are painfully separated when their village is overtaken by evil archers and spearmen. With their parents now dead, the twins must then embark on separate but perilous journeys that will test their inner strength and love for each other. Their quest to reunite ultimately brings harmony – but not before the big battle scene – to a restored empire. KÀ gets my vote for best martial arts performance along with unique props.

MGM Grand K Theatre
3799 South Las Vegas Boulevard
Las Vegas, NV 89109


The Lion King

A hugely popular show, The Lion King has been seen by over 55 million people worldwide and has won over 70 major international theater awards since its debut in 1997.

Adapted for stage from the 1994 Academy Award-winning Disney film, The Lion King is a mesmerizing story of good and evil, youthful innocence and ultimately – the triumph of justice.

Set on a vast African landscape, actors don elaborate head masks to project and portray the energy of their character while movement of some key characters is articulated through puppets. Combined with catchy lyrics and African rhythms, it is easy to get emotionally caught up with the plot. I did. Elton John and Tim Rice have managed to serve up a set of music and lyrics that will stay with you and linger in your mind long after the show is over. The Lion King gets my vote for most lyrical and "feel good" show.

Mandalay Bay Theater Lion King
3950 Las Vegas Blvd. South
Las Vegas, NV 89109

This post originally appeared at CityRoom.com.

Karin Leperi
Karin Leperi is a nationally-acclaimed award-winning writer and photographer with bylines in over 95 publications that include print, broadcast, internet, and mobile platform media. A gypsy at heart, she has traveled to 97 countries and is still counting. Specialties include travel, culture, cuisine, cruising, nature, photography and lifestyle. ...(Read More)