Apr. 2nd, 2013
10 Hottest Pool Parties in Las Vegas
Photo Courtesy of TAO Beach
Summer is right around the corner and everyone from exam-weary coeds to restless 9-5ers have been busy booking their plane tickets and shopping for the season?s cutest two-piece. While many are flocking to Mexico and the Caribbean for a bit of sand and surf, others are headed to Las Vegas. However, a trip to Sin City doesn?t have to mean sacrificing your time by a glistening, turquoise water body. ?Tis the season for pool parties in Vegas, which means this desert city transforms into a spring and summertime oasis. Take a look below to see a few of the most luxurious pools, offering upscale amenities and entertainment, opening in the city this season.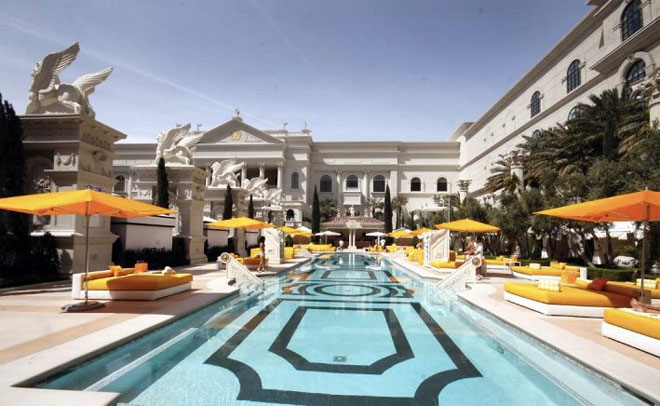 Venus European Pool Club
Opens April 22, 2013
Daily, 11:00 a.m. ? dusk
Returning for its seventh season is Caesars Palace?s own,
Venus European Pool Club
. This European-style retreat is a sun worshiper's paradise and sits separate from the other three pools offered at Caesars Palace. Hidden from the public, this pool allows for a European style of sunbathing, so leave those tops behind. A Romanesque elegance defines this pool and guests are invited to enjoy a tranquil alternative from other Vegas pool parties. Make no mistake, however, beats are still impressively spun by resident DJs throughout the day. Venus also serves up gourmet food and high-end cocktails and beverages by expert bartenders to ensure the party keeps going all-day long. All flavorful cocktails come topped with fresh fruits and are creatively named after Rome's historic figures like the Alexandra The Great and the Julio Caesar Margarita. Posh cabanas can also be rented and come with oversized chaise lounges, an air-conditioned bar and flat screen TVs.
Rehab The Hard Rock Hotel
Open April 21, 2013
Sunday, 11:00 a.m.-6:00 p.m.
Undoubtedly one of the biggest pool parties in Vegas, you may end up needing a whole other kind of rehabilitation following an experience at The Hard Rock Hotel?s Rehab. The size of the venue in conjunction with its celebrity attendance even earned the daytime party scene its own reality television series,
Rehab: Party at the Hard Rock Hotel
, on the TruTv cable network. While the show only ran for two years, the party hasn?t stopped.
Rehab at The Hard Rock Hotel
is said to consistently deliver a near-perfect party experience including reasonably priced, well-doctored drinks (think Disneyland style water bottles filled with alcohol) great music and a fun crowd of people. And by fun, we mean the wild party types with whom just about anything goes. The venue offers comfortable cabanas (prices are $300 per person with a minimum of five people), plenty of daybeds, a waterslide and several pools. A few guests have complained that Rehab draws more males than females; however with a few drinks and the outgoing spirit this daylight party spot encourages, it shouldn?t be too hard to make some new friend. Though ?making new friends? may include more than the usual handshake.
In addition to the main pool there is also SKYBAR which is a smaller, glass-bottomed pool that tends to be less crowded. If you aren?t already feeling relaxed from the poolside dancing and cabana-lounging, there are massage therapists on hand to help work out the rest of those kinks. However, in order to avoid the stress of the crowd, it?s recommended to reserve a cabana on the second level which eliminates much of the major foot-traffic around the pool. Cabana reservations also cuts out any waiting time, offers safe storage spaces for personal items and includes a waitress. Drawing entertainers such as Pitbull, Akon and DJ Pauly D, Rehab is the biggest Sunday party in Vegas.

Bare at The Mirage

Open March 14, 2013
Sunday-Thursday, 11:00 a.m.-6:00 p.m.

Dig an afternoon by the pool but can't handle the tan lines? The adult-only pool lounge offers an intimate, tropical atmosphere where guests can enjoy European-style sunbathing (this means their rules regarding women's bikini tops are lax)—so a word to the wise, this may not be the spot for the shy or modest. Bare is located through The Mirage's "Street of Shops," offering 14,000 square feet of space, six cabanas and eight daybeds, all available for reservation (ranging in price from $100-$1500). Reserving a cabana will also waive your entry fee, so if you're coming with a large group this may be the best bet. Aside from the full service bar, the poolside menu was specifically crafted by The Light Group's Corporate Executive Chef Brian Massie; however this season's food and drink menu has yet to be released.

However, Bare has already lined up the pool opening with several events. Starting the season off right, March 21st debuted Bare Lounge's Bikinis and Basketball, combining poolside relaxation with the love of March Madness. And until April 15th, college-aged spring breakers can enjoy exclusive access to the lounge's open bar by showing their school ID.



LIQUID Pool Lounge at Aria

Open March 14, 2013
Sunday-Thursday, 11:00 a.m.-6:00 p.m.

Located inside the Aria Resort and Casino, the LIQUID Day Club has grown to become one of the top pool experiences in Las Vegas. Like Bare, which is also a Light Group venue, LIQUID is an intimate space with 35 day-beds and 8 private cabanas. The beds feature unique storage compartments, allowing guests to safely stow personal items while lounging in the sun or taking a dip in the pool. LIQUID features minimal décor that is both contemporary and clean-lined. A bit of greenery lines an elevated terrace while the 50-seat restaurant by Chef Brian Massie cradles one side of the open space. It is bit smaller than some of Vegas' other pools, which means overcrowding is not as much of a problem. However some guests have complained about the venue's spotty service and the drink prices (always a Vegas hazard) which can run you about $15 for what has been described as a "very small" cocktail. However, for the ladies who arrive early, complimentary champagne is provided before 1 pm.

Director Pearce Cleaveland of Liquid said the venue has also been known to attract a celebrity following. "We've featured hosts from Mark Ballas to Heidi Montag, Cheryl Burke, Audrina Patridge and Mark Salling," Cleaveland said. "LIQUID is a prime hangout for celebrities, athletes and a-listers." Entertainment this year will include performances from DJ Duo Scooter and Lavelle along with a host of other celebrity DJs who have yet to be announced.

Azure at The Palazzo

Open March 2013
Daily, 11:00 a.m.-6:00 p.m.

Unlike Rehab, Azure is not the over-the-top, wild party scene one may expect of a Vegas trip. However, its clean setting offers a low-key place to soak up some sun and enjoy the water after a busy weekend. Located inside the Palazzo Las Vegas, Azure offers covered cabanas ($500) complete with couches, coffee table, lounge chairs, TV and a bikini-clad waitress— a much better deal in comparison to many of the other cabana offerings in the city (which usually cost a minimum of $1500). The pools are a bit smaller than some of its clubbier counterparts; however, the scene includes a DJ and food from Wolfgang Puck's neighboring restaurant. Entrées include offerings such as Chinois Chicken Salad ($18) with candied cashews and sesame honey mustard dressing; Grilled Prime Hamburger ($22) with Vermont white cheddar, red onion marmalade aioli and French fries; as well as the Azure Grand Sushi & Sashimi Platter ($250) among other specialty pizza and salad offerings.

Azure also offers European bottle service, including everything from single beers to large format champagne and liquor options (9000ML of Perrier Jouet Grand Brut, $3,500; 1.5L of Patron Platinum, $1,600). Guests are also encouraged to try one of Azure's Seductive Combinations, such as the Platinum ($10,000) which includes the Azure Bathtub, 6 liters of Ace of Spades, 1.5 liters of Patron and 1.5 liters of Belvedere.

Sapphire

Open April 20, 2013
Thursday, 11:00 a.m.-7:00 p.m.

Opening for the first time this season, Sapphire Pool & DayClub is the end result of an $8 million project completed by The Sapphire Gentleman's Club. The Sapphire, who calls itself the "world's largest gentleman's club," will be continuing its history of supplying the Vegas party scene with a very attractive group of ladies … just add a bit of water, a few cabanas and some really good music. In preparation for their opening on May 2, the club has been holding DJ competitions. On May 3rd three finalists will compete in the Sapphire DJ Battle to win $100,000 and a resident DJ contract at the new venue. While it is an adult-only space, the company is emphasizing that the daytime pool venue is not a strip club. Women who opt to leave their tops at home must make sure to cover themselves with pasties, but the new spot is guaranteeing to provide attractive views all around.

Moorea Beach Club, Mandalay Bay

Open March 21, 2013
Thursday, 11:00 a.m.-6:00 p.m.

Situated inside The Las Vegas Mandalay Bay, Moorea joins in the ranks of LIQUID, Bare and Sapphire as one of the city's most frequented over-21, topless pools. Guests can opt to reserve a variety of day beds as well as a beach-level cabana, which occupies up to six people. On the third level of the new casino building, guests can also reserve a Moorea Villa, complete with cushioned chairs, side tables, spacious daybed, refrigerator and 50-inch TV. The villas also include a changing area and restroom, so there's no need to wait in a crowded public bathroom. A personal safe will keep all your belongings protected while a service host will attend to all your food, drink and amenity requests. When we inquired about the more specific amenities available (we have heard of spf butlers and frozen towels) the concierge simply stated that a guest could get "anything requested." So, we imagine the sky is the limit when it comes to personalized requests…a pedicure, poolside massage, or perhaps brigade of juggling monkeys? The concierge team seems to encourage creativity.

While this "Toptional" European bathing spot embodies the Vegas spirit, Moorea Beach Club is a bit more laid back. Not all of the ladies choose to go topless (security is very strict and there are no pictures allowed) and the venue doesn't solely attract the rowdy 20 to 30-something party crowd. Moorea consistently entertains a variety of age-groups, including those in their forties and fifties—a good indication that the atmosphere is party enough for younger guests and relaxed enough for those who have had enough of Vegas' extreme side. Guests have also given Moorea good reviews based on the inclusion of the venue's poolside casino and selection of not-too-loud music.

Wet Republic, MGM Grand

Open March 22, 2013
Thursday, 11:00 a.m.-7:00 p.m.

One of the veteran party pools in Vegas, Wet Republic is usually a wild scene and not for the faint of heart. Quiet lounging is not on the menu at Wet Republic, however bottle service and a variety of strongly-poured drinks are. The venue is located at the MGM Grand and aside from Rehab, attracts one of the largest crowds of daytime partiers. Wet Republic opened for the season on March 22nd, bringing along with it a host of celebrity DJ appearances. Australian DJ Tommy Trash helped to close out the month of March by amping up the party on the 30th, while April will see performances by Calvin Harris (April 7), Hardwell (April 20) and Aokify (April 28).

The pool opens at 11 a.m. and it's generally recommended to get there as early as possible in order to snag a spot. Some guests have complained about the overcrowding and the sanitation of the pools, but that's not too much of a surprise. Hundreds of people dancing, sweating suntan lotion and losing the occasional cocktail into the pool doesn't always lend to the most hygienic of circumstances (but hey, the best times usually include a bit of a mess); however, cabana and daybed reservations can provide a slightly more removed party experience, costing between $750-$4000.

Marquee Dayclub, The Cosmopolitan

Open April 5, 2013
Daily, 10:00 a.m.-6:00 p.m.

Situated at The Cosmopolitan, Marquee Nightclub & Dayclub has been a top contender in the Vegas party scene for several years. At the Marquee, daytime partiers can enjoy a playground of infinity pools, cabanas, and "bungalow lofts." The space also includes a gaming area, two main pools as well as an open air party-deck. Guests' primary complaint seems to be the stairs that punctuate the throughways of the venue (ladies, think twice about rockin' those heels with your bikinis); however it seems to be the list of celebrity DJs that keep visitors coming back to the Marquee. Throughout the month of April Gareth Emery, Kiedy, Erick Morilo, Aviccii, Sander van Doorn, the EC Twins and EDX, among others will find themselves mixing beats at this dayclub. The pool atmosphere at the Marquee is often deemed better than the nightclub experience for the sole fact that the exterior spaces are larger and more conducive to impromptu dance parties—and we know Vegas is all about the dance parties.

Aside from bottle service and the drink menu, the Marquee Dayclub also offers an array of food options, such as ahi tuna salad, fish tacos, sushi and fruit platters. Unsurprisingly, the tab here can add up quickly, but a few tips that can help cut down entry costs include getting on the promoter's guest lists (check the venue's Facebook and website during event promos) or being a guest of the Cosmopolitan, which will allow you pool entry by 11 a.m., although the bouncers still maintain the right to turn away even hotel guests depending on capacity. But if you go early to get an entry stamp, Cosmopolitan guests can start the party in their rooms and head out to the pool later.

Tao Beach, The Cosmopolitan

Open March 15, 2013
Thursday, 11:00 a.m.-7:00 p.m.

In addition to The Marquee, The Cosmopolitan is also home to TAO Beach —an 18,000 square foot space with two dipping pools, a 30-foot bar, Asian-inspired daybeds and twelve cabanas that first opened in September of 2005. The cabanas include amenities such as air-conditioning, high def plasma screens, gaming consoles, a DVD library, WiFi and customizable mini bars. In the evening, the outdoor space transforms into a tropical extension for the TAO Nightclub, complete with fire columns and an open- air nightlife experience. Other amenities include sunglass cleaning and a staff of masseuses upon request. Some guests feel the pool and accompanying venue is too small, others, however, enjoy the intimate vibe and have said it feels like a privately hosted party with the addition of a guest entertainer. For those who dislike crowds, TAO allows reentry, which lets guests come and go as long as they have a wristband.

While the musical entertainment for this season hasn't been confirmed, TAO consistently books some of the most sought-after international DJs, such as Italian record producer Benny Benassi and Dutch-born DJ, Nicky Romero. Along with the ever-changing celebrity artists, the venue itself is continually being updated. Starting on May 5, TAO will introduce their first-ever brunch menu inside its newly crafted restaurant space. Guests can order dishes such as Fortune Waffles ($18), served with mixed fruit and fortune cookie ice cream; Kobe steak and eggs ($88) with X.O. Hollandaise, fried eggs and Kobe ribeye; and Sesame Berry Pancakes ($18) made with sesame seeds, tempura banana, and mandarin butter, among several other options.
You might like :
Top Las Vegas Nightlife
.

Las Vegas Map

.
.

Luxury Hotels in Las Vegas

.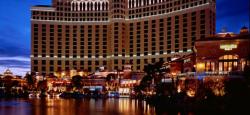 Bellagio Las Vegas
Romantic, Business, Family Friendly, Spa, Casino, Wedding, Resort, Luxe Superior, Tourism, Nightlife, Culinary