By Marissa Stempien Jan. 8th, 2016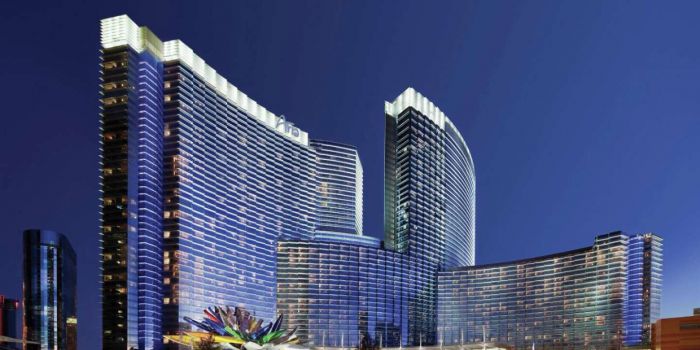 Photo Credit: Aria
The holidays are officially over. Presents have been opened, we sang Auld Lang Syne at midnight and (thankfully) family has packed up and gone back home. It's time for a little relaxation. To get away from the insanity and stress of the season and start the New Year off with a bang, we grabbed a friend and jetted to Vegas in hopes of finding a little fun and pleasure at Aria Resort & Casino.
We spent the weekend checking out Aria's newest offerings for 2016. The property, located between Bellagio and Monte Carlo, is right off The Strip, and home to the luxury shopping destination The Shops at Crystals, a number of celebrity chef restaurants and the popular Zarkana by Cirque Du Soleil show. Known for their young, but more mellow crowd, it's the type of place where you can be close to all the action, without being in the center of it (should you need a break). However, Aria is hoping to change that.
Photo Credit: Aria
We stayed in the resort's brand new Tower Suites, a collection of 258 accommodations which include upgraded amenities like a private entrance and check-in lounge, limo transportation to and from the airport, curbside greeting, expedited access to the taxi line, and first-class turndown service. The rooms range from the 920-sqaure-foot Corner Suite to the 2,000-square-foot Executive Hospitality Suite. They are outfitted with a plethora of tech-friendly designs and luxurious add-ons, like the upgraded Crave tablet that allows guests to personalize their stay all with a touch of a button.
Photo Credit: Aria
Our room was a corner suite that offers glittering views of The Strip, and while the living room was fairly standard, the bedroom and bathroom are where the suites really shine. The bed overlooks full-corner views of The Strip and is probably one of the most comfortable beds we've ever slept in—if we didn't have a schedule to keep we could have wasted away half the day under the covers. In the bathroom, the tub sits against the floor-to-ceiling windows so you can soak in the bubbling water while watching the neon signs flash and sparkle. It wouldn't be an exaggeration to say that you'll want to spend a majority of your time in the Jacuzzi-style tub.
Photo Credit: Douglas Friedman/Aria
There are a number of new eateries in Aria that make it a definite must-do for foodies. Chef Mario Carbone's eponymous restaurant recently opened with a menu of Italian-American dishes and mid-century New York cuisine. The ambiance is romantic and decadent—everything is glided in gold and decorated in rich hues of emerald and crimson. The décor is only topped the restaurant's dishes. We followed our waiter's suggestion of appetizers, entrées, desserts and paired wines and couldn't have had a better experience. We recommend trying the lobster ceviche with horseradish for a fresh appetizer and the veal marsala which was some of the best we've had.
Photo Credit: Aria
If you're looking for a place to brunch after a night of drinking, head downstairs to the casino's second-level Promenade and try the cuisine at Chef Michael Mina's Bardot Brasserie. Here marbled tables, mahogany bars and freshly-cut florals are reminiscent of a turn-of-the-century bistro, and dishes are French favorites with a modern twist. Their petit onion soup gratinée is a popular starter, and their king crab crêpe is a must-try. You may be tempted to try the crab and lobster entrées which litter the menu, but opt instead for the humble looking French toast. Made with brioche French bread, vanilla mascarpone and almond brittle, it is, quite literally, melt-in-your-mouth perfection.
Photo Credit: Delano
While the dining options in Aria are amazing from a culinary standpoint, one thing they're missing is a view—a deal breaker for some Vegas diners. To see the best of The Strip, call an Uber and head to dinner at Delano's Rivea restaurant where you can enjoy classic French cuisine amidst the backdrop of the Vegas lights. Everything is tapas-style (perfect for when you and your group are too busy gazing out of their floor-to-ceiling windows) and includes some outstanding traditional dishes. Try the cookpot of farmer's vegetables which don't look like much on the menu, but sell out nightly and remind us of the type of hearty home cooking our mothers used to make. After dinner, walk around the corner to Skyfall Lounge where the 180-degree view will make your jaw drop. The lounge specializes in unique cocktails and the mixologists will create customized concoctions for those who love to try new blends.
Photo Credit: Bellagio
Those who don't plan on ending the evening with a low-key nightcap and stroll through a casino, will notice that Aria is lacking a nightclub, a major must-have for most visitors. This spring they'll be opening Jewel Nightclub, but until then, Aria's central location means there are a number of nearby clubs to enjoy. We decided to stop at the popular Hyde Bellagio to get our party on. The space is 10,000-square-feet large, and even with VIP parties taking over a majority of the floor, there was enough room to comfortably rock out to their mix of hip-hop, Top 40 and EDM. To make the most of the evening, we highly recommend reserving one of the club's 40 VIP tables or a spot on the outside terrace that offers a front seat view of the Fountains of Bellagio.
Photo Credit: Bellagio
If you're a "party hard" kind of Vegas goer, you'll likely feel it the next morning (we did). To take some of the edge off, enjoy breakfast in your room (the view is just as amazing in the daylight) and book a day of pampering at the spa. The Spa at Aria offers traditional treatments like Thai and stone massage. If you're looking for something a little more decadent, book a service at the 65,000-square-foot Spa Bellagio which offers everything from day-long indulgent packages to quick "lunch time" peels. Even on a weekend, the expansive space makes it feel like a secluded sanctuary and any time of day it's easy to grab a spot in the sauna, steam room or in one of their four Roman-style baths.
Photo Credit: Aria
Aria is slowly but surely on its way to becoming the sought-after resort it once was, and its addition of high-end suites, chef-backed eateries and upcoming nightclub will do a lot to get them there. If you're looking for a place for you and 20 of your closest frat bros for a high-octane, no-holds-barred weekend, there are a few other resorts we could suggest for a more wild time. But it you want to unwind, let loose and just getaway for a weekend give it a try—you may just find your new favorite Vegas hotspot.
Marissa Stempien
Marissa Stempien graduated with a degree in English Literature and a minor in Asian Studies from San Francisco State University. Previously a beauty editor, Marissa now utilizes her love and passion of luxurious fashion everyday as Fashion Editor of JustLuxe. Originally from Santa Barbara, CA, Marissa has traveled to various cities across the globe, most recently returning from living abroad...(Read More)