By JustLuxe Team Nov. 19th, 2009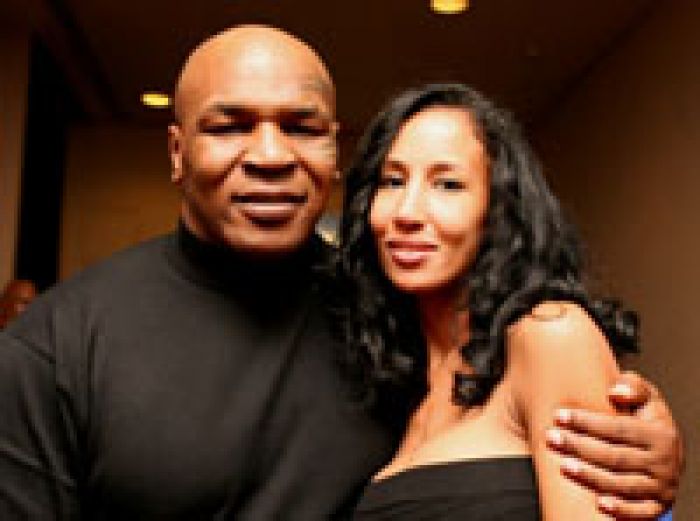 Las Vegas News:
Mike Tyson and his new wife Lakiha Spicer, who married weeks after his daughter Exodus' death May 26, were spotted at a local classic show after his candid interview with Oprah. The newlyweds were seen swaying and singing to the long running The Platters, Coasters and Marvelettes doo-wop show inside the Congo Room at the Sahara Hotel & Casino. Tyson wasn't shy, singing along with the classics happily with his wife.
Tyson and Lakiha, or Kiki, as she is affectionately called, drove to the La Bella Wedding Chapel at the Las Vegas Hilton in early June to marry. Kiki,33, has stood by her man over the years. She was listed as the other woman in Tyson's 2002 divorce from Monica Turner and he was listed as a character witness in her 2004 legal wranglings on allegations she defrauded a Philadelphia community college.
Tyson's public life was on an upswing in May before the passing of his daughter. The critically acclaimed documentary "Tyson" had just opened in April and he also has a well-received bit in the smash summer hit, "The Hangover." Renee Zellweger flew into town under the radar for a weekend with her girlfriends and went a decidedly different route while in town. The blonde sweetie and her gal pals skipped the night life for a trip to "Titanic: The Artifact Exhibition inside Luxor Hotel & Casino."
Zellweger's Unusual Vegas Weekend
The Academy Award-winner immersed herself into the educational and impressive exhibit, closely examining the artifacts, reading the personal passenger stories and asking questions of the artifact specialist at the Exhibition.
She even did a truly touristy thing, handing her cell phone to her friend to snap her on the Grand Staircase portraying a scene from the 1997 movie "Titanic." Zellweger and her pals then went to Luxor's Bodies…The Exhibition, but were quickly surrounded by fans. After signing a few autographs and posing with fans, she and her friends disappeared into the Vegas night.
Paris' Fright Night in Vegas
Paris Hilton had a few frightening moments while in town with on again boyfriend Doug Reinhardt for his birthday. The duo dressed down for a big night at Fright Dome at Circus Circus. Paris prepared to be scared in black pants and vest over a white T. They rode the roller coaster and bumper cars before taking part in the "grand entrance" – arriving in the Fright Dome custom hearse with owner Jason Egan in the driver's seat, surprising the guests waiting in line prior to the opening.
For
JustLuxe
Kimberly McGee
JustLuxe Team
The JustLuxe Team strives to bring our members and readers the very best in luxury news and conversations. We love to hear your opinions and suggestions, but most of all, we love to interact with you. ...(Read More)