By Carol Driver Sep. 1st, 2011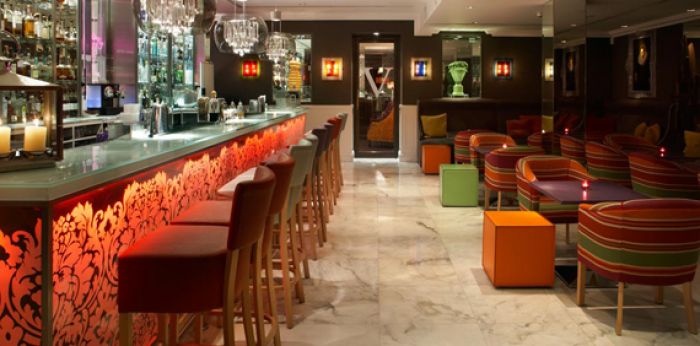 Photos Courtesy of deVigne Bar
As Notting Hill Carnival fever grips London, the luxurious Mandeville Hotel is celebrating with an array of Caribbean cocktails. Inside the Marylebone venue's stylish deVigne Bar, which is within easy reach of the West End shopping destinations, my friend and I are greeted by incredibly friendly staff.
The decor is a stunning mix of traditional, elegantly mixed with contemporary art deco furnishings. There's a humorous play on the Elizabethan-era with amusing female portraits as well as colorful tub chairs and a sleek bar with stools running along its length.
The talented and award-winning mixologists rustle us up two St. Lucia's tea punches as we chomp on divine flavored nibbles and assorted nuts. Our drinks arrive and are delightfully served in a Jing Pearl tea cup. Chairman's spiced rum is mixed with lemon, orange juice, cinnamon, ginger, cloves and Jing Dragon well green tea, garnished with a twirly orange peel. The aromatic concoction is a success – the combination makes a light drink, boasting subtle flavors.
Next, we try Nelsons blood – Chairman's spiced rum with cranberry, pineapple, orange, lemon served long over ice and garnished with a cinnamon stick. This is my favorite – a divine but mellow mix of sweet and sour producing an extremely moreish result.
My friend, however, is won over by the fruity Caribbean carnival; Chairman's spiced rum with papaya, ginger, lime, banana liquor served with papaya in a martini glass, which is a lovely, sweet cocktail that has the perfect balance.
The Mandeville Hotel's Caribbean cocktails are available until the beginning of September – but, as we find out, there's still plenty of reasons to visit deVigne Bar after this.
Its cocktail menu is divine; and we can't leave without trying some.We decide to choose from The Design Lab list which includes an eclectic selection. There's the Tonquin Garden, made up with Tonka beans, zubrowka, rhubarb, bitter oil; the Dragonfly, a blend of Ketel1 Vodka, bourbon vanilla, lime, rose and cranberry.
There are also the 'sparklers' such as the Black betty - a delicious mix of blackberry, chambord and champagne.
It's the perfect place to catch up with friends over a cocktail, or to head to escape the madness of the shopping crowds and enjoy a touch of tranquility in luxurious surroundings. We leave suitably impressed – the bar is stunning, the decor is inviting and the staff are impressive – cleverly, Mandeville has created a hotel bar which has its own contemporary vibe.
And we'll definitely be back.
Carol Driver
Carol Driver is a journalist with more than 13 years' experience writing, subbing and editing at national and regional publications and websites in the UK. Carol is currently the group editor at TNT Multimedia, which has magazines in London, Australia and New Zealand. She previously worked at national newspaper website the Mail Online well as writing for a host of other publications. She has also ...(Read More)