By Carol Driver Dec. 19th, 2011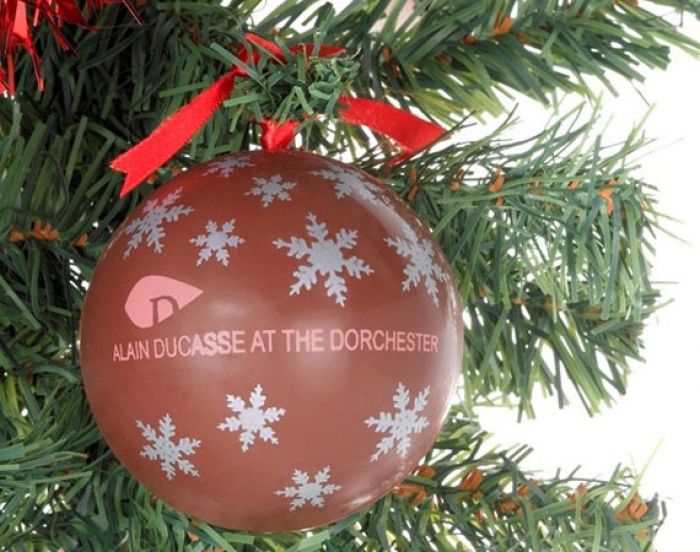 Photo Courtesy of The Dorchester
It's coming down to the wire for getting all of our holiday shopping done. If you still have more to buy and are stumped as to what to get your friends and family, these
foodie gift ideas
might be just what you've been searching for.
Have A Sparkling Christmas
This Christmas, treat loved ones with a gift that truly sparkles. Laurent-Perrier has created two chic gift boxes, ideal for impressing friends and family alike, to complement the elegant Cuvée Rosé and Brut champagnes. The new limited edition gift boxes have been designed with style, sophistication and standout in mind; the perfect addition under any Christmas tree. The Laurent-Perrier Cuvée Rosé Eventail Giftbox is stocked in Harvey Nichols and Selfridges from £60. HarveyNichols.com


A Taste Of Italy

Carluccio's brings a touch of luxurious Italy to London, and has a fine selection of Xmas gifts on offer. For the ultimate foodie, its elegantly designed hamper (£95) is perfect. Packed full of a wide range of Carluccio's classics from panettone to pappardelle pasta and porcini sauce. It also includes wine for those festive toasts. Carluccios.com


Around The World


A new specialist UK merchant of half bottles of wine HalfWine.com is offering gift packs in time for the festive season, including a option to 'Taste your Way Around the World,' which includes twenty two 375ml bottles of luxury wines from around the globe. Perfect for health-conscious wine lovers who value quality over quantity. HalfWine.com





Celebrate With A Pop!

Bubbly always adds fizz to Christmas. And this fresh, mouthwatering champagne is ideal for serving alongside sumptuous canapés at your annual festive bash. Crafted in the traditional non-malolactic style since 1760, the award winning Lanson Black Label (£30.99) combine's its zesty flavors with notes of toast and honey, making it the perfect start to any occasion. LAcademiedeLanson.com


For Tea Lovers


Jing Tea is a luxury tea brand which is currently served at all of London's five-star hotels (Berkeley Hotel, Goring, Hempel Hotel), so it's ideal for those who enjoy the finer things in life. Jing specializes in hand-picked teas from around the world and has created a gorgeous Xmas set for tea lovers. The One Cup Teapot gift set (£39) boasts Jing's new design of matching glass teapot and cup and is packaged in an elegant gold gift box. While Gong Fu Master gift set with bamboo tray (£31) is great for the Chinese tea aficionado. JingTea.com

Say Cheese!

If you have someone in your life who loves cheese, they'll adore this heart-shaped Godminster's 400g gift (£14.95). The cheese has a lovely creamy texture and isn't too over-powering, making it a nice gift to take for a festive meal. Godminster.com

For Chocoholics


Choc On Choc offers lots of fun presents which are great for chocolate lovers. From gift sets of luxurious Belgian chocolates to a festive sharing selection (£50), it's an impressive range. We particularly like the Make Your Own Chocolate House (£15) and the uber-cute Penguin Family Chocolates (£15). ChocolateOnChocolate.co.uk





Splashing Out

Shake-up your drinks cabinet this Christmas with Grand Marnier's delicious new The Red Ribbon Limited Edition Bottle, which also makes a stunning present. Renowned for its distinctive flavor and character, Grand Marnier Cordon Rouge is a delicate blend of fine cognacs and distilled essence of tropical oranges. It's a fantastic ingredient for Christmas drinks. It's available to buy in Harvey Nichols and Selfridges from £15.99. Selfridges.com


For Whisky Fans

Nothing says sophistication quite like Johnnie Walker. So this Christmas, surprise the whisky lover in your life with this limited edition gift from its Black label (£29.99). The pack makes an ideal present for someone with style and a keen nose for smooth Scotch whisky. JohnnieWalker.com


For First Timers

Looking for a fun present for the teenager who's showing an interest in cooking? The Food Nation Fajita Pan Set (£18.50) has what you need to make sizzling fajitas and bring them to the table! It includes a griddle pan, wooden base, red peppers and chili oil. Boots.com


Say Cheers!


For the vodka lover in your life, this is the ultimate indulgence. Presented in a stunning engraved golden gift box, Russian Standard Gold is the perfect gift to take to festive parties. Crisp and refreshing, the vodka is filtered through charcoal infused with Siberian Golden Root, resulting in seasonal notes of bitter caramel, cinnamon, clove, almond and vanilla. Russian Standard Gold is available in Harrods and Selfridges stores from £20. RussianStandardVodka.com





Top-Class Fizz

Nothing says Christmas like a special bottle of champagne from Harrods in London. Treat a loved one to Champagne Jacquart, Brut de Nominée which comes in a delightful gift box (£60). It's a perfect blend of Champagne's most prized grape varieties, Chardonnay and Pinot Noir, grown in selected premier crus and grands crus vineyards. Harrods.com


Mini Wines

Wine producer Pig in a Poke has a gift for wine lovers, with three new mini-bottles of their award-winning drinks packaged in a limited edition ice bucket for £20. The gift includes the flavorful Old Spot Red, Old Spot White, a refreshingly fruity yet dry, and Old Spot Rosé, crisp and fruity but not too dry. The wines are delicious, and even come with a money-back guarantee! PiginaPokeLive.com


Spicy Christmas

Spice up Christmas with this new recipe book Food of the Grand Trunk Road (£19.99) which explores the culinary journey from Bengal to Afghanistan. The book was created by head chef of acclaimed London Indian restaurant Moti Mahal, and British writer Hardeep Singh Kohli. It follows Hardeep's travels along India's oldest and longest road, with a fascinating look at the food, culture and traditions, including long-forgotten recipes. MotiMahal-uk.com/shop

Festive Treats


To celebrate the festive season, Alain Ducasse at The Dorchester has designed a trio of beautifully handcrafted Christmas chocolate baubles (£25). The delicate taste and unique design has been created solely for the restaurant using the luxurious and intense tasting Valrhona chocolate — considered one of the most prestigious French chocolate makers in the world. The trios of chocolate baubles are packaged in keepsake boxes. TheDorchester.com




Choco Wine

We all have a chocolate lover in our lives, so let them indulge with this delicious chocolate infused wine (£8.99) from Chocolate Shop UK. It's a deep ruby red wine blended with rich, velvety dark chocolate, with aromas of black cherry and dark cocoa, complemented by soft vanilla and creamy mocha. It's so good, you might want it for yourself! ChocolateShopWine.co.uk


Retro-Foodies

This Christmas, give the gift of love to a retro-loving foodie who will adore this deep-fill sandwich maker from Waring (£45). On the practical side, it features extra deep, removable plates. On the enjoyment side, it produces amazing sandwiches. Expert chefs can also try their hand at creating mouthwatering fruit turnovers, omelettes, calzones and more. WaringProducts.co.uk


Cool Flavor

Sloane's Gin (£22.99) doesn't come in a crazily shaped bottle. Instead, it's unashamedly inspired by the great gins of the past, when gin had the wonderful influence of juniper and didn't have to worry about being 'cool.' And it's this, and its pure flavor, which makes it even cooler. TooRank.com


Limited-Edition Goodies


Armand de Brignac is a limited edition and entirely handmade luxury champagne which was voted number one in tasting of 1,000 champagnes around the world. It has also become a favorite with many celebrities including Jay-Z, Beyonce, Rihanna, Oprah Winfrey and Leonardo DeCaprio to name a few. Armand de Brignac Champagne is stocked in all Selfridges and Harvey Nicols stores in the UK and Harrods from £250. ArmanddeBrignac.com






Indian Superfood

Nearly 25 percent of the top antioxidant-rich foods available to us are, in fact, spices. With that in mind, Indian Superfood (£12.99) is the unique low-fat mealtime synergism between superfoods and spices — a collection of the world's most antioxidizing recipes. Gurpareet first came to the international spotlight in 2009, when he created the 'world's healthiest meal,' a simple Chicken Curry with Blueberries and Goji Berry Pilau which contained the antioxidant-equivalent of 23 bunches of grapes. GurpareetBains.co.uk
Carol Driver
Carol Driver is a journalist with more than 13 years' experience writing, subbing and editing at national and regional publications and websites in the UK. Carol is currently the group editor at TNT Multimedia, which has magazines in London, Australia and New Zealand. She previously worked at national newspaper website the Mail Online well as writing for a host of other publications. She has also ...(Read More)