By Carol Driver Jun. 22nd, 2010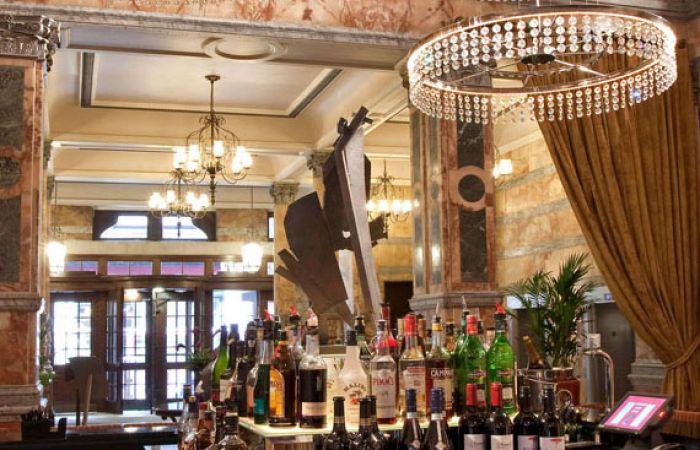 City Guides:
We catch staff at Boyd's Brasserie off guard. It's a Sunday, but not just any Sunday. Today, thousands of runners are lining the streets of
London
for the annual marathon – and where the restaurant is situated is a base for some of the charities benefiting from the event. The manager is honest though. 'This isn't how we'd like you to see us,' he confesses. 'But we don't have much choice today.'However, I think he's underselling it – a bar with banter from good-spirited Londoners adds a lively and welcoming atmosphere.
At
Boyd's Brasserie
we head to our table past the medal-clad runners surrounding the black-lacquered square bar planted in the centre of the venue, in Northumberland Avenue, London. The décor is like a grand Roman palace, with towering marble walls which have been restored to their original splendor and a huge chandelier that looks small in the vastness of the room.
I opt for the Glazed Kidderton Ash Goats'
Cheese
Shaved Fennel And Beetroot Salad (£7) - a simple dish of gentle flavors that work together perfectly – the roughness of the cheese complemented by the sweet tang of the beets. My fiancé, Rich orders a hearty portion of Chicken Liver And Foie Gras Pate, Fig Chutney And Toasted Brioche (£9) – quirkily presented in a glass jar - which he describes as best pate he's ever eaten. Praise indeed!
My Gnocchi With Cep Sauce and Parsley Puree (£14) arrives promptly. The 'lumps' are well cooked – soft but not slimy, while the sauce is creamy but not overpowering. A 7oz Fillet Steak (£28), cooked medium-rare, which is served with a generous portion of crispy chips leaves Rich quiet. It's perfect brasserie food with a contemporary twist.
Obviously we can't possibly leave without tasting dessert, so we share the Dark Chocolate Ganache, White Chocolate Cheesecake, Milk Chocolate and Malt Milkshake (£7), which is ideal for anyone with a sweet tooth. As well as the usual menu, Boyd's Brasserie also has a pre-theatre offering for those who want a quick bite on the run.
However, if you've got more time, pull up a chair and while away an afternoon. Remember, taking time out to enjoy life is a sprint – not a marathon…
Address:
8 Northumberland Avenue, London WC2N 5BY. Telephone: 020 7808 3344. £15.50 for two courses, £18.50 for three courses.
Carol Driver
Carol Driver is a journalist with more than 13 years' experience writing, subbing and editing at national and regional publications and websites in the UK. Carol is currently the group editor at TNT Multimedia, which has magazines in London, Australia and New Zealand. She previously worked at national newspaper website the Mail Online well as writing for a host of other publications. She has also ...(Read More)