By Carol Driver Jul. 7th, 2010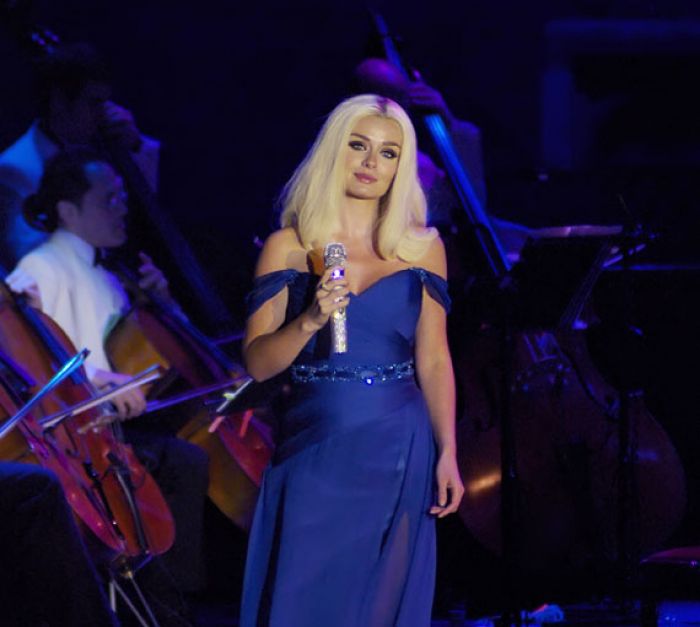 City Guides:
Given that it is only June and this is the UK, arriving at the
Hampton Court Palace
outdoor festival with neither an umbrella or rain jacket was hardly sensible. The grey clouds threatened to downpour as we wandered into the vast grounds of Hampton Court Palace. In defiance – and in what appears to be a
British
stiff-upper-lip unity - guests carried on regardless of the drizzle and relaxed in deckchairs while picnicking under the row of mushroom-shaped English Yew Tress which align the entrance.
The setting is stunning . The grand buildings ooze magnificence and are, of course, steeped in royal history – first becoming what we see today back in 1525 when the palace was presented to King Henry VIII. We are here to see Katherine Jenkins perform on the final night of the week-long festival, which has seen the likes of Jools Holland, Alison Moyet and Simply Red on stage. The loud speaker announces that it is time to take our seats, and there's a last-minute rush to buy £1 ponchos from the tourist shop as umbrellas aren't allowed in case they restrict others' views. We're sitting in the Base Court of the Hampton Court Palace– which once-upon-a-time was a marketplace – with a good view of the stage where conductor Steve Sidwell and the National Symphony Orchestra begin proceedings before Katherine makes her entrance.

The singer looks almost doll-like with a mane of long blonde hair and a long blue gown with a heart neck and a slit along the left thigh. Holding a diamante microphone which glitters in the blue and red spotlights, she bursts into a jaw-dropping rendition of Meredith Willson's Til There Was You, before flowing into Edith Piaf's La Vie En Rose and Nella Fantasia. The poncho-covered audience is spell-bound, enchanted by the Welsh classical singer's dulcet tones. It seems that even Zeus has been distracted as for about 20 minutes, the rain stops. In between performances, the 29-year-old is chatty and smiley – telling us about her life and her travels as well as curtseying, giggling and saying 'thank you' after every song.


She then introduces her 'support' act – Support No Chaser – an acappella group of 10 'gorgeous' men from the U.S. who walk on stage wearing grey suits while performing Marvin Gaye's Grapevine. Each has a different part to sing – some beatbox, others are base, others sing - and the outcome is superb. They are an instant hit with the audience and go on to perform a clever mix of Jason Mraz's I'm Yours with Somewhere Over The Rainbow. After Katherine returns to the stage, this time in a striking long red strapless gown. Her version of I will Always Love You – which she performs in Latin – ricochets around the quad walls as again the audience fall silent. Then comes the rain, to which she says: 'This is insane. But, if you're prepared to sit in it, then I'm singing in it!' for which she receives rapturous applause.

We're treated to more songs, such as Speak Softly Love – the Godfather theme – Carmen and Arms Of The Angels as well as two more outfit changes (and another set by Straight No Chaser whose Michael Jackson's Billie Jean mixed with Bell Biv DeVoe's Poison gets people out of their wet seats) before Katherine returns for her final set. Her dress – a floor-length tight sparkly gown - attracts wolf whistles to which she giggles before, fittingly, singing Land Of Hope And Glory and We'll Meet Again. In a nod to the palace's royal heritage, she also performs a powerful rendition of Rule Britannia. The audience joins in – singing along while some wave flags. All thoughts of rain are forgotten as Katherine's voice cascades with emotion. It's the perfect British ending to a perfectly British festival – although next year, let's hope for a not-so-British summertime.
Carol Driver
Carol Driver is a journalist with more than 13 years' experience writing, subbing and editing at national and regional publications and websites in the UK. Carol is currently the group editor at TNT Multimedia, which has magazines in London, Australia and New Zealand. She previously worked at national newspaper website the Mail Online well as writing for a host of other publications. She has also ...(Read More)