By Katherine Bond Jan. 27th, 2011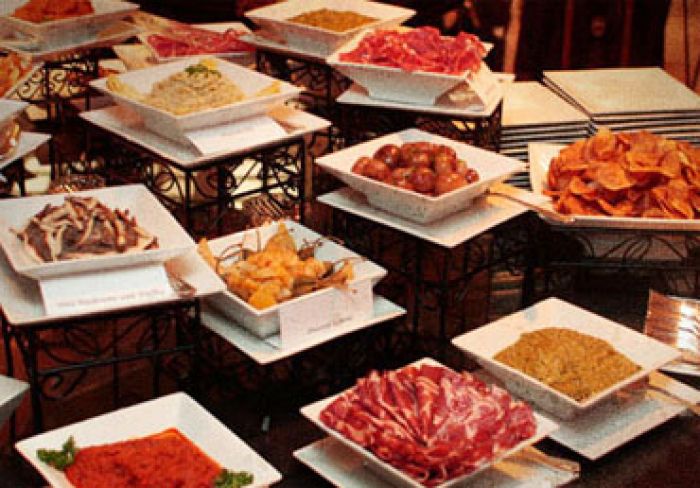 Two of my
favorite types of food
have formed the perfect marriage: Sushi and tapas. Long Beach area's latest sleek lounge, Suba Sushi, is serving up a seductive splicing of both.
The narrow restaurant, punched with red décor, places the kitchen as the main attraction. Bold, street-style Asian
artwork
by Mark Richmond is the backdrop for Executive sushi chef, Shane Hollinger, to unfurl his delights to diners. Sharing the space is Executive Chef David Santiago Sr., who hails from
New York City
where his Spanish cuisine gained attention in SUBA NYC and Boqueria.
Together, Hollinger and Santiago present an unusual, but palate-pleasing, array of menu options. They include Atun con Picquillo Peppers, roasted Piquillo peppers stuffed with Yellow Fin Tuna; and the Light My Fire sushi specialty, made with spicy tuna, cream cheese, tempura jalapeño and mango honey.
I'm a fan of Suba's Raciones, the cold plate Spanish specialties, particularly Chef Santiago's Carne a La Plancha, with hangar streak and pimientos. Sake and hand rolls or sangria and ceviche? No need to choose either dining option while Suba exists to supremely satisfy either craving.
Suba Sushi
3550 Long Beach Blvd.
Long Beach, CA 90807
562.595.1959
www.SubaSushi.com
Katherine Bond
Katherine Sutton Bond is a freelance travel and luxury item writer for Justluxe.com. She's traveled the world and sampled some of the leading hotels and destinations of the globe. She often covers luxury events and technology. ...(Read More)