By Eric Rosen Feb. 11th, 2011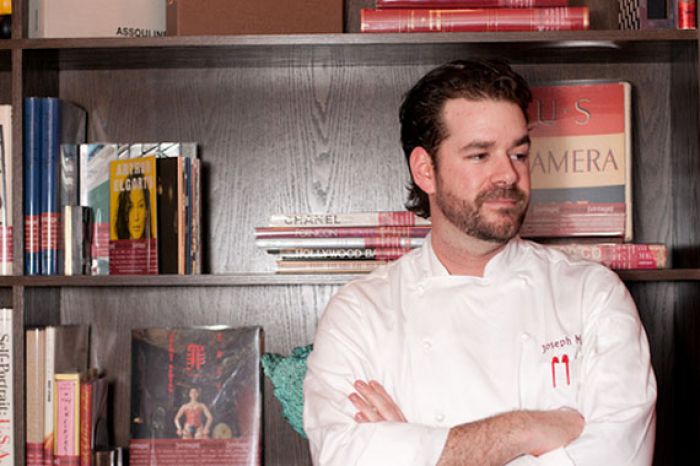 Los Angeles seems to be all about the roving restaurateurs and wandering chefs these days as the pop-up
restaurant trend
is, well, popping up all over the city.
Certainly Chef Ludo Lefevre, that Burgundian wunderkind and Top Chef Masters tour de force, is the true master of the form around these parts. However, we're excited to tell you about another imminent pop-up event that had us drooling...and making a reservation.

Chef Joseph Mahon was the most recent man behind the revolving kitchen door at the beleaguered Melrose Place boite, Bastide. Back in December, he teamed up with friend and sommelier David Haskell (otherwise known as "the Wine Pimp," who is planning to open his own wine bar later this year) to host their first pop-up event at Biergarten in December.

"I ate at Bastide five times while Joseph was there," says Haskell. "I loved his food and we have a great relationship, so when the opportunity to do a pop-up together and try working together came up, we took it."

This month, the duo, who have adopted the manly moniker of "Magnum Crew" (we almost feel like we should grunt and bump chests after saying it aloud), are back on Tuesday and Wednesday, February 15 and 16. They'll be at a hole-in-the-wall Mexican restaurant in Koreatown called Pal Cabrón.


Forget the overpriced Valentine's Day prix-fixe menu you were going to spend your entire month's disposable income on, and come for the special menu and pairings these dudes have going on in. After all, love's true nature is bittersweet and fleeting, so is there any better way to get a taste of it than at a pop-up restaurant? We hear some of the pairings will be deliciously odd couples as well, so you'll definitely find us there at least one of the evenings.

"This is the first pop-up of its kind where there's a chef in the kitchen, and a professional front-of-house guy like me," says Haskell. "It's not just about the food and pairings. The service is going to be tight, and it's going to be a new experience."

That is also why the pair has selected such disparate locations as Biergarten and Pal Cabrón as their settings. "We're trying to do it at locations where you wouldn't usually find fine dining-that way we can offer something different, something we can offer at a great value, but still perform at a very high level," explains Haskell.

On the food side, Chef Mahon is looking to Pal Cabrón's Oaxacan flavors as he conceives of his menu. For his main four-course tasting menu ($48 per person) he'll be serving dishes like squid with chorizo, cucumber, jicama and sesame seeds; flank steak with cactus salad, chiles and grilled corn sauce; and flan with pineapple-vanilla-caramel sauce.

There will also be four additional courses available for $8 each, including a poached egg with fried pig ears, black beans and caramelized onions; and scallop with crushed avocado, chickpeas and spicy tomato-mussel broth. Diners can taste all eight for a total of $72.

Haskell is notoriously secretive about his pairings ahead of time, but he did share a few exclusive secrets with us, including the fact that with the pineapple flan, he's going to be pouring a sparkling Nigori sake. Besides that, he tells us to expect a hard-to-find spirit paired specially with the Oaxacan cuisine Chef Mahon is flirting with, as well as a mainly Italian slant to the wine list for the evening.


This won't be your average Pinot Grigio or Super Tuscan though. As with his pairings in general, Haskell aims to surprise and delight. Those Italian wines will come from unusual regions like Ligura. In addition to the sake we mentioned above, there might also be other spirits, as well as some beers on hand.

"All the pairings together should tell a story," begins Haskell. "It's not on a course by course basis. The pairings should tell the same story as the tasting menu. In progression, with a culmination, and the client should understand that there's a sequence."

The whole point, says Haskell, is to "give our guests an experience that they haven't seen, read about or gotten anywhere else. They'll have a completely remarkable experience here."

Pairings along with the four course main menu will be $27, and $6 each with the additional courses. But we just say go for gold and order "The Magnum Menu" of all eight dishes and pairings for $120.

Now, we might be heading into Magnum Crew's Pal Cabrón pop-up for the food and spirits pairings, but there'll actually be a third dimension in motion as well: entertainment with music and a DJ spinning. All in all, it's an entire experience-unmistakable, unrepeatable, unmissable. Try beating that, Valentine's Day!

Cemitas y Clayudas at Pal Cabrón
3337 1/2 W. 8th St.
Los Angeles, CA 90005
213.427.0601
www.lascabronas.com

Eric Rosen
Eric Rosen lives in Los Angeles and writes about food, wine, travel and adventure... usually in some combination of the four. He regularly contributes to Los Angeles Confidential Magazine, Condé Nast's HotelChatter and Jaunted, TravelAge West, Palate Press, Frontiers, Edge and Wandermelon. His work has also appeared in the L.A. Times. When he is not exploring the Los Angeles dining scene, Er...(Read More)