By Katherine Bond Mar. 10th, 2011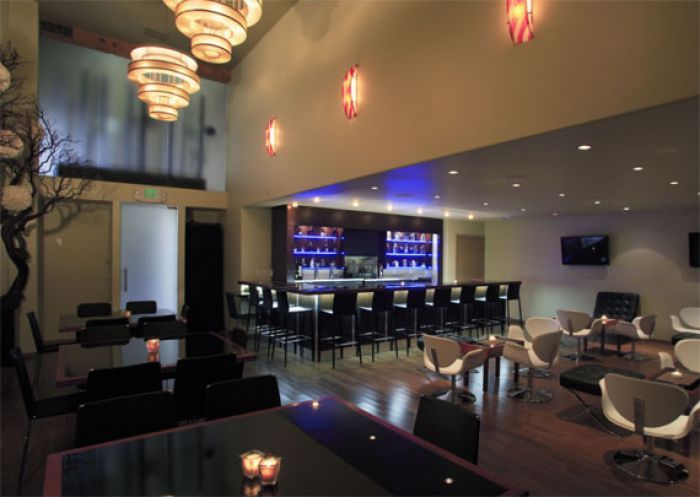 With Awards Season looming in Hollywood, a trip to my favorite little neighborhood, West Hollywood, sounded enticing. While others flock to this 1.9 mile square regal region of Los Angeles with hopes of spotting gaggles of celebrities, I go for the indulgences: pamper, feast, delight. Here are my choice finds on this visit.

Voda Spa
The Voda Spa may be in one of L.A.'s frillier locales, but it is not for the sissy spa goer. With offerings such as the Russian Bear for tight forearms and the Russian form of saunas and banyas, (one a 206 degrees heat chamber for rejuvenation) the Voda Spa is seriously committed to the art of old world Russian techniques and therapies.


Though it may sound slightly intimidating, the Voda Spa is as luxurious as a Moscow mink coat. The two-story retreat invites guests to linger in its quiet bar and restaurant spaces, sip on smoothies in the main room, or sleep in the plushy lounge area. A massive wood beam canopy encloses a room temperature pool surrounded by a Swedish/Finnish cedar dry sauna, a Turkish wet steam bath and a wet and dry Russian banya.

How I forgot the cacophony of L.A.'s busy Santa Monica Blvd. just outside while sweat and steam lifted from my skin in each silent banya sanctuary.


Chamberlain
"Discreet" is a quality most West Hollywood places hope to exude, if ever they wish to have anyone in the celebrity orb to visit. The chic 133-room boutique hotel, the Chamberlain, is one of West Hollywood's latest sweet secret spots. One would hardly guess a four story, mod-meets-modern hotel with a handsome rooftop pool area rested, nearly invisible, amidst a calm neighborhood setting.


In addition to its fun design by David McCauley, (I particularly liked the alligator statue in the lobby and the black and white checkered coffee table in our suite), the Chamberlain is well situated to everything in West Hollywood. In a very un-L.A. like way of me, I walked nearly everywhere, even to the O-Bar and Comedy Store. Not calling the valet and peeling out of the driveway? Now that's discreet.

Fresh East
Now that I've circled Asia, from Japan to India, I've been struck more than once by the thought of finding a single eatery that would house all of Asia's best culinary creations. Leave it to L.A. to come up with an ideal solution, packaged with an environmental conscience. Fresh East is an organic fast-casual concept that presents a robust healthy menu featuring dishes from Thailand, India, Japan and every country in between.


It's not 'fusion,' (and this is West Hollywood, where that term was surely out circa 2006) and instead champions the distinct flavors of each nationality. Fresh East is cheery, but not cheeky; Asian birdcages hang from the lofty interior and the modern green and red lotus motif patterns the walls in an artful way. Owner Ravine Hiranand, a native of Hong Kong with a jolly Buddha-like personality and physique to match, can be spotted on any given day.
Ask him about the sleek plates meals are served on.

O-bar
Oh, the O-bar. A sparkling starlet restaurant of West Hollywood, the O-bar is an alluring space draped in cascading seashells, crystal motifs and artful sprigs of slender whitewashed reeds. The designers behind the massively successful and deliciously dressed Tao and Lavo restaurants (both with Las Vegas and New York City locations) contributed their creative finesse in the design of the O-bar, and it shows. Despite the 200-person capacity, the restaurant twists and turns in such a way that intimate nooks are everywhere. We particularly liked our table's modern black leather wing-backed chairs that hugged us snug to the table.


Across from us, a line of booths cloaked each with sea green sweeping curtains, shrouded groups into cocoons of laughter. The O-bar's comfort food menu, consisting of pot roasts, mac and cheese and fried chicken, was surprisingly complementary to the glitzy hot spot. Our salmon flatbread was marvelous and I loved the roasted half chicken.


Comedy Store
As the Chinese Mann Theater is to Hollywood, the Comedy Store is to West Hollywood. Since its inception in the 1970s, the Comedy Store has hatched and hosted dozens of America's A-list comedians, including Jim Carrey, Dave Letterman, Roseanne and Robin Williams. Anybody who's anyone in the business of making bellies bob has graced (or surely hopes to) one of the three intimate stages of the Comedy Store.


In the main room on any given night, a lineup of comics filter in every 15 minutes. Most have already been seen on Comedy Central, a late night talk show, or some other national and notable platform. As this was my third visit to the Comedy Store, I came prepared: I iced my cheeks and brought a tissue box. For me, the laughter I can't help control at the Comedy Store leaves me with happy teared-up eyes and a worn out face.
Katherine Bond
Katherine Sutton Bond is a freelance travel and luxury item writer for Justluxe.com. She's traveled the world and sampled some of the leading hotels and destinations of the globe. She often covers luxury events and technology. ...(Read More)