By Eric Rosen Mar. 11th, 2011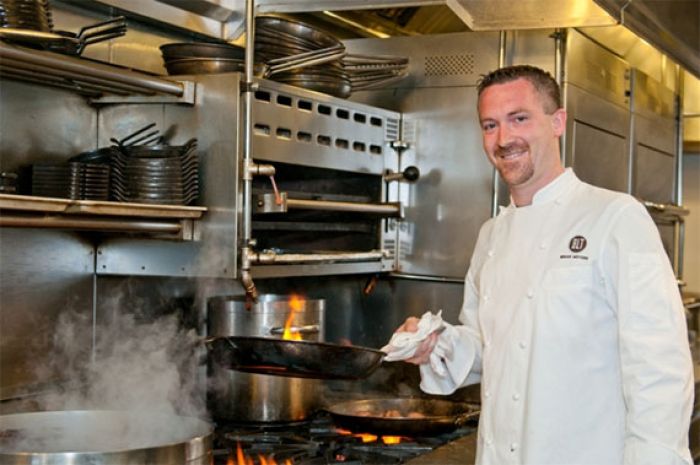 Sharpen your knives and whet your appetites, because
BLT Steak
on Sunset is launching a cooking class series for enthusiastic regulars and foodies desperate to learn how to cook one of their signature steaks just right.
The first class will take place on Saturday, March 19, and will be taught by Executive Chef Brian Moyers. He has planned a three course menu of signature dishes including the restaurant's famous Popovers, Caesar Salad, Tuna Tartare and steak "because these are all easily accessible dishes that you can recreate at home," says Moyers. "This isn't too exotic, but for our first class, it hits
everything that I want to showcase." They're also the restaurant's most popular dishes.

So why teach a cooking class at BLT Steak? "The most common question I get from our guests is about how we make our popovers and how we get a thick char on our steaks," begins Moyers. "I find myself going around to tables every night where guests constantly tell me they've tried to replicate our meals at home."


"I thought it would be fantastic if we could show people how to make these dishes instead of just giving them the recipes and having them attempt to replicate them on their own at home." He adds thoughtfully, "Also, it's a great way for me to interact with our guests directly."

For the first class, attendance will be capped at 20 people, "so that it can be an interactive class and everyone will be able to work on each dish," explains Moyers. Guests will assemble in the dining room to help with the prep work for each dish, then Moyers will lead them back into the kitchen for a tour and to give them a sense of how the space works. Then the cooking will begin.

But there's another component to the experience. "Throughout the class, our sommelier will make the journey with us to pair wines and keep it fun. At the end of each class, we'll go to a family-style table where we'll enjoy the feast together," along with the California wines paired to each course, and guests will learn which wines the sommelier pairs with each dish and why.

Class begins promptly at 1:00 p.m., is expected to last about 90 minutes and is priced at $80 per person. For reservations, call 310.360.1950.

BLT Steak
8720 W. Sunset Blvd.
West Hollywood, CA 90069
310.360.1950
bltsteak.com
Eric Rosen
Eric Rosen lives in Los Angeles and writes about food, wine, travel and adventure... usually in some combination of the four. He regularly contributes to Los Angeles Confidential Magazine, Condé Nast's HotelChatter and Jaunted, TravelAge West, Palate Press, Frontiers, Edge and Wandermelon. His work has also appeared in the L.A. Times. When he is not exploring the Los Angeles dining scene, Er...(Read More)