By Eric Rosen Mar. 29th, 2011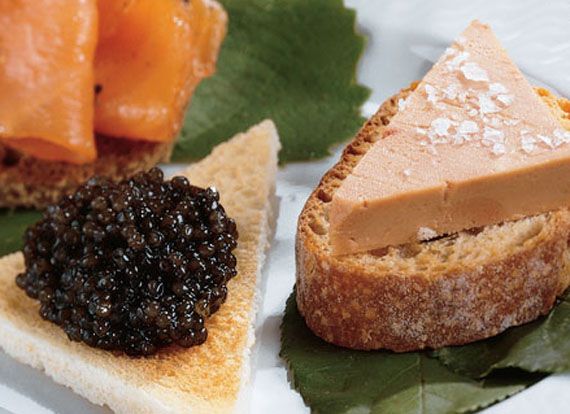 Photo Courtesy of Petrossian
Every so often, we love to treat ourselves to an afternoon snack of caviar and Champagne - you know, if we're feeling down or we're hanging out with a long-lost friend, or if it's Tuesday. Much as we like to eat the stuff, though, we don't actually know much about it, other than that it's usually quite expensive and it tends to impress our friends.
Now we have the chance, along with our fellow Angelenos, to have some caviar education dropped on us by the best experts in town: the folks at Petrossian Boutique and Restaurant in West Hollywood.


The Caviar 101 class is designed for novices and caviar connoisseurs alike - though we know which category you fall under - and will be a fun way for diners to learn more about the luxury foodstuff, as well as to remind them why they like the salty stuff in the first place.

General Manager Christopher Klapp and his team will walk pupils through the best ways to enjoy this delicacy and demystify its sometimes intimidating reputation.

Over the course of the half-hour mini-seminar, diners will try four types of caviar paired with various Champagne and vodka flutes. There will also be additional small plates created by Chef Giselle Wellman specifically designed to showcase the caviar such as the caviar flatbread and a smoked salmon pizzette. If you want one of our favorites, it's the luscious Egg Royal of scrambled eggs and vodka whipped cream topped fresh caviar; you'll have to stay for dinner.


Guests will have the opportunity to taste four different caviars carried by the famous house, starting with their standard Transmontanus. Though originating in California, it's gathered from farm-raised white sturgeon and the small charcoal-colored a subtle, nutty characteristic.

Next comes the gorgeously pink salmon roe, with their firm, large beads and sweet juiciness. After that, it's the similar trout roe, which though they look like salmon roe, have a bit of extra brine to them that makes them perfect with crème fraiche. Finally, guests will get to try Chataluga Prestige caviar, which comes from the sturgeon's cousin, the paddlefish. It has a very bold, salty flavor mellowed by subtler earthy tastes, and comes in small gray-greenish grains.

While enjoying the caviar, guests will also be treated to Mumm Napa Brut Prestige sparkling wine and flutes of vodka to wash down the briny treats. Along with teaching them about the caviar and spirits, Klapp will also tell the guests about the fabled past of the storied caviar house and how the Petrossian brothers built a gourmet empire selling Russian delicacies.

The first class is being held on Thursday, April 7, from 7:30-8:00 p.m., though if you can't make it this time, future classes will take place at the same hour on the first Thursday of each month. It costs just $35 per person.

Reservations are recommended and guests are invited to stay and enjoy dinner from Wellman's accomplished continental menu.

Petrossian Boutique and Restaurant
321 N. Robertson Dr.
West Hollywood, CA 90048
310.271.0576
www.petrossian.com
Eric Rosen
Eric Rosen lives in Los Angeles and writes about food, wine, travel and adventure... usually in some combination of the four. He regularly contributes to Los Angeles Confidential Magazine, Condé Nast's HotelChatter and Jaunted, TravelAge West, Palate Press, Frontiers, Edge and Wandermelon. His work has also appeared in the L.A. Times. When he is not exploring the Los Angeles dining scene, Er...(Read More)