By Merilee Kern Apr. 21st, 2011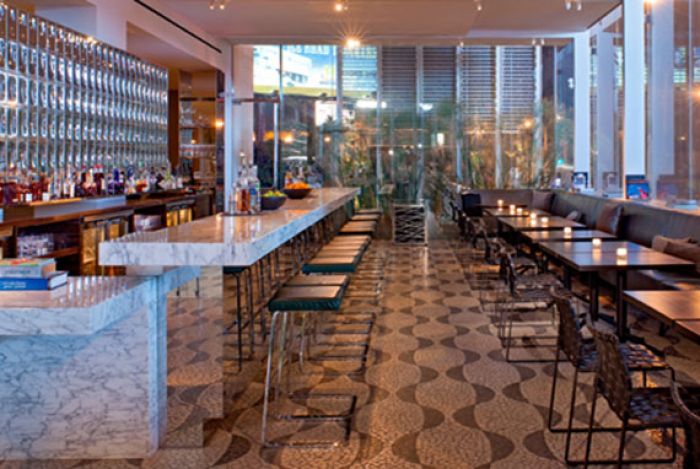 Photo Courtesy of Andaz
Andaz West Hollwood
boasts more than a storied past. It's also the home of RH Restaurant, named in homage to the legendary host hotel's former 70s nickname "Riot House" - then a playground for Jim Morrison of The Doors, Axl Roe of Guns 'n Roses and other infamous rockers with a penchant for partying.
Today, however, the hotel and it's on-site eatery, RH, are far more elegant and refined. Indeed, RH Restaurant is among
L.A.'s best fine dining establishments
, offering "market-to-table" SoCal French-fusion cuisine at its best.
With the recent departure of former Executive Chef and Michelin star recipient Sebastien Archambault, Pierre Gornes has assumed the Executive Chef role at RH - a station well-earned given his Sous Chef role at RH since 2009. Like Archambault, Gornes was born in the Southwest of France and has worked in highly acclaimed kitchens including the Hotel Bel Air and two Michelin starred restaurants, Les Ambassadeurs at the Hotel de Crillion in Paris and the Alain Ducasse bistro Aux Lyonnais in Paris.
Under Gornes' watchful eye, RH's Southwestern French-inspired menu is expertly executed with locally sourced, organic farm fresh seasonal ingredients straight from the market. Excited to experience this new culinary master in action, I recently visited RH for dinner with two guests allowing me to see, and sample, a nice cross-section of the restaurant's evening menu.
We started with the Roasted Hold Farm Beet Salad with romaine heart and sliced radish in a sherry vinetarette; and also the restaurant's signature Escargot a la Perigourdine appetizer served with prosciutto la quercia, baby heirloom potatoes, parsley, and spring garlic. We also opted for the vegan Tortilla Soup that was on special that evening as recommended by our waiter, which proved to be a brilliant choice.
Other stellar starter options on the menu include Hudson Valley Foie Gras Terrine with plug and fig chutney, arugula and homemade brioche; Prince Edward Island Mussles with sauvignon blanc sauce, saffron, garlic and parsley; and Charcuterie la Quercia, with saucisson, duck prosciutto, chorizo, pork and chicken liver terrine.
For the main course I opted for the Homemade Crispy Hudson Valley Duck Confit with sautéed potatoes, green onions, garlic and parsley. The curing and poaching process was impeccable, with zero room for further improvement on this incredible entrée.
The others in my party ordered the Slow Braised Beef Cheek with Teixeira Farm green cabbage and baby rainbow carrots. To say this meat would melt in your mouth is an understatement. Although amply portioned, the wine-braised beef cheek was so moist, tender and flavor-rich it left us all longing for more. The other order was the Seared Sea Bass with Snow Peas, prepared with brown butter, tiger lemon, capers, parsley and croutons. A delicate, moist, and well-balanced dish.
Other enticing entrées on the menu that evening were copious, and included the Whole Roasted Boothbay Harbor Lobster in Cocotte with glazed baby rainbow carrots, pearl onions, heirloom potatoes and shallots; 12-Hour-cooked Niman Ranch Pork Belly with creamed grits, frisée salad and grain mustard jus; Black Angus Filet Mignon with Roasted Bone Marrow in a shallot sauce and accompanied by a herb salad; and the namesake RH Burger, comprised of black angus beef, foie gras, and morels served with truffled triple French fries.
For sides we opted for the earthy Sautéed Field Mushrooms, the most silken Mashed Potatoes I've ever had the pleasure of eating, and the fresh cooked Spinach. The Cauliflower Gratin would have been our fourth choice if only our belly bandwidth allowed.
Dessert offered yet more epicurean excitement with our choices of the Araguani Chocolate Pie - a frozen praline bar with roasted hazelnuts, the Dillon Rum Baba Jar with fresh strawberries and vanilla whipped cream and the Roasted Kingsburg Farm Apple Cinnamon Puff Pastry with vanilla ice cream.
The wine list at RH is just as impressive as the fare. The restaurant's wine selection is eclectic, featuring 70 varieties of California and French boutique-style wines, including my choice for the evening: a medium bodied 2007 Morgan Twelve Clones Santa Lucia Highlands Pinot Noir.
If
cocktails
are what you're after, RH's swanky light-infused bar, highlighted by black, polished stainless steel and pink onyx, is just the ticket. The full service bar and spacious lounge area, which overlooks and provides direct access to and from the Sunset Strip, has a unique cocktail list with fresh and seasonal ingredients mixed with quality artisan spirits.
Try the Mr. Plant with No. 209 Gin, cucumber, tangerine, agave syrup and soda. Or maybe the Steelo with Hangar 1 vodka, St. Germain liqueur, grapefruit juice, and blueberries. RH bar does offer a wide variety of vodkas, bourbons, tequilas, and numerous other spirits. The RH bar is open Sunday through Wednesday from 11:30 a.m. to 12:00 a.m. and Thursday through Saturday from 11:3 0a.m. to 1:30am.
Although I've had the pleasure of eating at RH Restaurant before, I must say this most recent visit with the ever-affable Gornes commanding the brigade brought the experience to an even higher level.
The restaurant's hybrid of French and California cuisine cooked to perfection, coupled with Gornes' continued product and produce procurement from local farms and wine producers, are just two of the many reasons RH Restaurant is essential West Hollywood dining.
RH
8401 West Sunset Boulevard
West Hollywood, CA 90069
323.785.6090
www.hyatt.com
Merilee Kern
Branding, consumer product trends, leisure and lifestyle expert Merilee A. Kern is a good life connoisseur who keeps her finger on the pulse of the marketplace in search of new and innovative must-haves and exemplary experiences at all price points, from the affordable to the extreme. The best of the best across all product, service and travel categories–as well as noteworthy marketplace change ...(Read More)