By Eric Rosen Apr. 26th, 2011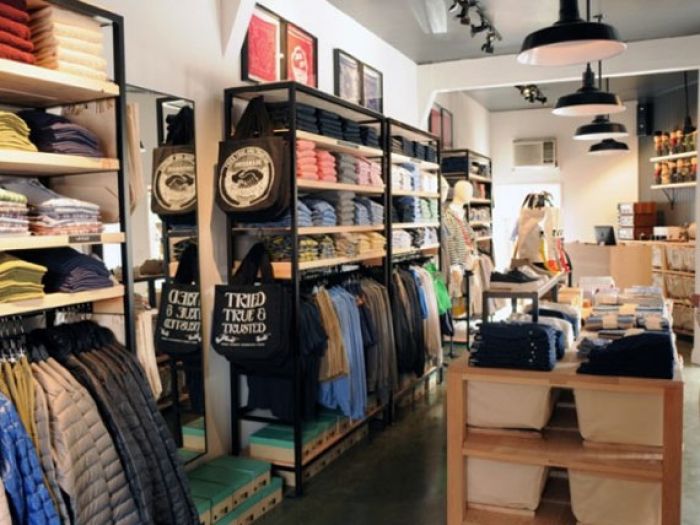 The debate over state workers' collective bargaining rights might have already been settled (well, for now) in Wisconsin, but here in
Los Angeles
we've had a little union-related excitement lately as well. All positive though, since the union we're talking about is the recent opening of Unionmade Goods, a casually hip, nostalgic men's clothing store that's just set up shop in the Brentwood Country Mart.
Think Abercrombie & Fitch meets James Perse. The line covers every item of clothing you'd need for all your leisure activities during a summer in Europe doing everything from sailing the Mediterranean to having a blowout backyard barbecue.

We're talking elegantly bulky knit sweaters that channel Ernest Hemingway, sporty cotton short-shorts for active days hiking the Pyrenees, shoes equally comfortable on board a yacht or at the local farmer's market, adventure sports gear like all-weather windbreakers for the odd mountain climb, and all kinds of gingham and chambray shirts that will take you from day to evening with a simple tuck in. Though since it's L.A., why even bother dressing it up?

Don't forget to accessorize with a fabulous plaid scarf from Begg and leather goods like key chains, sunglass cases and card carriers from famed houses like Tanner Goods, Tender and the original manly men outfitter, Stetson.

There are even a few toiletries from the "apothecary" department like Baxter of California's citrus-infused Invigorating Body Wash with Italian Lime. Because our limes always come from Italy. Don't yours?


Unionmade is actually a transplant from San Francisco, where the company opened its first shop in a defunct liquor store on a quiet side street between the unassuming Mission and Castro districts. The idea behind the brand was equal parts quality merchandise and personalized customer service, all at a fair price. Now that's a picket line we wouldn't cross.

Once the philosophy was outlined, the folks behind Unionmade started assembling a list of their favorite brands (yes, there's a fantastic selection of vintage Levi's jeans); ones that "manufacture clothing that is durable, well designed and timeless." Three adjectives we aspire to be ourselves.

Basically, like other things that only get better with time, like fine whiskies and mutual funds, these are brands and items of clothing that will only look better in another decade, and in two, they'll be setting the trend again. Among those brands are ones that put a spring in our step like Carhartt, Farm Tactics, Gitman Vintage, Quoddy and Woolrich Woolen Mills.

Now, if you'll excuse us, we've got a summer wardrobe to put together. If you need us, we'll be checking out the Wm. J. Mills & Co. travel bags in the corner.

Unionmade Goods
Brentwood Country Mart
225 26th Street
Santa Monica, CA 90402
310.656.3373
www.unionmadegoods.com


Eric Rosen
Eric Rosen lives in Los Angeles and writes about food, wine, travel and adventure... usually in some combination of the four. He regularly contributes to Los Angeles Confidential Magazine, Condé Nast's HotelChatter and Jaunted, TravelAge West, Palate Press, Frontiers, Edge and Wandermelon. His work has also appeared in the L.A. Times. When he is not exploring the Los Angeles dining scene, Er...(Read More)