May. 12th, 2011
Los Angeles' New Single Spirit Bars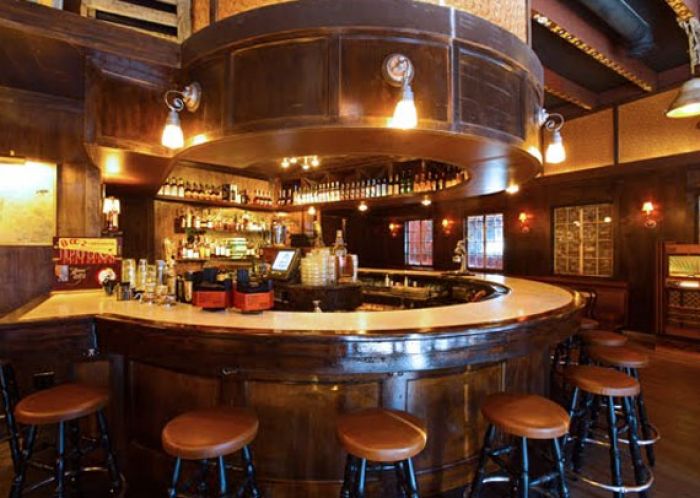 Photos Courtesy of theThirsty Crow & Estarla.com
Molecular mixology, celebrity "barsmiths,"
seasonal cocktails
...sometimes it feels like it's just gotten too complicated to order a drink these days in Los Angeles. There are just too many choices. And usually too many hipsters elbowing their way to the bar.
Providing a bright ray of hope (and simplification) is a cadre of single liquor-focused bars that have been popping up around Los Angeles. Just because they serve only one type or family of spirits doesn't mean these are one-hit wonders, though. We find, rather, that focusing on a sole liquor helps set these saloons apart both in terms of theme and in the playfulness and experimentation evident in their impressive cocktail lists.

Here are four of our favorites from around town, providing both serious and social drinkers with educational and fun experiences in singular settings.

Rum: La Descarga
If this bar couldn't have been in Havana, at least it's in Los Feliz, which means the happy...like the happy few that get to reserve tables at this Cubanified little bar in the heart of Hollywood. It's been drawing in the crowds with an exotic mix of rum-based cocktails, décor reminiscent of Hemingway's Cuba and live music to set the tone.


You won't be rubbing shoulders with the hoi polloi here. Reservations are required and the wait staff will greet you by name all night long. It's also a bit of a labyrinth of stairs and hallways to find your way to the main bar area. Take a moment to enjoy the weathered paint job, cozy banquettes, old Cuban newspaper prints on the walls and the gleaming white marble bar.

The journey (both through space and time) is worth it, however, since you can take succor in the cocktail list with over 60 rums represented. Our suggestion is the savory-sweet "Tapping the Admiral" cocktail with Zaya Trinidadian rum, Carpano Antico, cherry heering and bitters. Not that we're generalizing, but ladies might prefer the "Bad Spaniard" with Cruzan Black Strap rum, Amaro Averna, sweetened condensed milk, egg yolk and cinnamon.

Purists should venture on to the back bar down a candlelit hallway (think Caribbean boudoir) where the premium rums are only served neat or on the rocks. This is also where you'll find the cigar bar with about a dozen different options. We'll meet you back there.

La Descarga
1159 Western Ave.
Los Angeles, CA 90029
323.466.1324
www.ladescargala.com

Tequila: Las Perlas
The folks behind some of our other favorite downtown bars (like the Varnish and Seven Grand) have brought a drop of Jalisco to the heart of DTLA with this colorful cantina that worships at the twin altars of tequila and mezcal (we'll spare you the details on what the difference between the two is so you can find out for yourself on your next visit).


Though they have some fancy, small-batch booze on the menu here, you can sample just about anything for a small fee (usually around $5) with tastes served in unassuming clay cups that reinforce the backyard fiesta vibe they've got going on (think simple booths and tables with festive tabletops wedged into every corner).

Don't bother asking for a gin fizz or your usual Manhattan, because they don't serve any non-agave-based spirits here. They do, however, have a full cocktail menu of creative concoctions like the "400 Rabbits" with Sombra mescal, agave nectar, egg whites, lime, port reduction and muddled raspberries poured over ice with bitters, and a pinot noir float; or the "Jalisco" with Carpano Antico, El Jimador tequila and orange bitters. Who needs a Manhattan after that?

Las Perlas
107 E. Sixth St.
Los Angeles, CA 90014
213.988.8355
www.lasperlas.la

Whiskey: The Thirsty Crow
Brush up on your Aesop's Fables and like the titular crow, learn the lesson of patience...especially because it takes a while to get a drink at this gentrified, whiskey-focused saloon that has replaced the faux-frugal Stinker's Truck Stop.


Nowadays, this little hideaway feels like a back-country speakeasy with Depression-era touches like ceramic moonshine jugs, a pipe stove shaped like a backwoods whiskey still, a vintage jukebox stocked with old standards, barn-style lamps swinging from the ceilings, and a neon clock always set to 5 p.m. so you can feel fine about drinking at any time.

Order your poison from a bartender clad like a newsy at the sociable horseshoe-shaped bar, then marvel at the careful concocting of cocktails like the signature Thirsty Crow made with citrus, Sazerac rye whiskey, bitters and ginger beer in a mason jar; or four specialty Manhattans, like the one with Makers Mark, orange liqueur and fresh marmalade.

Whiskey enthusiasts and dilettantes alike can order any of dozens of bourbons, whiskeys and scotches straight up, but there are also a few wines and beers for the more genteel drinkers.

The Thirsty Crow
2939 W. Sunset Blvd.
Los Angeles, CA 90026
323.661.6007
thirstycrowbar.com

Vodka: Silo
It's clear, it's neutral, it goes well in a plethora of cocktails, and no, you don't have to be a Russian babushka to enjoy it on its own. It's vodka, the most versatile of spirits that can turn ordinary cranberry juice into a tangy libation and any tuxedoed man into James bond. We're just surprised there hasn't been a true vodka-based bar in Los Angeles...until now (No, we're not counting Nic's in Beverly Hills, though we do love their martinis).


Set to open any day now, Silo is located in the historic Haas Building. Built in 1915, and originally housing tenants like the Bank of Italy and the Chicago Tribune west coast branch, the Haas Building is now an imposing warren of artist and business lofts set to reopen this month after an extensive renovation.

The 88-seat bar will feature a list of diverse vodkas (ask General Manager Josh Gray-Emmer to help you differentiate between the various styles using his wall-mounted Periodic Table of Vodka) served as shots on block of ice with various accoutrements like rare salts to enhance the flavors. There will also be housemade vodka infusions with flavors like cherry, cucumber, and habanero pepper...presumably not all at once.

However, we might suggest sticking to the premium selections, which will be available for private tastings by guests swaddled in a fur coat inside the walk-in freezer. That's the way any self-respecting babushka would drink it.

Silo Vodka Bar
219 W. 7th St.
Los Angeles, CA 90014
silodtla.com
.

Los Angeles Map

.
.

Luxury Hotels in Los Angeles

.






Eric Rosen

Eric Rosen lives in Los Angeles and writes about food, wine, travel and adventure... usually in some combination of the four. He regularly contributes to Los Angeles...