May. 23rd, 2011
Taste of the Nation Events at Hatfield's & Spare Room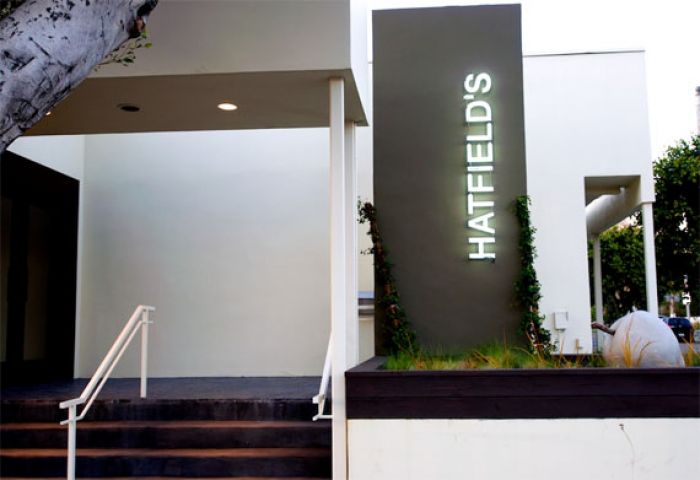 Photos Courtesy of Hatfield's & EstarLA.com
Every year, Los Angeles' culinary community gets together for Taste of the Nation, a special cause with the goal of ending childhood hunger. Chefs, restaurateurs, foodies and the public converge for an afternoon of food and philanthropy that go hand-in-hand.
However, before the main event itself in June, several restaurants and bars around Los Angeles are hosting events aimed at bringing awareness to Taste of the Nation. Here are two upcoming events that are already getting us excited to participate.


Hatfield's
What better way to enjoy one of our favorite restaurants in Los Angeles than by contributing to a good cause? Hatfield's is hosting a Taste of the Nation tasting this Wednesday evening from 7:00-9:00 p.m. Tickets go for $50 per person and include passed appetizers and a complimentary cocktail (though there will also be a cash bar because one is never enough), and face time with the dynamic husband-wife chef duo themselves, Quinn and Karen Hatfield. All ticket proceeds, not just the profits, will be donated to Taste of the Nation Los Angeles.

The passed apps will include some of the Hatfields' specialties like duck confit in buckwheat crepe cannelloni with dried apricot, mint and cucumber; goat cheese panna cotta with apple radish pickle and a rosemary cracker; and peanut butter-caramel ganache tartelettes. The drink of the evening will be Karlsson's Bohoi Peach Cocktail with Karlsson's Vodka, vermouth, peach bitters and a lemon twist.

If you like what you see, and taste, you can also purchase advance tickets to Taste of the Nation Los Angeles itself (on Sunday, June 12, in Culver City's Media Park) for $25 off general admission, and $40 off VIP.

Wednesday, May 25, 2011
Hatfield's
6703 Melrose Ave.
Los Angeles, CA 90038
323.935.2977
hatfieldsrestaurant.com


Spare Room's L.A. Boozy Bowling and Connect Four Benefit
Grab your bowling shoes (don't deny you have them in the back of your closet) and start brushing up on Connect Four for some old-school, charity-driven fun at one of Hollywood's hottest nightlife spots, The Spare Room at the Hollywood Roosevelt Hotel.

From 6:00-9:00 p.m. on Thursday, May 26, this knick knack-filled speakeasy will be hosting a Taste of the Nation benefit with both bowling and Connect Four tournaments and Los Angeles super-mixologist Aidan Demarest himself mixing up some of the specialty cocktails.

Bowlers will pay $50 and get their share of cocktail punch, appetizers, an hour of bowling and a chance to win a grand prize yet to be disclosed to us. Not a bad deal considering that an hour of bowling (no drinks included!) goes for $100 usually. The "Gamers" taking each other on at Connect Four will pay $25 for their entry fee, which includes cocktail punches and appetizers, as well as the chance at the grand prize.

Non-athletic spectators (read: scaredy cats) can get in for a mere $15 and enjoy the cocktail punches and appetizers and they can partake in friendly matches of the other board games that the bar has sitting around like Scrabble or Jenga!

A portion of the door proceeds go directly to Taste of the Nation Los Angeles and 10 percent of liquor sales that evening will as well. Guests will also be able to purchase advance tickets to Taste of the Nation for a discount at the event.

Thursday, May 26, 2011
The Spare Room at the Hollywood Roosevelt Hotel
7000 Hollywood Blvd.
Los Angeles, CA 90028
323.769.7296 spareroomhollywood.com


.

Los Angeles Map

.
.

Luxury Hotels in Los Angeles

.

Eric Rosen

Eric Rosen lives in Los Angeles and writes about food, wine, travel and adventure... usually in some combination of the four. He regularly contributes to Los Angeles...