By Merilee Kern Jul. 14th, 2011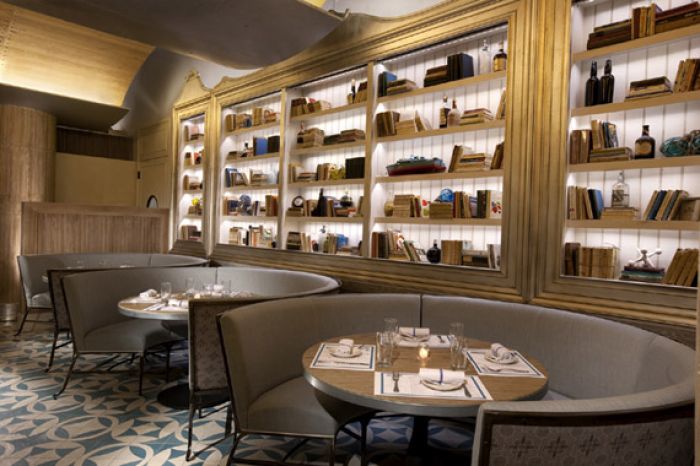 Photo Courtesy of Delphine Eatery & Bar
Next time you are in
L.A.
and hit West Hollywood to mix, mingle and munch with movers and shakers, Delphine Eatery & Bar is a must. Housed at the ultra-chic
W Hollywood Hotel
, directly across the street from the Pantages Theatre, this remarkable restaurant dishes up Mediterranean cuisine in a warm, inviting and electric brasserie setting.
The restaurant has an open-air concept as part of a 6,000 foot indoor-outdoor space at the hotel that includes "The Living Room" indoor lounge and "Station"— an outdoor lounge space situated on a W Hotel terrace. The modern interior design at Delphine is lively, replete with vibrant colors, bold patterns and grand scale décor, juxtaposed with beach wood, muted fabrics and other understated accents that exemplify a laid-back Provençal lifestyle. Retro black and white artwork featuring seafront scenes sets the right tone for the seafood-laden menu. In all, the vibe at Delphine is extremely pleasant and the venue is as appropriate for lunch with clients as it is for dinner with family and friends.

Speaking of the menu, Delphine offers a litany of fresh and flavorful Mediterranean morsels reflective of France's Côte d'Azur, Spain's Costa Brava and the Italian Riviera courtesy of Executive Chef Sascha Lyon— a culinary master with many achievements to his credit. Upon graduating from the Culinary Institute of America at the age of 20, he went directly to work as one of Daniel Boulud in New York. From there, he worked at Balthazar and then Pastis. Sascha then tried his hand at his own restaurant with the critically-acclaimed SASCHA Restaurant. When the opportunity arose to command the helm at Delphine, Chef Lyon returned to his L.A. roots to the distinct pleasure of locals and tourists alike.




My evening started with the restaurant's delicious and unique cocktails. I opted for the "Clemintini," a refreshing Clementine martini. Other great options included the Espice Rouge with Grey Goose Le Citron Vodka, lemon sour, blackberries, raspberries, jalapeno, Agave nectar and splash of soda. Of course, Delphine offers a great wine list, with many red, white, and sparkling varietals offered by the glass. Premium beers are available on draft or by the bottle.

With drinks flowing, it was time to vet the victuals. From Delphine's raw bar came a commanding platter teeming with shellfish served atop a crushed ice and seaweed bed. A copious combination of shrimp cocktail, briny east coast oysters, New Zealand Mussels, Kumamoto Oysters with spicy tomato granite, and Endive surrounded a bed of shrimp, mussel and squid Ceviche.

Next I moved on to a salad course and the Organic Kale Salad on special was by far the most spectacular salad I've ever had. Deep green julienned kale is tossed with jalapeno and crisp pita bits in a creamy citrus dressing, and topped with Soledad goat feta and bits of citrus fruit. The mélange of sweet and spicy flavors with creamy and crunchy textures was utter perfection.


The third course was nothing short of gastronomic genius— a smooth, creamy and beautifully seasoned Summer Squash Risotto topped with a generous slice of seared foie gras with black truffle jus. The velvety texture of the slightly caramelized foie gras pate against the bite of the risotto, duly elevated with the rich and dense black truffle jus, is a veritable "perfect storm" of ingredients and preparations.

I sampled a variety of entrees as well. Most incredible was the Whole Grilled Dorade on special, the most overtly Mediterranean of the fish dishes, thoroughly stuffed with rosemary stems, a trio of olives (niçoise, piccolini and kalamata), golden raisins, and capers and prepared in brown butter. The meat of this lean and flaky fish, served whole with head, skin and tail in-tact, was permeated through and through with the herb essence and tanginess of the accompanying ingredients, resulting in flavors that lovingly linger on the palate. This enjoyable entrée is aptly served with a side of Braised Fennel with roasted peppers.

For dessert the edible opulence continued. An uber-rich Dark Chocolate Hazelnut Dacquoise Cake with house-made coffee ice cream was a perfect counterpoint to the Chilled Apple Risotto, made with tart green apple rice topped with caramel apples and accompanied by a salted homemade caramel ice cream.

While on site I did also have the honor of meeting Chef Lyon, who proved to be just as personable as he is proficient in his culinary profession. I enjoyed speaking with Chef Lyon, who is unmistakably passionate not only about his distinctive menu and cooking style, but also his "inside track" ability to source fresh fish for the restaurant above and beyond the norm.




***Some or all of the accommodations(s), experience(s), item(s) and/or service(s) detailed above were provided at no cost to accommodate this review, but all opinions expressed are entirely those of Merilee Kern and have not been influenced in any way.***
Merilee Kern
Branding, consumer product trends, leisure and lifestyle expert Merilee A. Kern is a good life connoisseur who keeps her finger on the pulse of the marketplace in search of new and innovative must-haves and exemplary experiences at all price points, from the affordable to the extreme. The best of the best across all product, service and travel categories–as well as noteworthy marketplace change ...(Read More)