By Jared Paul Stern Jul. 21st, 2011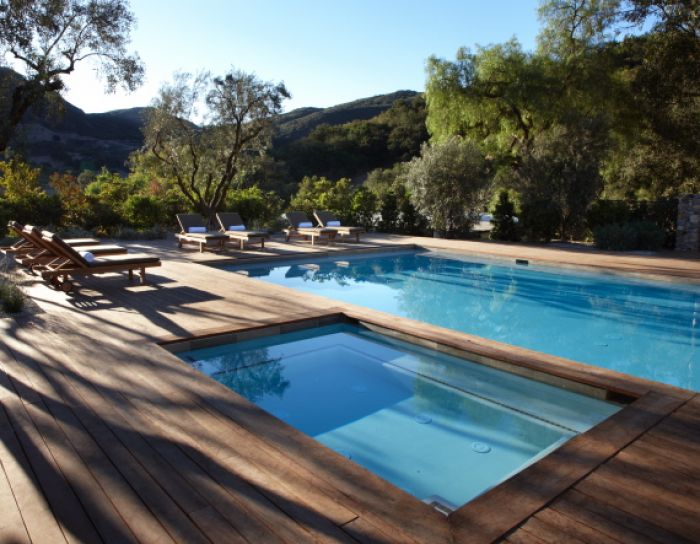 Courtesy of The Ranch at Live Oak / Malibu
The Ranch at Live Oak / Malibu, the fitness retreat that's a favorite of
health-conscious celebs
, has unveiled its first expansion since opening last fall. The new 2,200-square-foot Romper Room gym is a newly remodeled 1960s wood vaulted, beamed building with 16-foot floor-to-ceiling windows and mirrors that reflect the surrounding mountains and ocean views. Natural California sunlight and fresh coastal breezes fill the room, giving guests a sense of being outdoors. The gym floor, made from reclaimed molded rubber, provides ample impact absorption. It is also slip resistant, making it an ideal surface for classes.
At more than three times the size of the existing Yoga Pavilion, the Romper Room allows for new classes including rebounding and rope climbing to be introduced into the four-hour afternoon program. The increase in size also offers guests more space for current classes such as boxing, weight training, and the new TRX 'S' frame system. The current Exercise Pavilion will now become the Yoga Pavilion, and home to the program's morning and afternoon and yoga sessions. The intimate and serene space offers a welcome contrast to the spacious, dynamic setting of the Romper Room, and allows guests to mentally unwind before each restorative class.

"Sitting on top of a knoll with extraordinary unobstructed mountain views, the Romper Room is a perfect complement to existing exercise facilities," said Marc Alabanza, Program Director for The Ranch at Live Oak / Malibu. "With the increased space we can expand the types of classes available to guests and make every afternoon program different than the day before."


The Romper Room also features a Snack Bar where Nutrition Alchemist Kurt Steeber prepares fresh detox smoothies and protein snacks to reenergize the guests during afternoon classes as well as maintain a high metabolic burn rate. Limited to just 15 people each week, The Ranch provides individuals with an intense fitness and wellness routine intended to boost endurance and generate substantial weight loss. Guests typically lose five percent of their body weight during the program which combines four to five hours of group mountain hiking and an afternoon filled with pool classes, core work, weights, daily group yoga sessions and a private afternoon massage each day. The program is a minimum of one week and priced at $5600/person for a week-long stay.


Jared Paul Stern
Jared Paul Stern has written for the Wall Street Journal, New York Times, the New York Times' T magazine, GQ, WWD, Vogue, New York magazine, Details, Hamptons magazine, Playboy, BlackBook, the New York Post, Bergdorf Goodman magazine and Luxist among others. The founding editor of the Page Six magazine, he has also served as a judge for everything from the International Best Dressed List to the Fo...(Read More)