By Deidre Woollard Aug. 3rd, 2011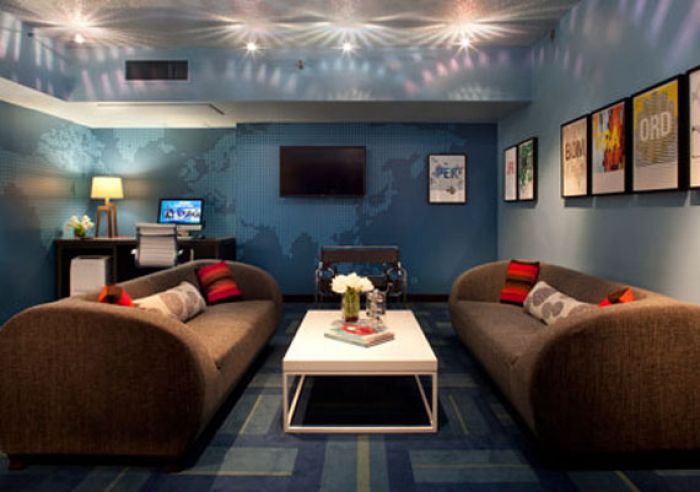 Photo Courtesy of Joie de Vivre Hotels
During the last few years, airport hotels have evolved beyond serviceable necessities to places you'd actually like to visit for more than just convenience. Joie de Vivre, which has populated
Northern California
with a bevy of distinctive boutique hotels, continues to take on Southern California with its latest assault on cool — the newly refreshed Custom Hotel, situated near LAX.
The hotel officially re-launches in mid-September but has had a soft opening and is available for stays now. Each Joie de Vivre hotel has its own distinctive flavor. For the Custom, the vibe is 1960s mod cool; think Mad Men chic with the excitement of yesteryear when air travel was actually glamorous.
It's a timely idea especially considering that a new television show premiering this fall, "Pan Am" embraces the same concept. Uniforms at the Custom Hotel are inspired by 1960s airline staff, with the women in blouses and pencil skirts, men in opened collar dress shirts and airline-style name tags for all.

The Custom is also customizable. There is an LED lighting system installed in the windows so that guests can personalize their rooms with mood-appropriate colors. Floor to floor, there's a different color and graphic pattern design along with a variety of unique artwork. Guest rooms have all the up-to-date amenities such as complimentary Wi-Fi, 37-inch flat screen TVs with HDMI, OnDemand movies, soundproof windows, new bedding and work desks.

Guests can have their photo taken at check-in at the Custom Hotel 'photo booth' and add it to the collection of rotating images of Custom guests on display. The lobby, called Layover Lounge, has two large communal tables with USB outlets and seating groups to create gathering spots. Each floor of Custom Hotel has its own lounge and theme including the twelfth floor 'relaxation room' with massage chairs dubbed Stratosphere; the Transonic game room on the third floor and the business friendly Subsonic ounce on the second floor.

The hotel's food and beverage program has Katsuo 'Naga' Nagasawa, better known as Chef Naga, at the helm. Deck 33, the restaurant overlooking the pool, serves up food and drinks with a Pacific Rim influence and Hangar 39 is a bar/lounge and creative event space. Visit JDVHotels.com to learn more.



Deidre Woollard
Deidre Woollard has been writing both fiction and nonfiction for years. She has a Master of Fine Arts from Spalding University and her short fiction has been published in literary magazines and anthologies. She served as the lead editor on Luxist.com for six years writing about real estate, auctions, jewelry and luxury goods....(Read More)